U.S. Stocks Decline as Energy Shares Tumble on BP Concern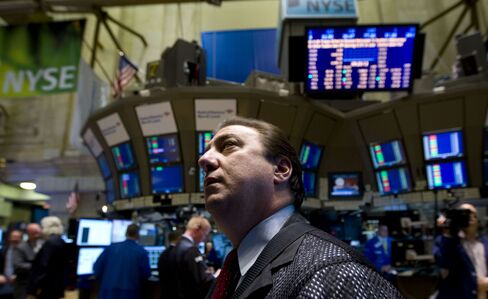 U.S. stocks fell, with declines in energy and banking shares wiping out early gains, as the cost to protect against default by BP Plc rose to a record amid concern over the fallout from the Gulf of Mexico oil spill.
BP's U.S. shares slid 16 percent, the most since at least 1980, amid concern the company will need to cut its dividend to pay for the worst oil spill in U.S. history. Anadarko Petroleum Corp., which has a 25 percent stake in the leaking well, slid 19 percent to a 15-month low. Exxon Mobil Corp. and Bank of America Corp. lost about 2 percent as energy producers and financial companies also turned lower after the Federal Reserve's Beige Book survey said economic growth was subdued.
The Standard & Poor's 500 Index lost 0.6 percent to 1,055.69 as of 4 p.m. in New York after rallying 1.5 percent earlier. The Dow Jones Industrial Average decreased 40.73 points, or 0.4 percent, to 9,899.25, reversing a 125-point gain.
"People are just traumatized," said Fritz Meyer, a Denver-based senior market strategist at Invesco Ltd., manager of the Aim and PowerShares funds, which has $580 billion of assets under management. "The wall of worry today is bigger than almost any other time I can remember."
Stocks rallied in morning trading after Reuters reported China's exports jumped about 50 percent in May and Fed Chairman Ben S. Bernanke said the central bank will act as needed to aid the economic recovery, spurring speculation policy makers are in no hurry to raise interest rates.
'Unnerving, Unsettling'
The S&P 500 ended a whipsaw day yesterday with a 1.1 percent gain as a commodity-market rally boosted oil and metals producers. The measure is down 13 percent from this year's April 23 high as the sovereign-debt crisis in Europe threatened to derail the global economic recovery. The index has jumped 56 percent from a 12-year low in 2009 as the Fed kept its benchmark interest rate at a record low near zero to foster growth.
"The volatility daily is, even for a veteran like me, unnerving, unsettling, as it implies instability," said Ralph Shive, manager of the $1.5 billion Wasatch-1st Source Income Equity Fund. "Is there really a mechanism for investing or is it just a casino every day?"
The early rally in stocks came undone today as BP's shares extended declines and the Fed's Beige Book said economic growth was "modest" in many districts.
"Economic activity continued to improve since the last report across all 12 Federal Reserve Districts, although many Districts described the pace of growth as 'modest,'" the Beige Book, which is published two weeks before the Federal Open Market Committee meets to set monetary policy, said.
Bankruptcy
BP's U.S. shares fell 16 percent to $29.20. Forty-three House members called today for the company to suspend its dividend, stop its advertising and spend the money instead cleaning up its oil spill in the Gulf of Mexico. There is a 50 percent chance BP won't make its next quarterly dividend payment, Societe Generale analyst Evgeny Solovyov said in a research note.
Because BP is likely to end up in bankruptcy, the Obama administration should consider placing the company in receivership to preserve company assets, said Representative Steve Cohen, a Tennessee Democrat.
The cost to protect BP bonds against default soared more than nine times the level before the April 20 explosion. Credit-default swaps climbed 126.8 basis points to 387.6 basis points, according to CMA DataVision prices. BP's shares have tumbled 52 percent since April 20.
Anadarko, Transocean
A gauge of energy companies fell 1.3 percent, the most of 10 industry groups in the S&P 500, after earlier gaining as much as 2.2 percent.
Anadarko sank 19 percent to $34.83 for the steepest loss in the S&P 500. The shares have tumbled 53 percent since the April 20 explosion. Transocean Ltd. dropped 8.1 percent to $42.58, the lowest since December 2008. Halliburton Co. fell 2 percent to $22.56. Exxon Mobil Corp. retreated 2 percent to $60.03.
Crude jumped as much as 4.1 percent on the New York Mercantile Exchange before settling at $74.38 a barrel, up 3.3 percent. Inventories of crude oil fell 1.83 million barrels to 361.4 million in the week ended June 4, the Energy Department reported today. Supplies were forecast to decline by 900,000 barrels, based on the median estimate of 17 analysts in a Bloomberg News survey.
A gauge of financial companies lost 1 percent. Bank of America, JPMorgan Chase & Co. and Wells Fargo & Co. may lead 20 publicly traded U.S. banks that charge off as much as $40.9 billion on home-equity investments this year, Fitch Ratings said.
Cash Dividend
Bank of America lost 2.1 percent to $15.01 for the biggest loss in the Dow average. JPMorgan declined 1.8 percent to 37.12. Wells Fargo dropped 2.6 percent to 27.03.
Viacom Inc. Class B shares added 1.9 percent to $33.16 after the company said its board has approved a regular quarterly cash dividend of 15 cents a share, and authorized a resumption of the company's stock purchase program, increasing funds available to purchase Class B common stock to $4 billion.
Fitch revised its outlook on the real-estate investment trust industry to "stable" from "negative," citing improved access to capital markets and a strengthening U.S. economy. Standard & Poor's said conditions are improving for apartment REITs.
AvalonBay Communities Inc. rose 2.5 percent to $97.09. The second-largest publicly traded apartment landlord boosted its second-quarter forecast for funds from operations to a range of $1.01 to $1.03 a share. Apartment Investment & Management Co. added 1.4 percent to $20.43.
Before it's here, it's on the Bloomberg Terminal.
LEARN MORE