Qantas's Jetstar to Begin Singapore-Melbourne Flights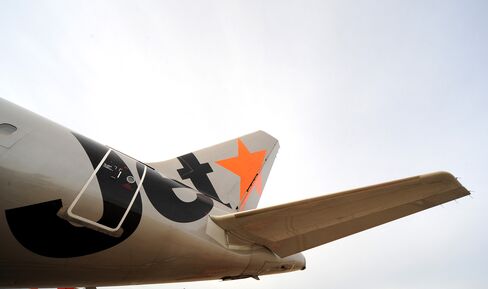 Qantas Airways Ltd.'s Jetstar will start Singapore-to-Melbourne flights in December as it challenges Singapore Airlines Ltd. on long-haul routes.
The carrier will also start flights to Auckland in March from the Southeast Asian city-state using Airbus SAS A330-200 aircraft, the airline said in an e-mailed statement today. Other destinations being considered include Rome, Athens and North Asian cities such as Beijing, Chief Executive Officer Bruce Buchanan told reporters in Singapore today.
The Melbourne-based airline is using Singapore as a springboard into Asia Pacific, where economic growth is fueling demand for air travel. Jetstar, which made twice as much profit as the Qantas-brand unit in the first half of this fiscal year, is also speeding expansion through a tie-up with Air France-KLM Group that will allow it to plug into the flight network of Europe's largest carrier.
"The potential for growth in Asia-Pacific is huge," said K. Ajith, a Singapore-based analyst at UOB Kay Hian Research. Budget airlines may control 25 percent of the region's travel market in 10 years, from 15.5 percent last year, he said.
To expand, Jetstar plans to take delivery of 25 Boeing Co. 787 Dreamliners from 2014, and another 50 single-aisle planes over the next four years, according to Buchanan. The airline operates a fleet of 65 Airbus and Boeing planes.
"Connecting our three largest operations in Australia, New Zealand and Singapore strengthens each of these businesses and builds a solid foundation for future growth beyond Singapore to North Asia and Europe," Buchanan said in the statement.
Asian Airlines
Carriers in Asia-Pacific may post a profit of $2.2 billion this year, the biggest of any region, according to the International Air Transport Association. That's more than double the previous forecast for a $900 million profit, the trade group said this month.
Growth for low-fare carriers will be "rapid" over the next few years as air-travel demand recovers and governments dismantle restrictions in the region, said Derek Sadubin, chief operating officer of the Sydney-based Centre for Asia Pacific Aviation. Budget airlines will account for 30 percent of Asia Pacific's capacity by 2015, from 20 percent now, he estimated.
Tiger Airways Holdings Ltd., a budget carrier partly owned by Singapore Airlines, has said it plans to speed up the delivery of two Airbus planes after flying 54 percent more passengers in its last fiscal year. Load factor, or the proportion of seats filled, is "very strong" at AirAsia Bhd., Southeast Asia's biggest low-fare carrier, Chief Executive Officer Tony Fernandes has said.
Own Maintenance
To lower cost, Jetstar is doing its own line maintenance in Singapore, with the heavy repair work still being done by Singapore Technologies Engineering Ltd.'s aerospace unit, Buchanan said.
Qantas fell 1.2 percent to A$2.48 as of 3:09 p.m. in Sydney trading. The stock has declined 17 percent this year.
Jetstar posted earnings before interest and tax of A$121 million ($99 million) in the six months ended December. The Qantas brand carrier had a profit of A$60 million as the global recession sapped international and premium-class travel.