Lincoln Wins in Arkansas; Angle to Face Nevada's Reid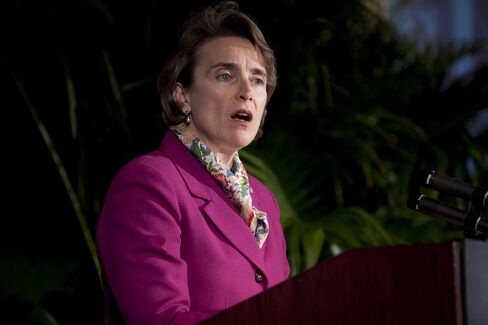 June 9 (Bloomberg) -- Voters in 12 states delivered a mixed message as a Democratic senator in Arkansas survived a primary challenge, two former chief executive officers captured Republican nominations in California and a Tea Party activist won a race in Nevada to challenge the leader of the U.S. Senate.
Senator Blanche Lincoln of Arkansas dodged an anti-Washington wave that swept two fellow senators out of office earlier this year. Former Hewlett-Packard Co. Chief Executive Carly Fiorina won the Republican Senate primary in California and former eBay Chief Executive Meg Whitman prevailed in the gubernatorial primary to oppose Democrat Jerry Brown.
In Nevada yesterday, Republicans chose Sharron Angle, a Tea Party favorite, as their Senate nominee. She will run against Senate Majority Leader Harry Reid, a top Democratic target for Republicans in November's general election.
In South Carolina, Republicans Nikki Haley and U.S. Representative Gresham Barrett will meet in a June 22 runoff to determine the party's nominee for governor after neither won at least 50 percent of the vote in a four-way race. Haley, a state representative who faced allegations of extramarital affairs in the campaign's closing days, had 49 percent of the vote with all precincts reporting, according to the Associated Press. Barrett had 22 percent.
Lincoln Victory
In Arkansas, Lincoln led Lieutenant Governor Bill Halter 52 percent to 48 percent with 99 percent of the precincts reporting, the AP said. Lincoln will face Republican U.S. Representative John Boozman in November; polls have shown her trailing him.
Lincoln avoided the fates of Utah Republican Senator Bob Bennett and Pennsylvania Democratic Senator Arlen Specter, who were denied renomination this year.
"She beat some pretty long odds" in winning the runoff, said Jennifer Duffy, senior editor at the nonpartisan Cook Political Report in Washington. "The biggest loser is labor," which spent millions to defeat the two-term senator, Duffy said.
"Your message is loud and clear -- that Washington needs to work for us, for us in Arkansas," Lincoln told supporters.
Fiorina Against Boxer
In California, Fiorina won the right to oppose Democratic Senator Barbara Boxer. Fiorina beat former U.S. Representative Tom Campbell, 57, an economist who served five terms in Congress.
"California is in crisis," Whitman told supporters in Los Angeles. "We certainly cannot save California's future by repeating the failures of the past."
"We have just seen the two Republican candidates for governor stage a billionaire's demolition derby," Brown told supporters in Los Angeles. "They both say they want to run the state like a business but they set a national record for excessive spending."
"This is going to be the contest of the insiders, the corporate insider versus the political insider," said Jack Pitney, who teaches politics at Claremont McKenna College in Claremont, California, before the vote. "Whitman is going to talk about restraining the growth of government, but the question is going to be whether Jerry Brown can harness the public reaction against corporate misconduct and turn it against Whitman."
Surveys show the political environment becoming more toxic for incumbents.
Gallup Poll
A Gallup Poll conducted May 24-25 found that 60 percent of registered U.S. voters would rather vote for a House candidate who has never served in Congress, compared with 32 percent who said they favored a candidate with some congressional experience.
In the same survey, the Princeton, New Jersey-based polling firm found that 50 percent of registered voters wanted to re-elect their own member of Congress, one of the lowest numbers since 1993. The poll's margin of error was plus or minus 4 percentage points.
Lincoln, 49, has been a target for Republicans and some Democrats since last year.
Organized labor helped recruit Halter, also 49, to run against her because she opposed unions' top legislative priority, a measure to ease union-organizing requirements, and because of her support for free-trade agreements.
As the election approached, opponents in both parties scrutinized her Senate votes. Republicans blasted her for backing initial versions of President Barack Obama's health-care bill, while some Democrats bristled that she voted against the measure that cleared Congress in late March.
Union Money
Unions poured money and people into the contest. During a June 6 appearance on CNN's "State of the Union," Lincoln said Washington-based unions had spent about $10 million in the last three months trying to unseat her. Working American, an AFL-CIO offshoot, spent $1.3 million on the race, according to the Federal Election Commission.
Lincoln touted her clout as chairwoman of the Senate Agriculture Committee and a provision she added to the pending financial-markets overhaul bill that would force commercial banks to wall off their swaps-trading desks.
She had raised more than $9 million by May 19, according to the Center for Responsive Politics, almost three times the $3.4 million Halter raised. She also campaigned with former President Bill Clinton, who served 12 years as governor of Arkansas.
Anti-Washington Mood
The anti-Washington mood that imperiled Lincoln figured prominently in Nevada's Republican race. The state has the highest home foreclosure rate in the country and the second highest unemployment rate behind Michigan.
Angle, a former state legislator with a record of opposing tax increases, benefited from support from Tea Party adherents. Also backing her and paying for ads in the race was the anti-tax Club for Growth.
As Angle, 60, surged ahead in the final polls before yesterday's vote, her two main foes in a 12-candidate race, former Nevada Republican Party Chairwoman Sue Lowden and Las Vegas businessman Danny Tarkanian, sought to raise concerns about her electability against Reid, 70.
With all of the vote counted, Angle had 40 percent, Lowden 26 percent and Tarkanian 23 percent, AP said.
The Republicans spent much of their campaign treasuries on their primary campaigns, a factor that could aid Reid.
"It looks good for Harry Reid," said David Damore, an assistant political science professor at the University of Nevada at Las Vegas. The Republicans have "already spent all their money, and they're cutting each other up," he said.
California Results
In California, Fiorina, 55, and Whitman, 53, faced the first tests of their political careers. Each won handily.
With all precincts reporting, Fiorina led Campbell, her closest opponent, 56 percent to 22 percent, AP reported.
Whitman defeated Steve Poizner, the state's insurance commissioner, 64 percent to 27 percent in an eight-candidate race with all of the vote counted.
Fiorina was confident enough in the primary result that she had turned her attention to the general election fight with Boxer, 69, already airing a television spot that attacked Boxer, the chairwoman of the Senate Environment and Public Works Committee, for calling climate change "one of the very important national security issues we face." Boxer's campaign responded by assailing Hewlett-Packard's business practices when Fiorina was CEO.
Candidate Funding
Whitman funded her campaign with $71 million of her own money, state records show. She spent part of her campaign treasury rebutting attacks by opponents, who ran ads that featured circling vultures to criticize Whitman's ties to Goldman Sachs Group Inc.
Brown, 72, previously served as California's governor from 1975 to 1983.
California's unemployment rate reached 12.6 percent in April, the nation's third-highest. Economic unease among voters and concern about expanding government put Boxer, a three-term incumbent, at risk of losing in November, said the Cook Political Report's Duffy.
"Voters seem to be in the mood for some change right now, even in a state as Democratic as California," Duffy said.
In other results yesterday, U.S. Representative Bob Inglis was forced into a runoff in South Carolina's Republican primary. He will face Trey Gowdy, an official in Spartanburg County, on June 22.
Gowdy led Inglis 39 percent to 28 percent with all precincts counted, according to AP. An Inglis loss in the runoff would make him the third House member to be defeated in a primary this year. Democrat Alan Mollohan of West Virginia, a 14-term incumbent, was defeated in a May 11 vote and Republican Parker Griffith of Alabama, a freshman lawmaker, lost a June 1 primary.
In Georgia, Republican Tom Graves, 40, won a special election for an open U.S. House seat.
To contact the reporter for this story: Patrick O'Connor in Washington at Poconnor14@bloomberg.net
To contact the editor responsible for this story: Mark Silva at msilva34@bloomberg.net.