GM's Request for Opel Aid Rejected by Germany, Forcing New Plan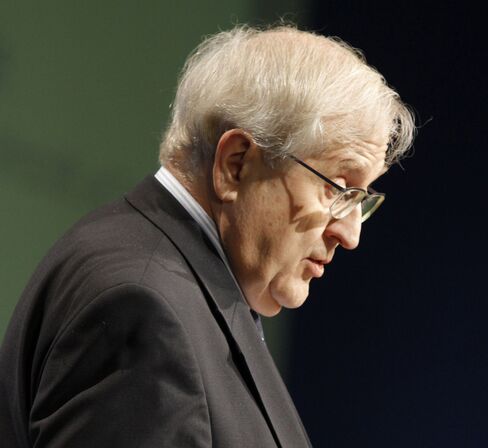 Germany turned down General Motors Co.'s request for 1.1 billion euros ($1.3 billion) in aid for its money-losing Opel division, forcing the automaker to seek new ways to reorganize the unit.
"I'm convinced GM has sufficient financial resources," Economy Minister Rainer Bruederle, a Free Democrat, told reporters in Berlin yesterday, in explaining why he rejected GM. "The state is not the better entrepreneur."
Bruederle said the Detroit-based carmaker has about 10 billion euros in free liquidity after paying back credits from the U.S. and Canadian governments. GM earned $865 million in the first quarter, its first profit in three years, while Europe was its only money-losing division.
The refusal throws into question how GM will fund the 3.6 billion-euro reorganization after abandoning an agreement supported by German Chancellor Angela Merkel to sell a majority stake in Opel to Magna International Inc. in November. The company may now eliminate more jobs in Europe to boost savings, analysts said.
GM has been seeking 1.92 billion euros in loan guarantees from European countries to fund a restructuring that includes closing a factory in Antwerp, Belgium, and eliminating 8,300 of Opel's 48,000 jobs.
Opel, based in Russelsheim, Germany, is seeking 333 million euros in guarantees from the U.K., 437 million euros from Austria and Spain combined and 50 million euros in project financing from Poland, according to a PricewaterhouseCoopers report last month commissioned by the German government and obtained by Bloomberg News.
Reviewing Options
GM is reviewing all options and will continue to talk to other governments for possible backing, Nick Reilly, Opel's chief executive officer, said on a conference call. Opel, which has had "good signals" from Poland and is in contact with Spain, would still need an additional 400 million euros, depending on how much the unit receives from the four German states where it has factories, Reilly said.
Opel said in a February business plan that 4,000 of the 8,300 planned job cuts would be in Germany. The division seeks to break even in 2011 and return to profit by 2012. Opel plans to maintain major elements of the restructuring plan, Reilly said yesterday.
Opel could start to shift manufacturing away from Germany to plants in England, Poland and Spain, said Sean McAlinden, chief economist at the Center for Automotive Research in Ann Arbor, Michigan.
'Cards in Their Deck'
"GM has a few cards in their deck," McAlinden said. "If they won't pay to play, GM can downsize in Germany."
The company may eliminate as many as 15,000 workers through buyouts, saving about $1.8 billion a year, Eric Selle, an analyst at JPMorgan Chase & Co. in New York, said yesterday in a note to clients. GM may now fund 3 billion euros of the restructuring plan, up from 1.9 billion euros it would have paid if it received the German aid, said Selle, who recommends buying bonds issued by old General Motors Corp. that will convert into equity in General Motors Co.
Opel still has the support of the four German states, which may also help open the way for international capital-market financing, Klaus Franz, the head of the division's works council, said in a statement. The state of Hesse said it would back guarantees for the Russelsheim plant.
"Opel will go forward as we intended, and we are confident that it will be a strong competitor in the market," Reilly said. "The national government has indicated that we can also try to get funding through a research-and-development program."
Market Share
During the 18-month fight over Opel's future, which included bids from Italian automaker Fiat SpA and RHJ International SA, Opel and its Vauxhall brand in the U.K. have struggled to keep customers.
Opel's European market share dropped to 7 percent from 7.6 percent in the first four months of 2010, even though the carmaker late last year introduced a new version of the Astra, its best-selling model, according to statistics from the European Automobile Manufacturers' Association.
"Opel's drawn-out efforts to secure state aid has created a huge image problem," Ferdinand Dudenhoeffer, director of the Center for Automotive Research at the University of Duisburg-Essen, said prior to the announcement. "That loser image is going to stick."
Opel has already benefitted from a bridge loan from Germany last year and the government's "cash-for-clunkers" program, Bruederle said, adding he decided after an advisory committee failed to make a unanimous recommendation.
Lawmaker Opposition
Coalition lawmakers voiced opposition to granting GM money as Merkel's government pushes ahead with planned budget cuts of more than 80 billion euros over the next four years. Merkel also blamed her party's setback in state elections last month on aid Germany granted to Greece.
"After GM effectively made a fool out of Merkel and the government by rejecting the Magna deal at the 11th hour, that has created an awful lot of bad blood with the government," said Peter Schmidt, managing director of Automotive Industry Data in Leamington Spa, England. "The public perception is that, 'We're bailing out every Tom, Dick and Harry.'"
GM filed for bankruptcy protection in June 2009 and emerged a month later with Ed Whitacre as chairman. Whitacre took over as chief executive officer in December and has shuffled management and cut brands to four from eight. GM has since then repaid $8.4 billion in U.S. and Canadian loans assumed as it emerged from bankruptcy.
Merkel said yesterday that the "final word" on aid for Opel hasn't been spoken, German news agency Deutsche Presse-Agentur reported, citing comments she made in Berlin.