Bon Jovi Bawls, Gems Sell, Pregnant Man Shocks: London Weekend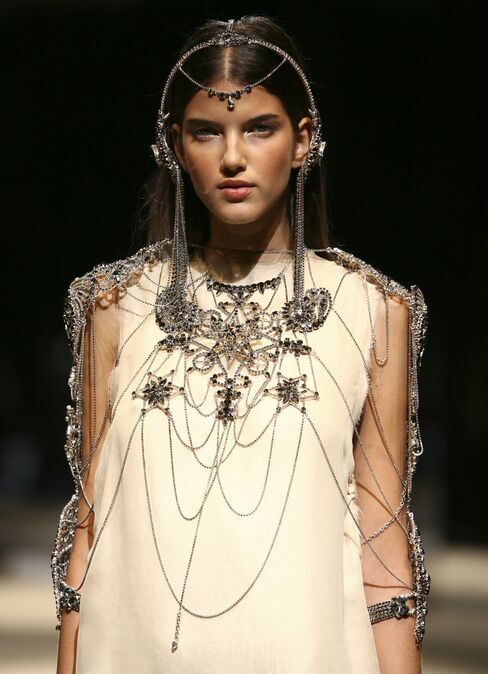 Bon Jovi will be ripping the roof off the O2 again on Friday night.
The U.S. band is midway though a marathon of 12 shows at the 20,000-capacity venue, and seats are still available. Expect mass sing-alongs and greatest hits, from "Living on a Prayer" to "When We Were Beautiful."
Music fans seeking an alternative can look further up the Thames at the Southbank Centre's annual Meltdown Festival, which starts Friday night. It's curated this year by guitarist Richard Thompson, and will include performances by Paolo Nutini and Elvis Costello over the next two weeks.
Information: http://www.bonjovi.com/tour and http://meltdown.southbankcentre.co.uk.
Saturday
Ever wondered what a pregnant man looks like? You can find out at the White Cube gallery in Hoxton Square.
The marble, life-sized statue of an expecting ex-woman greets you as you walk into Marc Quinn's new exhibition. Smiling in baggy underwear, the sculpture is one of the many gender-bending, surgically altered figures on display.
Quinn, one of the original Young British Artists of the 1990s, also sculpts what appear to be a naked woman and a naked man, until you look down and realize it's the other way around.
A poignant addition to this sexually confusing selection is Michael Jackson. The late singer's head and gloved hand, separate pieces done in black and white marble, lie next to each other on the floor, as if fragments from an ancient Roman villa.
Information: "Allanah, Buck, Catman, Chelsea, Michael, Pamela and Thomas" is at the White Cube Gallery, Hoxton Square. Information: http://www.whitecube.com or call +44-20-7930-5373.
The Hoxton Apprentice, just across the square from White Cube, is a charity training unemployed young people to work in the restaurant business. The food is generally fine, the prices low and the service friendly. You can even book a table outside. Information: http://www.hoxtonapprentice.com/index.htm or +44-20-7749-2828.
Saturday Night
Visit the Fan-Dango Ballroom to hear "Hey Big Spender," and to follow the dreams of an innocent blonde.
"Sweet Charity," at the Theatre Royal Haymarket, is about a girl with a greeting-card name (Charity Hope Valentine) who is paid to entertain male patrons on the dance floor. Unlike her jaded peers, she clings to her virtue, and to her hopes of one day meeting Mr. Right.
Information: http://www.sweetcharitywestend.com or +44-845-481-1870.
Sunday
Browse for baubles on the final day of London Jewellery Week.
The annual event, which involves jewelers in different corners of London, is centered around "Treasure" -- a three-day selling show in Bloomsbury where you can meet designers face-to-face and buy items for as little as 20 pounds ($28.80).
Also on show will be highlights from Swarovski's "Runway Rocks" couture catwalk jewelry show, with designs by the likes of France's Jean-Paul Gaultier.
Information: http://www.londonjewelleryweek.co.uk or call +44-20-8986-1116.
(Farah Nayeri writes for Muse, the arts and leisure section of Bloomberg News. The opinions expressed are her own.)
Before it's here, it's on the Bloomberg Terminal.
LEARN MORE