Berggruen Must Add Style to Karstadt Substance as Stores Lag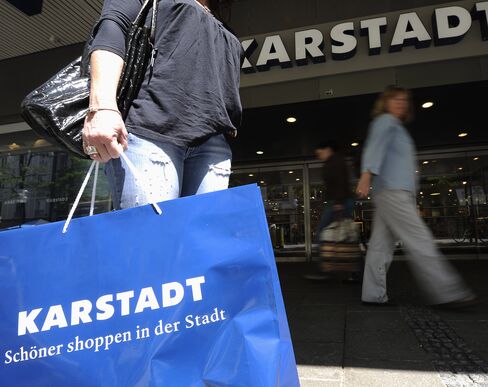 German billionaire Nicolas Berggruen beat two other bidders for Karstadt this week with a promise to maintain the German department stores and jobs. He may have to ditch many of its products to make a revival work.
Berggruen must update Karstadt's product mix, overhaul its clothing range and improve its image, retail analysts said. Germany's department stores have been losing market share for decades amid competition from Ikea, Praktiker AG home-improvement stores and Hugo Boss AG shops. Rival Kaufhof, owned by Metro AG, is looking for a buyer, Woolworth filed for insolvency last year and Hertie went out of business.
"Berggruen has to increase the share of clothing sales in Karstadt's revenue by adding space to the textile departments and selling more-stylish fashions," said Joerg Funder, a retail expert at Worms University in the German town of the same name.
While Berggruen, son of a late German art collector and journalist, invests in real estate around the world, he's had no previous retail experience. He's said he will bring U.S. fashion company BCBG Max Azria Group as a strategic partner for sourcing and merchandising in Karstadt's operations. Berggruen has promised to stay invested in Karstadt for the longer term and has no exit strategy.
'Losing Appeal'
"It will be difficult for Berggruen to keep all Karstadt outlets open as the department-store format in small and mid-sized cities is losing appeal," said Klaus Kraenzle, a consumer goods analyst at GSC Research in Dusseldorf.
The investor has said the bid was conditional on negotiating lower rents with the Highstreet partnership, which owns most of Karstadt's real estate. Discussions on that are ongoing, according to Berggruen.
Berggruen Holdings invests in real estate in the U.S., Germany, Japan and other countries and is developing hydro-electric power plants in Turkey. It has acquired more than 50 buildings in the Berlin area, including some heritage-protected edifices like the Cafe Moskau. After purchasing the properties, Berggruen has often renovated them and rented them to other operators.
German department stores date back to the late 19th century and played a major role in the post-war economy, when a modern retail structure had to be rebuilt from scratch in the rubble of destroyed cities.
Market Share
Now, they are struggling to stay alive as shoppers seek out cheaper prices and better selections. Department stores had a market share of more than 13 percent in Germany in 1975, according to Joachim Zentes, a professor specializing in retail at the University of Saarbruecken. That slipped to 3.3 percent in 2009. German retail sales were 392.1 billion euros ($470 billion) last year, just 2.5 percent higher than in 2000, according to the HDE German retailer's association.
"The German department stores have dramatically lost market share, and this trend will go on in the coming years," Zentes said. He expects their market share to fall to 2 percent by 2015.
Metro is seeking as much as 3 billion euros for Kaufhof. Chief Executive Officer Eckhard Cordes said in 2008 that the holding isn't strategic anymore and can't be expanded abroad. Woolworth also filed for insolvency last year, while Hertie, which was once owned by Karstadt, was broken up.
Losing Share
Kaufhof, Karstadt and Hertie in 2008 had a market share of 2.7 percent in Germany compared with 6.1 percent in Britain for Marks & Spencer Group Plc, Debenhams Plc and John Lewis, 4.7 percent in Spain for El Corte Ingles and 1.2 percent in France for Galeries Lafayette and Printemps, according to Funder. Sales in all three countries rose between 2003 and 2008 while they declined 1.8 percent in Germany, he said.
Kaufhof and Karstadt also have departments for clothes, jewelry, beauty care, toys, books, consumer electronics and home appliances. Competition has arisen from shopping mall operators, as well as city-center clothing shops and perfumeries that offer a wider product selection.
"Karstadt and Kaufhof always pretended to have the full range of products and to have them cheap," said Ulrich Eggert, a Cologne-based market researcher. "Customers are understanding that this isn't true."
The German chains should learn from Debenhams, Funder said. The U.K. company is focusing on selling premium clothing, including fashionable private brand "Designers at Debenhams," a business that accounts for almost half of the chain's sales compared to about 40 percent at Karstadt. Spain's El Corte Ingles SA has become a "national icon," making customers of all ages proud to carry the chain's shopping bag, he said.
"Nobody would have that feeling here anymore with a Karstadt or Kaufhof bag," Funder said.
Before it's here, it's on the Bloomberg Terminal.
LEARN MORE