Hong Kong Cautions Home Buyers After Land Auction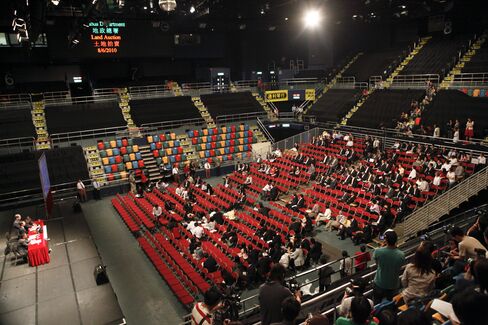 The Hong Kong government's HK$10.9 billion ($1.4 billion) sale of a residential site at a public auction beat estimates and showed home demand is withstanding efforts to cool the market.
Potential home purchasers should consider their ability to pay before taking out mortgages, Financial Secretary John Tsang said today in the government's latest effort to discourage a bubble forming.
"Citizens should consider the affordability before buying houses," Tsang told reporters.
Sun Hung Kai Properties Ltd., the world's biggest developer by market value, yesterday won the 1 ½-hour bidding for the Ho Man Tin district site that was estimated at HK$8.41 billion, according to the median of seven analysts surveyed by Bloomberg News. At HK$12,540 per square foot, it is the highest price paid in a government auction in urban Hong Kong since the market peaked in 1997, said Centaline Property Agency Ltd.
Home prices have risen 41 percent since the end of 2008, prompting the government to tighten down-payment requirements for luxury homes in October to curtail speculation after record- low interest rates fueled the surge. Financial Secretary John Tsang on May 12 pledged to keep boosting land supply.
"The above-expectations bidding price shows that the developers hold a positive outlook on urban sites for luxury homes, as currently it is obvious the supply for luxury homes is not sufficient," Wong Leung-sing, an associate director of research at Centaline, one of the city's biggest real estate agencies, said by phone yesterday.
'Not Cheap'
The Hang Seng Property Index, tracking six of Hong Kong's biggest developers, rose 0.7 percent at the close of trading. It has fallen 12 percent this year.
The Centa-City Index, a measure of Hong Kong's home prices, last week fell 1.44 percent, its biggest weekly drop in more than 18 months. Hong Kong may add as many as 60,000 homes in three to four years, Tsang has said.
The price "was not cheap but still reasonable," Fiona Wan, a spokeswoman at Sun Hun Kai, said by phone after the auction. The company expects to invest HK$18 billion to develop the site "into a luxurious residential area." The estimates ranged from HK$7.15 billion to HK$9.8 billion.
Cheung Kong (Holdings) Ltd., billionaire Li Ka-shing's flagship developer which took part in the auction, may raise the prices of units that haven't been launched at its Celestial Height Phase II project in Ho Man Tin, spokeswoman Anita Tsui said today.
Luxury Homes
Home prices in Hong Kong rose the most among the world's major markets in the fourth quarter, property adviser Knight Frank LLP said in April. Average prices climbed almost 28 percent from a year earlier in the city, while in China they advanced 25 percent, a global index compiled by the London-based broker showed. They rose 3.4 percent in the U.K. and fell 3.1 percent in the U.S., according to the April 21 survey.
Hong Kong luxury home prices may rise 20 percent this year as the economy expands and supply remains limited, real estate broker CB Richard Ellis Group Inc. said in January. Luxury homes in the city are defined as those costing at least HK$10 million or bigger than 1,000 square feet (93 square meters).
Chinachem's Record
The price per square foot for Ho Man Tin, a record for a site to build apartments in the Kowloon area, highlights demand for luxury homes on the other side of Victoria Harbour from the Central business district. Financial institutions including Morgan Stanley and Credit Suisse Group AG have moved into International Commerce Centre in the West Kowloon district.
"At this price, the unit price would be as high as HK$15,000 to HK$16,000 per square foot," said Adrian Ngan, an analyst of CCB International Securities Ltd. "I expect the gap between luxury and mass apartments would widen after this land sale."
New apartments in the district, which also include New World Development Co.'s Wylie Court, are currently selling for about HK$12,000 to HK$13,000 a square foot, according to Alnwick Chan, executive director at Knight Frank.
The family of billionaire Lee Shau-kee, who controls Henderson Land Development Co., on May 18 paid HK$1.82 billion for a 53,350-square-foot plot of land on the Peak in an auction of non-government land. On a per-square-foot price of HK$68,200, the land was the city's most expensive in an auction, Jones Lang LaSalle Inc. said after conducting the sale.
Third Auction
The average price of HK$12,540 per square foot paid for Ho Man Tin is the highest for an apartment site in a government auction since 1997, when Chinachem Group bought a parcel in Hong Kong Island's Repulse Bay area for HK$16,256 per square foot. It is the first time the government sold a site for more than HK$10 billion since March that year, when a group led by Sino Land Co. paid HK$11.8 billion for a site in the Siu Sai Wan district in eastern Hong Kong Island.
Ho Man Tin is the third piece of land auctioned by the government this fiscal year. It has a total area of 16,151 square meters (174,000 square feet) and building area of 869,000 square feet.
The first government auction in the year started April 1 fetched HK$3.42 billion for a site on Lantau Island on May 11, a third less than the median HK$4.75 billion estimate of three surveyors compiled by Bloomberg. Nan Fung Development Ltd., a privately held developer controlled by billionaire Chen Din Hwa, outbid two other builders in the auction that CCB's Ngan described as "a slam" on the market.
Mount Nicholson
Two weeks later, a subsidiary of Henderson Land bought a site in the city's northern Fanling area for HK$1.33 billion, shy of the HK$1.37 billion median estimate of four surveyors.
On May 28, MTR Corp., the government-owned subway operator, said it was withdrawing the tender for a residential and commercial project atop one of its subway stations, without giving an explanation.
The Lands Department is one of Hong Kong's largest suppliers of unoccupied land for building. Developers trigger auctions from a list of available sites by promising to pay a minimum amount. The next government auction is on July 28 for a site on Mount Nicholson in the Peak district, according to the Lands Department website.
Down payments for homes priced above HK$20 million were raised to 40 percent from 30 percent, Hong Kong Monetary Authority said in a statement Oct. 23.