BP Proposes Larger Oil-Capture Plan for Gulf Well, Allen Says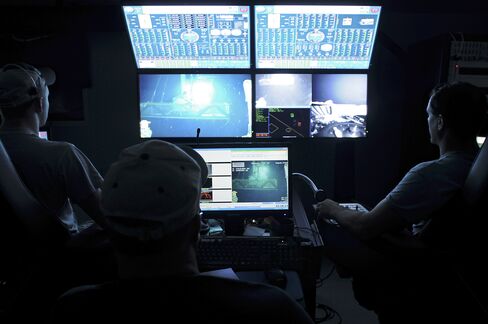 BP Plc has proposed expanding its capacity to recover oil from the leaking Gulf of Mexico well, Coast Guard Admiral Thad Allen said.
Adding two vessels to BP's current plan would allow for redundancy should one of the two systems break down, Allen said today at a press conference in Washington. The company said yesterday it will add capacity of 5,000 barrels a day by mid-June by hooking up a drilling rig with separate lines.
BP yesterday siphoned a record 14,842 barrels aboard the drillship Discoverer Enterprise, Allen said. BP has said the ship's daily processing capacity is 15,000 barrels a day as oil and gas continues to leak into the Gulf.
"It's going to be a wave of oil that just keeps coming ashore until they collect it all," Don Van Nieuwenhuise, director of professional geosciences at the University of Houston, said today in a telephone interview. "It's really bad that any oil is getting into the Gulf of Mexico. Even 1,000 barrels a day is not fun."
Nieuwenhuise estimates BP yesterday captured about 74 percent of about 20,000 barrels gushing from the well. Tad Patzek, chairman of petroleum and geosystems engineering at the University of Texas at Austin, said he and several colleagues reached a similar conclusion after analyzing recent videos of the well head.
'Choke,' 'Kill' Lines
BP needs to expand the recovery rate as soon as possible by connecting, as it plans, the drilling rig Q4000 through so-called "choke" and "kill" lines attached to the well head, Patzek said. "That could capture another 3,000 barrels to 7,000 barrels a day."
Allen said he's ordered a government scientific panel to revise its estimate of the spill rate this week or next.
The panel, led by Marcia McNutt, director of the U.S. Geological Survey, said May 27 its best estimate of the spill rate was 12,000 barrels to 19,000 barrels a day, based on separate analyses of the plume of oil from the well as shown on video and the extent of the slick on the surface of the Gulf.
Scientists examining the plume estimated the leak may be 25,000 barrels a day, the panel said.