Blagojevich Used Governor's Office for Own Benefit, U.S. Says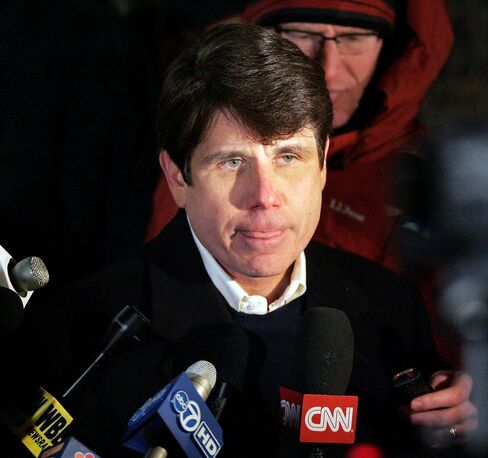 Rod Blagojevich, the ex-governor of Illinois, tried to use his office to benefit himself, a U.S. prosecutor told a jury of his former constituents in federal court in Chicago.
Instead of worrying about what was good for Illinois, "he was asking, 'What about me?'" Assistant U.S. Attorney Carrie Hamilton told jurors yesterday in her opening statement at the trial.
The twice-elected Democrat faces a 24-count indictment including the claim he tried to trade the U.S. Senate seat vacated by President Barack Obama for campaign cash or personal favors. The most serious charges against him carry maximum sentences of 20 years imprisonment.
Blagojevich, 53, has said he is innocent. Since his December 2008 arrest, the ex-governor has published a memoir, hosted a Chicago radio talk show, appeared as a contestant on the Donald Trump reality TV show, "Celebrity Apprentice," and set up a website, www.governorrod.com.
Defense lawyers have subpoenaed the trial testimony of Obama's chief of staff, Rahm Emanuel, White House senior adviser Valerie Jarrett, Senate Majority Leader Harry Reid of Nevada, Senator Richard Durbin of Illinois and U.S. Representative Jesse Jackson Jr. of Chicago.
Obama Sought
U.S. District Judge James B. Zagel rejected defense lawyers' bid to subpoena Obama, saying in April the evidence offered in support of that request "falls very short" of proving the president had any knowledge relevant to the case.
Defense lawyer Sam Adam Jr., in his opening remarks, portrayed the former governor as a well-meaning public servant who was misled by advisers he trusted, including former Chief of Staff Alonzo "Lon" Monk and fundraiser Antoin "Tony" Rezko, who was convicted on fraud charges in 2008.
Rezko was "the Bernie Madoff of Chicago," Adam said, comparing him to the New York investment adviser who last year admitted to leading the biggest Ponzi scheme in history.
"He fooled everybody, with all due deference governor, including you," Adam, turning to Blagojevich, said of Rezko.
Hamilton won Rezko's fraud conviction in 2008. Reid Schar and Christopher Niewoehner, her co-counsels in Rezko's case, are also on the prosecution team at Blagojevich's trial.
Prosecutors will rely on court-approved wire tap recordings and testimony from witnesses including Monk and his successor chief of staff, John Harris, with whom Blagojevich was arrested in December 2008. Schar told Zagel that Monk will testify today.
Monk and Harris have pleaded guilty to aiding different aspects of the alleged corruption scheme.
'Illegal Shakedowns'
Blagojevich, helped by Monk, Rezko and the ex-governor's brother, Robert, engaged in a "series of illegal shakedowns," between the time he took office in 2003 and his arrest date, Hamilton told jurors yesterday.
During her hour-long opening statement, Hamilton led the panel through a series of transactions during which, she said, the governor repeatedly tried to benefit personally from the power of his office, prompting the U.S. Federal Bureau of Investigation to interview him in 2005, three years before federal criminal charges were filed.
Those alleged actions culminated with his attempt to auction the Senate seat, she said.
"He decided to cash in," Hamilton told jurors. "That was his golden ticket."
Adam, who spoke for more than an hour, raised his voice from a whisper to a shout as he exhorted the jury to not be misled by the government's claims.
Not 'a Dime'
"He didn't take a dime," the defense lawyer said repeatedly.
Adam told the panel his client considered almost 90 people, including Chicago based entertainment magnate Oprah Winfrey, for the Senate post vacated by Obama.
The former governor settled on Illinois Attorney General Lisa Madigan, hoping that placing her in Congress would relieve his legislative stalemate with her father, Illinois House Speaker Michael Madigan, Adam said.
Emanuel volunteered to come to Chicago to broker the Madigan deal, Adam said. White House spokesman Ben LaBolt didn't immediately reply to an e-mailed request seeking comment on Adam's assertion.
Policy Discussion
The governor sought to spur those negotiations by appearing to select Congressman Jackson, whom Adam said met with Blagojevich and Harris a day before their arrest. The men discussed support for health-care legislation, not campaign fund raising, Adam said.
Jackson Chief of Staff Kenneth Edmonds didn't reply to phone and e-mail messages seeking comment. Robyn Ziegler, a spokeswoman for Lisa Madigan, declined to comment.
Former state Attorney General Roland Burris was later appointed by Blagojevich to the U.S. Senate seat.
Blagojevich was impeached by state lawmakers and removed from office by a 59-0 vote following a January 2009 trial in the state Senate. He faces as long as 20 years in prison if convicted on the counts of racketeering, attempted extortion or wire fraud, and 10 years for a bribery charge.
Robert Blagojevich, 55, a former U.S. Army lieutenant colonel, is standing trial with his brother. He chaired his brother's campaign finance committee for four months in 2008, defense lawyer Michael Ettinger of Palos Hills, Illinois, said during his opening remarks.
Robert Blagojevich faces four counts including attempted extortion.
Brother's Defense
"Shake people down? Robert Blagojevich? Never," Ettinger said, telling jurors his client is innocent.
The trial is expected to last at least three months. The selection of 12 jurors and six alternates was completed yesterday after Zagel heard lawyers' final objections to various candidates. The seven men and 11 women who comprise the jury and the pool of alternates will receive a stipend of $40 a day for their service.
Almost 90 potential jurors from the Chicago metropolitan area were interviewed by Zagel beginning June 3. The judge ordered their identities sealed until the trial is over.
Blagojevich is the second consecutive Illinois governor to stand trial. Republican predecessor George Ryan was convicted in 2006 of trading state contracts for gifts, trips and cash. Ryan, 76, is serving a 6 1/2-year prison sentence in Terre Haute, Indiana.
The case is U.S. v. Blagojevich, 08-cr-00888, U.S. District Court, Northern District of Illinois (Chicago).