Abengoa, Masdar to Build Biggest Mideast Solar Plant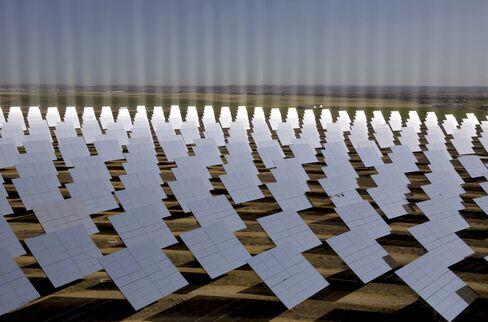 Abengoa SA of Spain joined Total SA and Abu Dhabi's renewable energy company, Masdar, in building the Middle East's first major solar power plant.
The Shams 1 project will cost $600 million and generate about 100 megawatts of power from 2012 in Madinat Zayed, 120 kilometers (75 miles) southwest of the United Arab Emirates capital city. Total and Abengoa will each own 20 percent of the project with Masdar controlling the rest, a statement said.
The plant, with 768 parabolic mirrors, will be the largest concentrated solar power plant in the world, extending over a 2.5-square-kilometer area, according to a statement distributed today by the Regulatory News Service. Construction will begin in the third quarter and last about two years.
"Shams 1 is the first stand-alone plant in the region," said Nathaniel Bullard, solar analyst at Bloomberg New Energy Finance in Washington. "A German developer is planning a 100-megawatt plant in Jordan and a 300-megawatt plant is also in planning. However, of all of these, only Masdar's Shams 1 is what we would consider in an advanced stage."
The shares of Seville, Spain-based Abengoa rose as much as 10 percent and traded at 14.46 euros, up 8.2 percent, at 5 p.m. local time.
Abu Dhabi, holder of almost all the oil reserves in the United Arab Emirates, aims to position itself as a hub for renewable energy by building the world's first zero-carbon city and hosting the International Renewable Energy Agency headquarters.
Masdar's Plan
Masdar is spending $22 billion to develop a carbon-neutral city in Abu Dhabi, the biggest of seven U.A.E. sheikhdoms that plans to derive 7 percent of its electricity from renewable sources by 2020. New investment in clean energy may reach $200 billion worldwide this year, 23 percent higher than 2009, according to New Energy Finance data.
"This project is very symbolic," said Hélène Pelosse, interim director of the International Renewable Energy Agency, an industry group. "It is the first step into the transition toward the use of renewable energy in the region."
Egypt, Morocco and Algeria also have thermal solar plants, although these are a combination of a conventional combined-cycle gas turbine and solar thermal plant, Bullard said.
Abu Dhabi Water and Electricity Co., the single buyer and seller of power and water in the city also known as Adwec, will be the only buyer of power from Shams 1.
Cost Subsidy
The government will subsidize the cost, paying Adwec the difference between the average cost of electricity from a conventional power plant and the higher cost of solar power via a "green payment" plan. Solar power costs about 10 times more to produce than conventional power, Mohamed al-Zaabi, project manager for Masdar Solar, told reporters.
Masdar already has a 10-megawatt photovoltaic, or PV, plant in Abu Dhabi. PV plants use solar panels, which convert sunlight directly to electricity. Concentrated solar reflects sunlight, usually with mirrors to heat liquids that generate power with steam turbines.
Saudi Arabia, the biggest Arab economy, expects its first solar-powered desalination plant to be ready by 2013, Prince Turki bin Saud bin Mohammed al-Saud, vice-president for research institutes at the King Abdulaziz City for Science and Technology, said in February.
Masdar was established in 2006 and includes units to capture carbon emissions as well as a research institute.
Mideast Sun
Solar power is yet to be fully developed in the Middle East even as most countries in the region benefit from year-round sunshine. Reasons include the prohibitive cost of such new technology, government electricity subsidies that top $50 billion a year, lack of local expertise and the absence of tax incentives, according to David Scott, executive director at Abu Dhabi Executive Affairs Authority.
These hindrances are counterbalanced by the potential energy that could come from solar power, the centralized nature of governments that could translate into rapid adoption and implementation of renewable energy, and high power demand growth, Scott said at a conference yesterday in Abu Dhabi.