Tech Lifts S.F. Prices as Ocean View Gets 26 Bids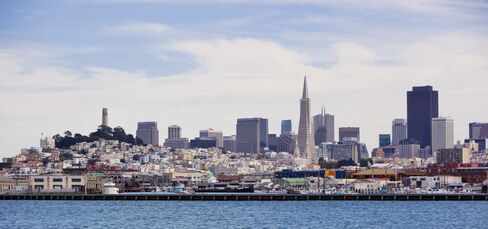 Rebounding technology stocks and limited housing supply are lifting San Francisco real estate as buyers compete for properties and drive up prices.
Sales of houses and condominiums in San Francisco jumped 50 percent in the first quarter from a year earlier and the median price rose 5.4 percent to $685,000, according to a multiple listings analysis by Terradatum Inc. House values will gain 7 percent this year, the biggest annual increase since a 9 percent advance in 2005, Rosen Consulting Group forecast last month.
"San Francisco has conditions of very restricted supply and lots of things that can push demand: an attractive climate, innovative economy and high quality of life," said Harvard University economist Edward Glaeser, who has studied U.S. housing bubbles.
The city and metropolitan area has ranked first or second among the most-expensive U.S. housing markets for 19 of the past 20 years, according to data compiled by the National Association of Realtors. The San Francisco Bay Area's focus on technology and exports make the region an early beneficiary of the U.S. recovery, said Stephen Levy, director of the Center for the Continuing Study of the California Economy in Palo Alto.
Prices for existing single-family homes rose in 60 percent of U.S. cities in the first quarter, the Chicago-based Realtors group reported last month. San Francisco metro area values increased 16 percent in March from a year earlier, the biggest jump of any city in the S&P/Case-Shiller home-price index. The 20-city composite measure climbed 2.3 percent.
A Dozen Bids
Hyuck Jae Lee and his wife, Seung Hye, beat a dozen other suitors last month for a three-bedroom, 1,400-square-foot (130-square-meter) house in San Francisco's Inner Richmond, a half block from Golden Gate Park with its museums and meadows that stretch to the Pacific Ocean. The couple won by offering $875,000, or 14 percent above the asking value, after losing a nearby home that sold at that price.
The transaction is expected to close tomorrow, said Suhl Chin, the Lees' agent at Zephyr Real Estate.
"We feel like we're stepping into our San Francisco life," said the 38-year-old Silicon Valley engineer, who works at a chipmaker in Sunnyvale, about 35 miles south. Lee looks forward to playing in the park with his seven-year-old daughter and taking bicycle rides in the city, he said.
Possible Slowdown
There are factors that may slow housing gains throughout the U.S., including the expiration of homebuyer tax credits and end of the Federal Reserve's purchase of mortgage bonds, Robert Shiller, Yale University economist and co-creator of the home price index, said in a May 25 interview.
A prolonged debt crisis in Europe could batter stock portfolios and stall San Francisco's rebound, said Kenneth Rosen, a University of California economist and chairman of Berkeley-based Rosen Consulting Group. He gives that scenario a 20 percent chance and said low U.S. interest rates will probably offset any volatility.
Limited availability of jumbo loans that finance the city's high-priced homes may also drag on the upturn, said Joshua Rymer, chief executive officer of Sonoma, California-based Terradatum, which sells a monthly analysis to the San Francisco Association of Realtors. Jumbo mortgages are larger than government-supported Fannie Mae and Freddie Mac can finance, from $417,000 in most places to $729,750 in high-cost areas.
Citigroup Inc. led a $222 million sale of jumbo-backed securities in April, the first private offering of the debt in more than two years. There were more than $200 billion of the securities issued every year from 2003 to 2006.
"We're in trouble if someone doesn't start up that part of the market," Rymer said.
Technology Jobs
Even with the concerns, high prices are to be expected in a 47-square-mile (122-square-kilometer) city surrounded by water on three sides, Glaeser said. Less than a third of San Francisco's 361,213 dwelling units are single-family residences, and condominiums account for 12 percent, according to the city planning department. Apartments make up half the total.
A revitalized technology industry "almost certainly" drove the creation of 1,200 new jobs in the city from February through April, said Ted Egan, chief economist in the San Francisco controller's office.
"I wouldn't go nuts, but I would expect to see more improvement," Egan said. "Hospitality and restaurants, health care and education are continuing to grow, and those are the things you'd expect to pull us out of the recession."
Tech Stock Rally
The Standard & Poor's Information Technology Index jumped 21 percent in the 12 months through June 4, outpacing a 13 percent gain in the S&P 500 Index. Six of the top 10 members of the technology measure are based in the Bay Area, including Cupertino-based Apple Inc. and Mountain View-based Google Inc. Real estate bubbles conclude with smaller price gains in cities with elastic supply, or more room to build, than in inelastic markets, Harvard's Glaeser wrote with Joseph Gyourko and Albert Saiz of the University of Pennsylvania in a 2008 paper. That's because elastic cities build extra supply, causing a glut that push values down, the economists wrote.
A city such as Houston, with an abundance of land, "tethers prices to reality," while San Francisco's geographic barriers and global appeal keep values high, Glaeser said.
"In supply-constrained and highly attractive markets there is no natural landing point for prices," he said.
Katherine Yung and Kevin Brandstetter understand that concept. They were the top bidders out of 26 offers for a 1,600-square-foot house in the Golden Gate Heights neighborhood, paying $931,000, or $162,000 over the asking price. The three-bedroom home has ocean views, an updated kitchen and borders on a small park. It's quieter than their old apartment.
"Maybe we way overbid, but we came up with a number that was worth it for us," said Yung, 33, who met her husband in medical school in St. Louis. "Now that we're in California, it's nice to see the ocean and the mountains."
Before it's here, it's on the Bloomberg Terminal.
LEARN MORE