Portugal Telecom Brazil Ambition Buoys 'National Champion' Oi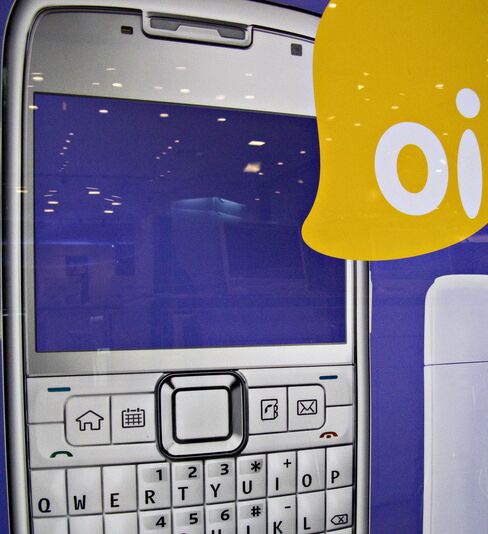 Portugal Telecom SGPS SA, considering a 6.5 billion-euro ($7.8 billion) offer for its Brazilian venture, should invest in another Brazilian company or become a "boring utility," shareholders said.
Portugal Telecom is asking investors this month to vote on an increased bid from Spain's Telefonica SA for its stake in their venture, which controls Vivo Participacoes SA, Brazil's largest wireless operator. It rejected an earlier bid.
Speculation that Portugal Telecom might seek a stake in Oi, as Tele Norte Leste Participacoes SA is known, has made the Brazilian operator's shares the country's best-performing telecommunications stock in the past month. Common shares in Oi, Brazil's largest fixed-line operator, have gained 32 percent, about three times the advance in its rivals in Brazil.
"The only solution I see on this is to find a way for Portugal Telecom and Telefonica to have important investments in Brazil that are not in the same company," Jose Maria Espirito Santo Ricciardi, CEO of Banco Espirito Santo's investment banking unit, said in an interview. The bank is Portugal Telecom's second-largest shareholder after Telefonica.
Should investors accept Telefonica's offer at a meeting on June 30, Portugal Telecom Chief Executive Officer Zeinal Bava would have about 4 billion euros to invest in Oi after trimming debt and its pension deficit, said Ricardo Seixas, a fund manager at Siitnedif in Madrid.
'Boring Utility'
"That's enough money to buy a significant stake," Seixas said. "They don't have to buy the whole company to control management." Oi has a market value of 12.7 Brazilian billion reais ($6.9 billion). Without Brazil, Portugal Telecom "would become a boring utility in a mature market," he said.
Portugal Telecom's reliance on Brazil for growth underscores management's reluctance to accept an offer for Vivo. Brazil sales rose 27 percent in the first quarter, while revenue at home fell 3.6 percent. The company also has stakes in other Portuguese-speaking countries such as Angola, Macau and Timor, though they represent just 3 percent of total revenue.
Vivo is a "fundamental pillar of growth" for the company and that giving it up would "amputate" its future, Portugal Telecom said when rejecting Telefonica's first offer. Since 2006, Vivo has overtaken the fixed-line unit as the company's biggest revenue contributor, accounting for half of sales in the first quarter.
'National Champion'
Oi, the only locally controlled phone company in Brazil, is seeking to add to its cash coffers this year to balance out the debt it accumulated to buy Brasil Telecom SA last year.
With that acquisition, Oi became the designated "national champion" of Brazil's government, making it difficult to envision it as an option for Portugal Telecom, said Michel Morin, a New York-based analyst at Barclays Capital Plc.
"I'm skeptical about a potential deal," said Morin, whose ratings on Oi have provided the best return of 10 analysts tracked by Bloomberg. "It's not clear to me that the control group is interested in seeing its ownership diluted."
Oi sells mobile-phone service throughout Brazil as the nation's fourth-largest wireless carrier, trailing Vivo, Mexican billionaire Carlos Slim-controlled America Movil SAB and Tim Participacoes SA, a unit of Telecom Italia. Oi's land lines are present in most of the country except the most populous state, Sao Paulo, where Telefonica's Telecomunicacoes de Sao Paulo SA is the traditional fixed-line carrier.
Potential Partnership
A combination of private Brazilian investors, government-run funds and pension funds controls Oi through a holding company, Telemar Participacoes SA.
The private shareholders include units of builder Grupo Andrade Gutierrez and real-estate investor Grupo Jereissati. The government stake is held by the national development bank and state-controlled pension funds.
"Portugal Telecom may become partners with Oi, but I think it's not very likely they gain control," said Jacqueline Lison, an analyst at Fator Corretora in Sao Paulo.
A spokesman for Portugal Telecom, who asked not to be identified in line with company policy, declined to comment.
Telemar owns about 54 percent of the voting shares of Oi, which holds 82 percent of the voting shares of operating company Telemar Norte Leste SA. Both Oi and Telemar Norte Leste have voting and non-voting shares trading publicly.
Since the voting shares of Telemar give it a greater say in Oi's strategy, Portugal Telecom would want to seek a stake from one of the Brazilian private or government holders in that group, said Peter Lyons, an analyst at Oscar Gruss & Son Inc. The national development bank, which has 31 percent of Telemar, would be the best candidate to sell its stake because it may seek to fund other projects, he said.
Debt Woes
Spokespeople at the development bank, BNDES, and of Oi, Andrade Gutierrez and pension fund Previ declined to comment. Carlos Francisco Jereissati, chairman of Grupo Jereissati, was travelling and unable to comment, a representative said.
Portugal Telecom will have to weigh pursuing a piece of Oi against other uses of its cash from a Vivo stake sale.
It may use part of the proceeds to cut some of its 5.57 billion euros in debt after Standard & Poor's said it may cut the company's BBB credit rating. Portugal Telecom may also face pressure from shareholders to distribute some of the proceeds to them as a special dividend.
Prime Minister Jose Socrates said June 4 in parliament that it was of "strategic interest" to ensure that Portugal Telecom "has size and scale," adding earlier comments on the importance of Brazil to the company.
"Options beyond Brazil for Portugal Telecom are limited," said Richard Dineen, analyst at HSBC Securities in New York. "But we are talking about a country with very big players that aren't necessarily looking for a partner."
Portugal Telecom may not make it in Brazil, said Kevin Lilley, fund manager at Royal London Asset Management, which oversees about 1 billion pounds ($1.5 billion) in Europe.
"Even if it buys a stake in Oi, how much of a difference will it make?" he said. The Brazilian market will be dominated by Telefonica and Carlos Slim, who "compete very, very aggressively."