Oysters Find Friend in Chablis of North Burgundy: John Mariani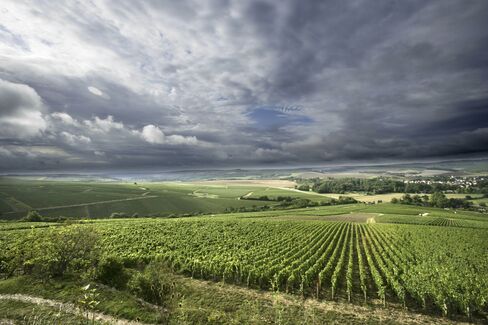 Burgundy negociant Maison Joseph Drouhin has been putting a lot of its money and reputation into a wine that was once the plonk of Parisian bistros -- Chablis.
About 32 million bottles of Chablis are made annually in 20 villages in northern Burgundy, with about a third vinified by the co-operative La Chablisienne. So, becoming familiar with Chablis is a maddening, if pleasurable, life's work.
In Burgundy a single vineyard may be owned by many negociants (merchants) who buy the grapes, must, or wine then make their own blends bottled under their own label. As a result, a Chablis from the same vineyard made by one negociant may taste quite different from one made by another.
French wine laws also recognize 7 Grand Crus and 17 Premier Crus, so the reputations of negociants like Joseph Drouhin, Bouchard Pere et Fils, Boisset, Louis Latour, and Louis Jadot to produce consistent Chablis in their own style are what drives the market to import and sell their wines year after year.
Joseph Drouhin (founded in 1880) in particular believes Chablis can be a prestigious wine and sell for a good price, if not quite in the same league as a $3,500 white burgundy. To that end, it has purchased more and more vineyards, including four Grand Cru parcels and five Premier Cru, along with eight other Chablis plots on both sides of the Serein River.
The Drouhin family, now headed by the company's president, Frederic Drouhin, follows the principles of biological and biodynamic cultivation to limit the amount of chemicals in the vineyards. They use natural predators to control spiders, compost from organic matter instead of fertilizers, and allow certain vineyards to lie fallow for a few years.
Older Barrels
Winemakers Jerome Faure-Brac and Veronique Drouhin (who also makes the wine at Domaine Drouhin in Oregon) press the grapes from their own vineyards and make the wines at their own facilities, with fermentation in stainless steel. No new oak is used because Drouhin believes Chablis can acquire too much flavor of the wood; instead, large, older barrels are used for as much as a year of aging. The finished wines are released between 7 and 12 months later.
The best Chablis may acquire more character after a few more years, while the commercial wine produced in large quantities for quaffing in bistros is best drunk quickly and without great expectations. Still, even upon release, the Drouhin Chablis show admirable and individual character and finesse from estate to estate.
The 2007 vintage came in under difficult climatic conditions -- a warmer-than-normal spring, the rainiest July in 30 years, yet sunshine in September -- allowing for quick ripening and good acid levels. Still, it was one of the smallest harvests in 10 years. In his notes, Frederic Drouhin says the 2007s should be drunk after the 2006s but before the 2005s.
2008 Vintage
The 2008 vintage produced exceptionally fine Chablis, following a rainy summer with ideal conditions in autumn. The crop was still small but Drouhin calls 2008 "one of the greatest vintages of the past 25 years." So confident is the company that it recommends drinking the basic Chablis "within 4 or 5 years, the Premier Crus from 7 to 8 and the Grand Crus to drink from 2011 and the next 12 years."
After tasting several of Drouhin's 2008 Chablis, I can understand his enthusiasm, though I doubt I'm going to wait 12 years to see how the Grand Crus turn out. The entry level Chablis ($24.50) has the flinty character of the wine along with a nice acidity that shows why Chablis is the perfect wine with oysters.
More Complexity
With Drouhin's Grand Cru appellations, Chablis-Vaudesir ($72), Les Clos ($83.50) and Bougros ($72), and Premier Crus like Montmains ($38.25) and Secher ($38.25), the complexity increases significantly, the fuller body of the wines reveals their richness, with more spice and minerals.
These are very fine northern white Burgundies that bear comparison with their more celebrated southern cousins. And they are still the best thing to drink with a grand plateau de fruits de mer while sitting on the terrace at a Montparnasse bistro.
(John Mariani writes on wine for Muse, the arts and leisure section of Bloomberg News. The opinions expressed are his own.)
Before it's here, it's on the Bloomberg Terminal.
LEARN MORE