New Jersey Terrorism Suspects Detained Without Bail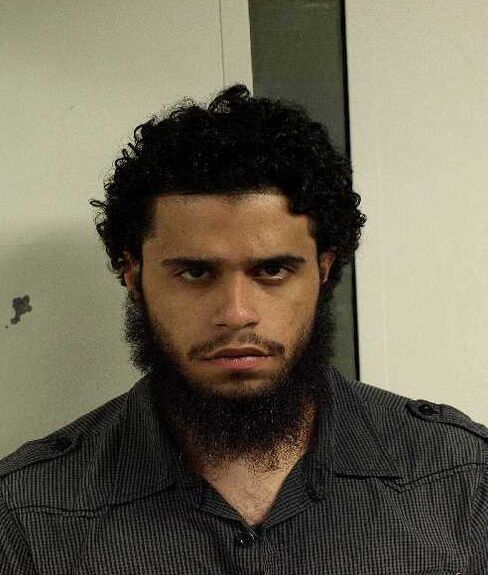 June 7 (Bloomberg) -- Two New Jersey men accused of conspiring to join a terrorist group in Somalia and kill, maim and kidnap people outside the U.S. were ordered held without bail at a court appearance in Newark, New Jersey.
Mohamed Mahmood Alessa, 20, and Carlos Eduardo Almonte, 24, appeared today before U.S. Magistrate Judge Madeline Cox Arleo. A prosecutor told her the men pose a risk of flight and a danger to the community. Arleo set a detention hearing for June 10.
The two were arrested June 5 at New York's John F. Kennedy International Airport as they tried to board separate flights to Egypt on their way to join the Islamic Al-Shabaab movement in Somalia, U.S. prosecutors said. An undercover police officer had recorded the men discussing and preparing for violent jihad overseas.
"The charges were filed before their bags were packed, and the arrest teams were waiting at the airport before they arrived," Paul Fishman, the U.S. attorney for New Jersey, told reporters outside the courthouse. "There was never any chance that those defendants would get on those planes."
Alessa, of North Bergen, and Almonte, of Elmwood Park, face a maximum of life in prison if convicted. They had their hands and feet manacled as they entered the packed courtroom. They gave brief answers, telling the judge they understood the charges.
Federal Defender
The judge appointed an assistant federal public defender, David Holman, to represent Alessa, and attorney James Patton for Almonte. She set a preliminary hearing for June 21.
The Federal Bureau of Investigation began investigating the men after receiving a tip online in October 2006. Two months later, agents interviewed a member of Almonte's family. The family member said that when agents previously talked to Almonte outside his home, Alessa hid indoors with a large knife and said he "would kill the agents if they entered the residence," according to an FBI criminal complaint.
A New York Police Department undercover officer began meeting the men in 2009 and recorded conversations about their plans, according to prosecutors.
"My soul cannot rest until I shed blood," Alessa told Almonte and the undercover agent last November, according to the complaint. "I wanna, like, be the world's known terrorist."
'Start Killing Them'
Alessa said, "They only fear you when you have a gun and when you -- when you start killing them, and when you -- when you take their head, and you go like this, and you behead it on camera," according to the complaint. "We'll start doing killing here, if I can't do it over there."
The complaint, by FBI agent Samuel P. Robinson, paraphrased Almonte, speaking in April, saying "there would soon be American troops in Somalia which was good because it would not be fun to kill only Africans."
The suspects played video games and listened to recordings promoting violent jihadist attacks, according to the complaint. The complaint also says the two men flew to Jordan in February 2007, where they had tried to sign on as mujahedeen fighters.
The men worked out in gyms, played paintball, engaged in tactical training, and acquired military gear such as Russian-made night-vision binoculars, according to the FBI. Almonte also tried to buy a Somali phrasebook, the FBI said.
In January, the men decided to pursue a tie with Al-Shabaab after talking about the various Islamic groups operating in Somalia, according to the complaint.
Flight Reserved
In March, at the undercover agent's residence in Jersey City, New Jersey, the men told the agent that they had reserved seats to Egypt on a flight leaving June 5. At the airport, "both defendants resisted arrest," Fishman told reporters.
The U.S. attorney praised the work of the undercover agent as "exemplary." In a statement, New York Police Commissioner Raymond Kelly said he couldn't publicly identify the officer.
The Al-Shabaab militia, controlled by militant members of the former Islamic Courts Union, took power in south and central Somalia in June 2006. The militia has claimed responsibility for much of the violence in the country since then. The U.S. government has designated Al-Shabaab as a terrorist organization, according to prosecutors.
Somalia's Western-backed government, which has been led by Sheikh Sharif Sheikh Ahmed since January 2009, has been battling Islamic insurgents for the past three years. The country hasn't had a functioning central administration since the ouster of former dictator Mohamed Siad Barre in 1991.
To contact the reporter on this story: David Voreacos in Newark, New Jersey, at dvoreacos@bloomberg.net.
To contact the editor responsible for this story: David Rovella at drovella@bloomberg.net.