Hong Kong Site May Fetch $1.1 Billion in Auction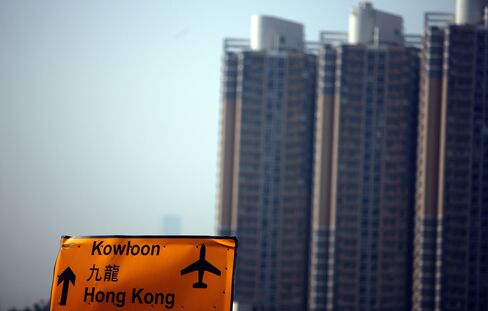 Hong Kong developers may pay HK$8.41 billion ($1.08 billion) for a residential site at a government auction tomorrow, as some analysts cut their estimates after two previous land sales missed forecasts and apartment prices fell in the last two weeks.
Estimates for the site in Ho Man Tin district ranged from HK$7.15 billion to HK$9.8 billion, based on seven analysts surveyed by Bloomberg News. Three of the analysts either cut their estimates over the last two weeks or waited longer than usual before publishing forecasts.
The Centa-City Index, a measure of Hong Kong's home prices, last week fell 1.44 percent, its biggest weekly drop in more than 18 months, in the wake of the government's May 12 pledge to keep boosting land supply as it tries to cool the property market. Hong Kong may add as many as 60,000 homes in three to four years, Financial Secretary John Tsang said today.
"We expect developers to be quite cautious at this auction," said James Cheung, a director at the surveyor unit of Centaline Properties Ltd., one of the city's largest real estate agencies. "On the other hand, this is a quality site and after sitting on the sideline at the last two auctions, some of the big players maybe ready to move in again."
Home Prices
Home prices in the city have risen 41 percent since the end of 2008, spurring concern housing is out of reach of ordinary residents. The Hang Seng Property Index, tracking six of Hong Kong's biggest developers, fell 2.1 percent today to extend this year's decline to 14 percent, underperforming the 11 percent drop in the Hang Seng Index.
Midland Holdings Ltd., Hong Kong's biggest publicly traded real estate agency, last week cut its estimate for tomorrow's auction by about 10 percent to HK$9.8 billion, according to Alvin Lam, an executive director at the company's surveyor arm. The previous forecast was done in early April, he said.
The site on Kowloon peninsula will be the third piece of land auctioned by the government this fiscal year. It has a total area of 16,151-square-meters (174,000 square feet) and building areas of 869,000 square feet.
The developer who buys the site will likely build between seven and 14 blocks of apartments with 25 to 31 stories each, according to Alnwick Chan, executive director at property consultant Knight Frank LLP. The project will probably sell for about HK$15,000 a square foot when it is completed, he said.
Lantau, Fanling Auctions
The first government auction of this fiscal year, conducted on May 11, fetched HK$3.42 billion for a site on Lantau Island, a third less than the median HK$4.75 billion estimate of three surveyors compiled by Bloomberg. Nan Fung Development Ltd., a privately held developer controlled by billionaire Chen Din Hwa, outbid only two other builders in the auction that analyst Adrian Ngan of CCB International Securities Ltd. described as "a slam" on the property market.
Two weeks later, a subsidiary of Henderson Land Development Co., controlled by billionaire Lee Shau-kee, bought a site in the city's northern Fanling area for HK$1.33 billion, shy of the HK$1.37 billion median estimate of four surveyors.
On May 28, MTR Corp., the government-owned subway operator, said it was withdrawing the tender for a residential and commercial project atop one of its subway stations, without giving an explanation.
Mega-builders
"Mega-builders" such as Sun Hung Kai Properties Ltd. and Cheung Kong Holdings Ltd. may have more interest in the Ho Man Tin site because of the high price it is expected to fetch, said Centaline's Cheung.
New apartments in the district, which include those at projects such as Cheung Kong's Celestial Heights and New World Development Co.'s Wylie Court, are currently selling for about HK$12,000 to HK$13,000 a square foot, according to Knight Frank's Chan.
The Lands Department is one of Hong Kong's largest suppliers of unoccupied land for building. Developers trigger auctions from a list of available sites by promising to pay a minimum amount.
Tomorrow's auction will be followed by another one on July 28 for a site on Mount Nicholson in the Peak district, according to the Land's Department website.
Henderson's Lee and his family on May 18 paid HK$1.82 billion for a 53,350 square foot plot of land on the Peak in an auction of non-government land. On a per-square-foot price of HK$68,200, the land was the city's most expensive in an auction, auctioneer Jones Lang LaSalle Inc. said.
Before it's here, it's on the Bloomberg Terminal.
LEARN MORE