HP Adds Web Connection, E-Mail Address to Printers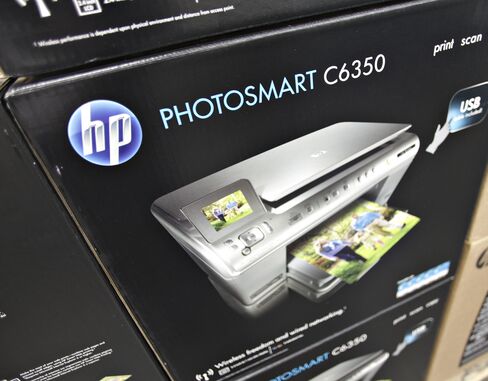 Hewlett-Packard Co., the world's largest printer maker, is adding a Web connection and setting up an e-mail address for all its printers as part of a long-term plan to enable printing from any device to any of its machines.
Four Photosmart all-in-one printers, priced from $99, debuted today, along with a new ePrint cloud-computing platform that lets customers e-mail documents and store them on the Internet, the Palo Alto, California-based company said.
HP plans to add a Web connection to all its laser and inkjet printers over time and said it expects to sell "tens of millions" by the end of 2011. Users won't need to install special software, or drivers, because they can e-mail files from their computers or mobile phones to a Web-aware printer or store them in the so-called cloud for printing later, said Vyomesh Joshi, head of HP's printing and imaging division.
"This will fundamentally change the way people think about printers and printing," Joshi said in an interview.
Google Inc. said it is working with HP so that users can access Google Docs, Photos and Calendar directly from their printers. New partners including Facebook Inc. and Live Nation Entertainment Inc. will have applications that users can download to their printers, allowing them to access content directly from those websites without going through a personal computer or other computing device.
HP, which introduced its first Web-connected printer in September, already has deals for content with Viacom Inc.'s Nickelodeon, Walt Disney Co., Coupons.com and online ticket vendor Fandango.com.
'5,000 Miles Away'
Mike Jazayeri, a group product manager at Mountain View, California-based Google, said he's looking forward to being able to take photos on his phone and print them on his mother's printer across the country.
"Many of the applications that people care about today are found on the Web and on mobile devices and users increasingly expect to print from these apps," Jazayeri said. "Users can print whether they are on their phone, tablet or PC to a printer that can be 5 feet or 5,000 miles away."
Printing is HP's second most profitable business after services, accounting for $1.1 billion, or 29 percent of earnings last quarter. Sales of consumer and business printers rose 14 percent to $2.07 billion in the three months ended in April.
Ink Supplies
HP makes even more money on supplies such as printer ink. Supplies sales, at $4.33 billion, accounted for 68 percent of the imaging and printing revenue.
To get customers to print more, HP also announced a service called Scheduled Delivery that lets them select content for automatic delivery to their printer at a designated time daily or weekly. Users can pick from content at HP's ePrintCenter. HP said it's working with content partners on localized advertising, using customer data from their ePrintCenter accounts to embed relevant offers in the content they request.
Yahoo! Inc. will run a pilot of the print ad service, HP said.
Hewlett-Packard, also the world's largest PC maker, fell 81 cents to $45.24 at 4 p.m. in New York Stock Exchange composite trading. The shares have lost 12 percent this year.
Before it's here, it's on the Bloomberg Terminal.
LEARN MORE