Fayyad Challenges Israelis With Settler Boycott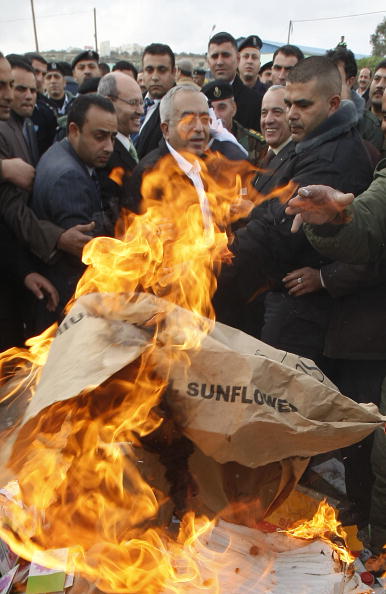 Palestinian inspectors were on the hunt for goods in West Bank stores made in Israeli settlements, and metal scouring pads with no labeled place of origin caught their attention.
"You better find out where these came from," said one man, who slapped a "No settlement products" sticker on the door of the Riviera Palace Mall Grocery Store in Ramallah. "They might be from them."
The inspectors were conducting a campaign organized by Prime Minister Salam Fayyad, known until a few months ago for trying to prepare Palestinians for statehood through gradual political and economic change.
Now he is photographed tossing contraband goods onto bonfires. His strategic shift includes an effort to persuade Palestinians not to work in the Israeli enclaves, which sell $200 million worth of products a year in the West Bank and Gaza, according to the Palestinian Government Media Center, and "stifle" economic development, Fayyad has said.
The campaign will continue until Palestinian homes are "empty of settlement goods," he told reporters May 27 in Ramallah.
"He is creating his own nationalist credentials," said Mahdi Abdul Hadi, director of the Palestinian Academic Society for the Study of International Affairs in Jerusalem. "He is filling an action gap."
Fresh Approach
Fayyad's efforts are a fresh approach to the conflict with Israel, Abdul Hadi said. Appointed prime minister in 2007, Fayyad, 58, hadn't taken a position on how Palestinians should resist Israel until the boycott. Instead, he focused on stabilizing areas under his control, including developing a police force and central bank. He has also invested $100 million in schools and community centers, according to Ghassan Khatib, director of the Palestinian media center in Ramallah.
Yasser Arafat, the leader of the Palestine Liberation Organization who died in 2004, maintained that the olive branch of negotiation could coexist with the weaponry of armed action. Peaceful protest is the better route for Fayyad, a former World Bank economist and Palestinian representative to the International Monetary Fund, Khatib said.
"The idea is to promote nonviolent resistance," he said. Fayyad wasn't available for an interview, despite repeated requests to his staff.
'Campaign of Incitement'
Israel sees Fayyad's strategy differently. The boycott is "part of a continuous planned and budgeted campaign of incitement," Deputy Foreign Minister Danny Ayalon said May 2. The Yesha Council, which represents some 300,000 Israeli West Bank settlers, has called it "economic terrorism."
Fayyad had to augment his administrative efforts with some form of resistance, partly because his emphasis on government and economic development might imply that Palestinians accept their current situation, said Nasser al-Qudwa, a former Palestinian ambassador to the United Nations and member of the ruling Fatah party. Fayyad is a political independent.
Israeli Prime Minister Benjamin Netanyahu "could interpret Fayyad's institutional building as surrender," al-Qudwa said. "This is dangerous territory."
U.S. President Barack Obama's administration is sponsoring indirect, and so far inconclusive, negotiations between the two sides.
Hamas in Gaza
Fayyad administers the West Bank and its 2 million Palestinians. The Gaza Strip, home to 1.5 million Palestinians, is ruled by Hamas, an Islamic party and militia that won parliamentary elections in 2006 and drove out Fatah security forces in 2007 in a power struggle. Israel, the U.S. and European Union consider Hamas a terrorist organization.
Israel has built about 100 settlements in the West Bank since the late 1960s. Another 100 embryonic settlements, which Israel calls outposts, have sprung up during the past decade. The International Committee of the Red Cross says they breach the Fourth Geneva Convention governing actions on occupied territory, and Obama has said they aren't legitimate.
Israel says settlements don't fall under the convention because the territory wasn't recognized as belonging to anyone before the 1967 Middle East war, which Israel won, and therefore isn't occupied.
Private Sector Help
Fayyad's campaign to root out the goods they produce is paid for mostly by Palestinian businesses through the Karama National Fund, a government task force created to enforce the boycott. By enlisting the private sector, Fayyad is challenging the notion that wearing a business suit is incompatible with battling Israel, said Samir Hulileh, chief executive officer of Palestine Development and Investment Ltd., a West Bank investment firm.
"He is trying to make business and resistance compatible," Hulileh said.
Palestinians boycotted some products as part of a 1987-1992 civil uprising designed to pressure Israel into leaving the West Bank and Gaza Strip. The Palestinian Economy Ministry has no data on the effectiveness of Fayyad's campaign, said Karama director Omar M. Kabha.
While Fayyad also wants the 25,000 Palestinian laborers who work in settlements to quit, Kabha said it will be difficult unless the Palestinian economy can provide alternative employment.
"As we build our own industries, we hope to employ these workers," he said.
Inspectors began fanning out May 18 in towns across the West Bank, hanging posters showing an accusative finger demanding that Palestinians stop buying settler goods. Fifty settlement companies are listed in a catalogue they take door-to-door, making items ranging from construction material and cookies to bath salts and wine.
"I don't think I have any settler products here," Riviera Palace owner Sultan Afori said as inspectors scanned his shelves. "If I did, okay, get rid of them. No problem. Throw them away."
Before it's here, it's on the Bloomberg Terminal.
LEARN MORE