Ex-Goldman Banker Walujo to Reap Reward From TPG Partnership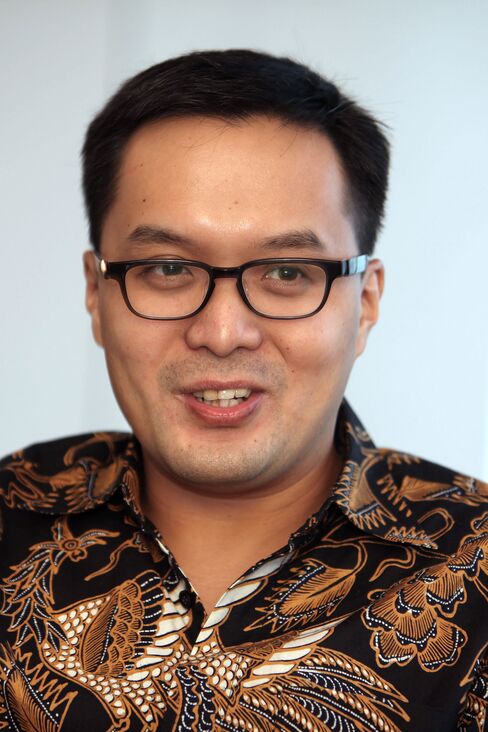 Patrick Walujo, a former investment banker at Goldman Sachs Group Inc., has emerged as Indonesia's busiest dealmaker since teaming up with U.S. buyout firm TPG almost four years ago.
TPG passed over other candidates when it began scouting for a partner in the nation in 2005. The 34-year-old's Northstar Pacific Partners shared TPG's plan to invest in plain vanilla equity of resources firms and companies set to benefit from growing consumption in Southeast Asia's largest economy, said Ashish Shastry, TPG's head for the region in Singapore. Other private-equity firms seemed to focus on more complex mezzanine debt or structured deals, he said.
"Indonesia seemed to us to be an interesting emerging market for investment, and Patrick and his colleagues seemed to be the best there," said David Bonderman, founding partner of the Fort Worth, Texas-based private-equity firm with $45 billion of capital.
Buyout firms including Washington-based Carlyle Group and the U.K.'s CVC Capital Partners Ltd. are venturing into the world's most populous Muslim nation, where private-equity investments could increase fivefold to as much as $3 billion this year, from $570 million in 2009, according to estimates by the Centre for Asia Private Equity Research Ltd.
'Building Mode'
Walujo, with TPG's backing since September 2006, has helped expand Northstar's assets under management to more than $1 billion from $200,000. Two-thirds of that is from co-investors including Government of Singapore Investment Corp., manager of Singapore's foreign reserves. The fund has also attracted money from pension funds, endowments and other institutional investors.
Northstar's biggest holdings include PT Bank Tabungan Pensiunan Nasional, in which it agreed to invest ahead of the bank's initial share sale in 2008. Northstar seeks to make three to five times the money it invests in a company within five years, Walujo said.
"We have been in building mode," Walujo, the son-in-law of Indonesia's 15th richest man, said in an interview at his office in Jakarta, where a framed photograph with Bonderman adorns a side cabinet. "This year is going to be a year of a few exits; next year is going to be a busy year for exits."
Northstar and TPG invested about $1.3 billion in five transactions between 2006 and 2009, the most deals on record by a private-equity investor in Indonesia in the period, according to the Hong Kong-based Centre for Asia Private Equity Research.
Bonderman
Walujo, who holds a Bachelor of Science in operations research and industrial engineering from Cornell University, got to know 67-year-old Bonderman, who attended Harvard University's law school and studied Islamic law at the American University in Cairo, after inviting TPG to participate in a leveraged buyout of coal producer PT Adaro Indonesia in 2005.
The value of the equity investment in Adaro has risen more than 100 times to exceed $5 billion, said Walujo, who wanted to return home after working as an investment banker at Goldman Sachs in London and New York, and in the Tokyo finance, merger and acquisition team at PCCW Ltd., Hong Kong's biggest phone company.
Two months after Northstar started the fund with TPG, Bonderman, Walujo and Timothy Dattels, Walujo's former boss at Goldman Sachs, had the first of their annual meetings with President Susilo Bambang Yudhoyono at his Merdeka Palace office in central Jakarta. Dattels oversees TPG's investments in Asia.
"We saw the opportunity in the private equity space in Indonesia because at that time, there were not many people," said Walujo, wearing a traditional batik shirt.
Palm Oil
Indonesia is the world's biggest palm oil producer and holds some of the largest deposits of natural gas and minerals such as coal and copper. Consumer confidence has been buoyed by political stability under Yudhoyono not seen since the ouster of former dictator Suharto in 1998.
"Private equity is fast becoming a very astute way of investing and profiting from the upswing in the Indonesian economy," said Karim Raslan, a Kuala Lumpur- and Jakarta-based consultant whose clients include private-equity firms seeking to invest in Southeast Asia, and who has known Walujo since 2004. "Because of the enormous surge in interest in Indonesia, guys like Patrick, who have had substantial experience outside Indonesia at leading investment banks, become a logical port of call."
CVC agreed to buy the retail unit of PT Matahari Putra Prima in January, the London-based buyout firm's first foray into Indonesia. Carlyle, the world's second-biggest private-equity company, is "actively exploring opportunities" for its first investment in the nation, Anand Balasubrahmanyan, a Singapore-based managing director said in December.
Perception
The Jakarta Composite Index is the best performer in Asia after Sri Lanka this year, according to data compiled by Bloomberg. The economy will probably expand 6 percent to 6.5 percent in 2011, central bank Senior Deputy Governor Darmin Nasution said on June 1.
Still, Walujo said it remains challenging to convince people to look at Indonesia "because of the perception problem that we are still suffering from." While the country's rank in Transparency International's corruption perception index rose to 111 last year from 126 in 2008, Indonesia remains in the category of nations perceived as corrupt.
Coal Mines
Walujo and Glenn Sugita, a former corporate finance banker at PT Bahana Securities, which was Goldman Sachs's partner in Indonesia, started Northstar in 2003 with capital of less than $200,000.
"One thing that we really like about them is that they want to operate Northstar at the same standard as any world class investment firm," TPG's Shastry said.
In 2008, along with TPG, Northstar bought a 71.6 percent stake in Bank Tabungan, originally a lender to retired civil servants, which opened about 500 micro banking branches last year. The value of the investment has risen almost threefold as the bank's loan growth outpaced the Indonesian industry's following its expansion into micro-lending, Walujo said.
The fund's biggest exposure to Indonesia's resources boom is through PT Delta Dunia Makmur, which acquired coal mining contractor PT Bukit Makmur Mandiri Utama, or Buma. Northstar bought a 40 percent stake in Delta Dunia in November when the property firm raised equity to fund its purchase of Buma, Indonesia's second-largest coal mining contractor.
Father-in-Law
Northstar flew prospective U.S. investors on a chartered Beechcraft 1900D to South Kalimantan province on Borneo island in February and gave them a tour of the Tutupan mine where Buma carries out coal excavation and hauling for Adaro, the nation's second-biggest coal producer.
"We have contracts in all of the top coal mines, which are projecting double their production within three to five years," Walujo said.
Both keen tennis players, Walujo and Sugita organize six tennis tournaments a year in Indonesia to encourage local players to improve their competitiveness.
Walujo's "commitment, his persistence to pursue, is incredible," said Bank Tabungan Chief Executive Officer Jerry Ng, who has known Walujo since 2003. "It blends into his level of energy as well."
Walujo counts his father-in-law, Theodore Rachmat, the former president-director of PT Astra International and the 15th richest man on Forbes's Indonesia list, as one of his mentors. Walujo is married to Ayu Rachmat and has a 20-month-old daughter.
Astra, the nation's biggest auto retailer, is the sole distributor of Indonesian-assembled Toyota Motor Corp. cars in the country and has a motorcycle venture with Honda Motor Co. Rachmat co-invests with Northstar in some deals, Walujo said.
"I try to draw a parallel between what we are trying to do and what Astra International did: they learned all the best practices from their foreign partners," Walujo said. "We have our partnership with TPG, the best of class, we learn from them. Eventually we want to create an Indonesian entity that we are proud of, just like Astra."
Before it's here, it's on the Bloomberg Terminal.
LEARN MORE