Buffett's Charity-Lunch Auction Draws Bid of $51,000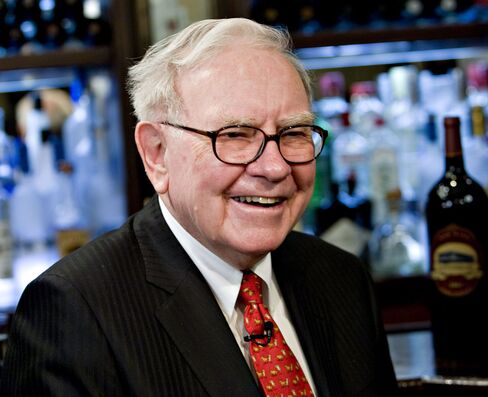 Warren Buffett's annual lunch auction, a chance to clink Cherry Cokes with the world's third-richest person, drew a high bid of $51,000 in the second day of the weeklong charity event.
The auction on EBay Inc. generated 18 bids by 4:30 p.m. in New York, according to the website. Bids typically surge in the sale's final hours. Last year's winner, a group led by Courtenay Wolfe of Salida Capital, paid $1.68 million, 20 percent less than the 2008 winner as the recession crimped charitable donations.
Buffett, 79, rose to prominence through five decades of investing success. Since the financial crisis, his celebrity has grown as his Berkshire Hathaway Inc. prospered without a U.S. bailout and the billionaire defended Goldman Sachs Group Inc. from public criticism. Guy Spier, who won the auction in 2007, has used his association with Buffett to make business contacts, such as a wealthy man Spier dined with last month.
"He wanted to meet the idiot who'd had lunch with Buffett for that amount of money," said Spier, a principal at hedge fund Aquamarine Funds LLC whose bidding team paid $650,100. "I think the return on the investment is really quite high. I've met so many people I wouldn't have otherwise met."
'Learn From the Master'
Wolfe of Toronto-based Salida said last year her lunch date with Buffett was a "once in a lifetime opportunity." Greenlight Capital Inc.'s David Einhorn, who won the 2003 auction with a $250,100 bid, said at the time that he made the purchase to support a good cause and "learn from the master."
The auction has raised almost $6 million over the past decade for San Francisco-based Glide Foundation, a favorite charity of Buffett's first wife, Susan Buffett, who died in 2004. She volunteered at the organization, which says it serves almost 1 million meals annually to the homeless and poor. No bids were made last night after the auction began at 10:30 p.m. New York time. Bidding concludes June 11.
Buffett's insights on markets attract the attention of those looking for clues on his investment strategy. Berkshire's investments in financial firms have increased pressure on Buffett, the chief executive officer, to discuss the financial crisis, assign blame and recommend remedies.
Barack Obama, during his successful 2008 presidential campaign, turned to Buffett for advice on the economy. So did the architects of the U.S. financial rescue program. In the days before American International Group Inc. needed the first installment of a government bailout valued at $182.3 billion, the insurer's then-CEO called Buffett for help, which he declined to provide.
Defending Goldman Sachs
Buffett, who injected $5 billion into Goldman Sachs during the depths of the crisis, became one of the bank's most visible advocates amid public outrage over the firm's pay practices and conduct with customers.
Last month, he told a crowd of 37,000 people at Berkshire's annual meeting in Omaha, Nebraska, that Goldman Sachs wasn't to blame for client losses and disputed the reasoning behind a U.S. regulatory lawsuit against the investment bank. Goldman Sachs denies wrongdoing.
The investment pays Berkshire $500 million a year, or, as Buffett boasted to shareholders, about $15 a second. The 2008 transaction also gave Buffett's firm warrants for the bank's common stock that have a paper profit of more than $1 billion, based on Goldman Sachs's closing price of $138.68 today on the New York Stock Exchange.
On June 2, Buffett appeared before the Financial Crisis Inquiry Commission and defended Moody's Corp. against criticism that the New York-based ratings firm misled investors about the quality of mortgage-linked securities during the housing boom. Berkshire is Moody's biggest shareholder with a 13 percent stake.
Cherry Coke Diet
His fortune was estimated at $47 billion by Forbes magazine in March, placing him behind telecommunications investor Carlos Slim and Microsoft Corp. co-founder Bill Gates in the worldwide rankings. Buffett's stock picks and takeovers turned Berkshire from a failing textile mill to a $174 billion seller of bricks, power and hurricane insurance. Berkshire's profit rose 61 percent to $8.06 billion last year.
In 2006, Buffett pledged 85 percent of his Berkshire holdings, a commitment valued at about $37 billion at the time, to the Bill & Melinda Gates Foundation and charities of four of his family members. The Gates donation is being made in annual installments, and will continue after Buffett's death. The charity, established by Gates and his wife, combats disease and global poverty, and funds U.S. education initiatives.
Berkshire is the biggest shareholder of Coca-Cola Co. and in a 2006 letter to investors Buffett attributed a clean bill of health in part to a diet featuring its soft drinks.
"It's amazing what Cherry Coke and hamburgers will do for a fellow," he wrote.
*T Glide Lunch With Warren Buffett Results:
Year Winner Winning Bid 2000 Anonymous $25,000 2001 Anonymous $18,000 2002 Anonymous $25,000 2003 David Einhorn, Greenlight Capital $250,100 2004 Jason Choo, Singapore $202,100 2005 Anonymous $351,100 2006 Yongping Duan, California $620,100 2007 Mohnish Pabrai, Guy Spier, Harina Kapoor $650,100 2008 Zhao Danyang, China $2,110,100 2009 Salida Capital, Canada $1,680,300