Thai Airways Forecasts Second-Quarter Loss on Riots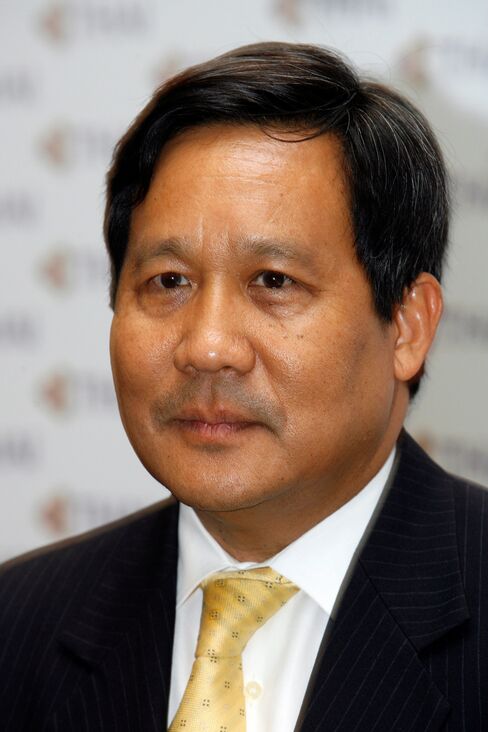 Thai Airways International Pcl, the nation's largest carrier, will probably report a second-quarter loss similar to last year's level after anti-government protests in Bangkok kept travelers away.
The airline lost about $90 million in revenue last month and June will also "not be good," President Piyasvasti Amranand said in an interview in Berlin yesterday. The political unrest which killed at least 87 people was compounded by volcanic ash over Europe that left passengers stranded, he said. The Bangkok-based airline had a second-quarter loss of 5.4 billion baht ($166 million) last year.
"Passengers will not come back immediately, it will take time," Piyasvasti said. "Hopefully, by the fourth quarter, which is the holiday season, we will be back to normal."
Advance bookings for the airline's route between Bangkok and London are already on the rise, he said in the interview before the annual meeting of the International Air Transport Association.
Thai Air, which competes with Singapore Airlines Ltd. and regional carriers to carry travelers to beach resorts like Phuket, returned to profit last year after posting its worst loss on record in the previous 12-month period. The airline saw its Bangkok hub closed and thousands of passengers left stuck for a week in 2008 as protesters occupied the airport.
Shares Slump
The carrier slumped as much as 3.3 percent, the biggest intra-day drop in almost two weeks, to 23.6 baht in Bangkok and changed hands at 23.7 baht at 10:38 a.m. local time.
The airline is considering adding services to the U.S. as it seeks to reduce dependence on fliers from Europe, Piyasvasti said. Options include resuming flights to New York and adding a second daily service to Los Angeles, the executive said. Thai Air is also planning to double its daily flight to Bali this month to reduce the impact on revenue from events in Bangkok.
Thai Air is seeking to raise 150 billion baht over the next five years to help finance new planes, Piyasvasti said. The carrier expects to reach an agreement with banks this year, he said.