Japan Ruling Party's Support Increases After Kan Named Premier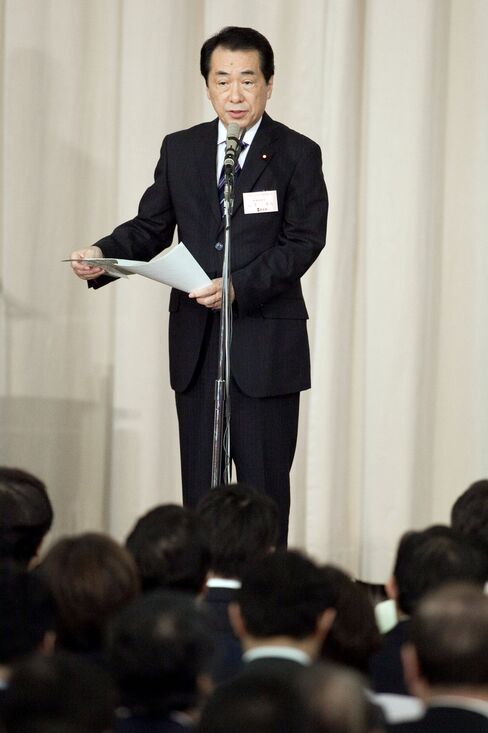 June 7 (Bloomberg) -- Naoto Kan, Japan's new prime minister, boosted the ruling party's approval ratings less than two months before national elections, according to surveys published in local media on the weekend.
Kan, 63, was elected head of the Democratic Party of Japan and the nation's premier on June 4, after Yukio Hatoyama resigned amid campaign finance scandals and a dispute over where to locate a U.S. military base.
The DPJ received a 36.1 percent support rate in a Kyodo News poll, an increase of 15.6 percentage points from the end of May. Kan "inspired hope" in 57.6 percent of those surveyed, Kyodo said. A poll by the Asahi Shimbun found that 33 percent would vote for the DPJ, up from 28 percent last week, and 59 percent had high hopes for Kan, who has spawned a T-shirt that plays on Barack Obama's campaign slogan by proclaiming, "Yes we Kan." A Mainichi newspaper survey found that 63 percent of respondents said Kan had given them hope.
"Kan has the gravitas and has groomed himself," said Koichi Nakano, a political science professor at Sophia University in Tokyo. "He's not one of those hereditary politicians who have turned out to be such disasters. But he's inheriting a lot of difficulties."
All of the surveys were conducted by telephone on June 4 and June 5, and none provided a margin of error.
Kan, who is expected to name his new cabinet tomorrow, has said he will work to carry out the policies of his predecessor. In a phone call with Obama on the weekend, Kan promised the president he would abide by Hatoyama's decision to relocate the Futenma U.S. Marine base to another site in Okinawa, according to a statement from Japan's foreign ministry.
The DPJ faces its first national test as the incumbent in upper house elections to be held by the end of July. The party ousted the Liberal Democratic Party from power in a landslide victory last August, ending the LDP's 50-year lock on power.
To contact the reporter on this story: Kanoko Matsuyama in Tokyo at kmatsuyama2@bloomberg.net
To contact the editor responsible for this story: Bill Austin at billaustin@bloomberg.net.