Prudential Defends AIA Bid, Backs Managers Amid Fury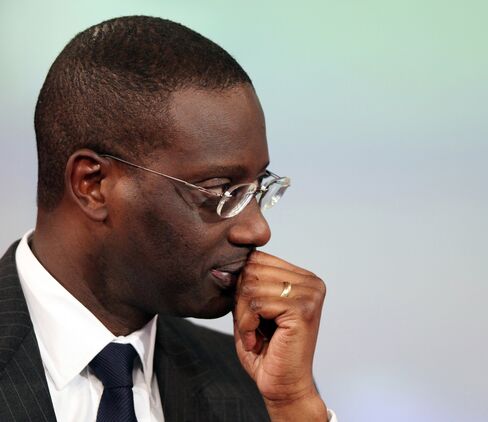 Prudential Plc Chairman Harvey McGrath defended the British insurer's failed $35.5 billion takeover of AIA Group Ltd. after investors called for him and Chief Executive Officer Tidjane Thiam to quit.
Prudential is "convinced" that the attempted purchase of AIA was the right strategy and that it was "in the best interests of investors," the chairman told shareholders at the company's annual general meeting in London today. The board doesn't support management changes, said McGrath, who also apologized for the costs of the failed bid, while calling them "affordable."
McGrath and Thiam are trying to show shareholders they have a plan to expand in Asia after the acquisition failed amid disagreements with large investors, the U.K. regulator and AIA's parent, American International Group Inc. The 47-year-old CEO has already apologized to investors for spending 450 million pounds ($651 million) in fees on the deal, and Prudential yesterday ruled out making another attempt to acquire AIA.
"We want a couple of heads to roll," shareholder Paul Ferro said at the meeting. "There's been a huge amount of mismanagement. We could have had a year's extra dividend for all that's been wasted."
Investors voted 94 percent in favor of the insurer's pay report at the meeting.
Asian Sales
The insurer's revenue in the first five months of the year grew 27 percent to 1.36 billion pounds, compared with the same period in 2009, as policy sales in Asia rose 33 percent, Prudential said separately in a statement. The company's Asian unit had its highest rate of sales growth on record in April and May, up 38 percent from 2009.
Thiam said in a June 4 interview his main priority in Asia will be to hire more agents to sell policies in the region.
Prudential is in "extremely good shape," the chairman said today. The company has no doubt it will grow without AIA, he said. Thiam added at the meeting that Asia's potential is "extraordinary," and that growth at the company's business there will "accelerate."
Prudential dropped 22 pence, or 4 percent, to 534 pence in London, valuing the firm at about 13.6 billion pounds. The FTSE 100 index of top U.K. firms fell 1.1 percent to 5069.06 points.
Shareholder Support?
Prudential's board has "confidence in the chief executive and the management team," senior independent director James Ross said at the meeting. It also has confidence in McGrath as chairman, he said.
Thiam said in an interview following the meeting that he and McGrath have the support of "the vast majority" of the company's largest 10 shareholders.
John Rider, a shareholder from Enfield, southeast England, said today at the meeting that the whole board has to take responsibility for the failed acquisition. "The management has performed abysmally," he said. "A lot of money has gone to waste. I'm very relieved the deal didn't go ahead."
The company will take a "hard look" at shareholders' communications, McGrath said today. Thiam's "first priority is to restore confidence with shareholders," he said. Investors voted in favor of re-electing several executives at the meeting by more than 95 percent.
Former CEO Mark Tucker is a candidate to replace either Thiam or McGrath, the Financial Times reported today, citing two unidentified top 15 shareholders.
Team Effort
Thiam, who became CEO in October, has sought to justify the AIA acquisition by saying the deal would have accelerated his plan to expand in Asia. Prudential would have become the biggest life insurer in Hong Kong, Malaysia, Thailand, the Philippines and Vietnam had the deal been completed.
"It was not just my brainchild, it was something that was embraced by the company before," Thiam said. "We worked on this for a long time, since September 2008. That predates my appointment as CEO."
He plans to continue with the insurer's strategy of using cash from maturing policies in the U.K. to fund investment in faster-growing Asian economies. The insurer also operates in the U.S. through its Jackson National Life Insurance Co. unit.
"You would expect the management to come out pretty strongly saying that the strategy was to grow in Asia," said Jonathan Jackson, who helps manage 2 billion pounds including Prudential shares at Killik & Co. in London. "They need to knuckle down with the existing strategy."
Prudential will still look for "bolt-on" acquisitions, the chairman said today, adding that "knee-jerk" asset sales aren't planned.
All the resolutions at the annual general meeting were passed with a majority of more than 90 percent, except for one giving the board authority to allot ordinary shares for rights issues, which received 68 percent support.