Israel Spurns Outside Gaza Raid Probe for Own Inquiry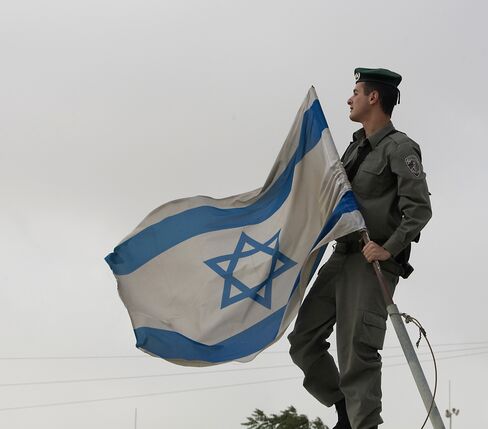 Israel rejected calls for an external probe of its raid on a Gaza-Strip bound aid ship that left nine dead. Off the Gaza coast, the navy killed four Palestinians who it said were armed.
"Israel has the ability and the right to investigate itself, not to be investigated by any international board," Michael Oren, the Israeli ambassador to the U.S., said, speaking on "Fox News." "I don't think the United States would want an international inquiry into its military activities in Afghanistan, for example."
Demands for an outside probe began after nine Turks, one of whom was also a U.S. citizen, were killed when Israeli commandos raided their boat, one of six in a flotilla attempting to breach Israel's three-year blockade on Hamas-controlled Gaza. Israel refused to participate in the United Nations report on the 2008 Gaza war, an inquiry its leaders rejected as one-sided.
Foreign Minister Avigdor Lieberman said any probe of the May 31 raid, which sparked calls for the lifting of the blockade, must be conducted by Israelis though it may include international observers. Israel says the embargo is necessary to prevent weapons from reaching Gaza.
"It has to be an Israeli committee," Lieberman said yesterday on Army Radio. "There is no problem with high level, well-known international observers serving as partners in the process."
Palestinian Divers
The Israeli navy today shot at an armed squad of Palestinian divers off the Gaza coast, an Israeli military spokesman said, speaking anonymously according to regulation. Four Palestinians were killed and one is missing, according to Mo'aweya Hassanein, chief of emergency medical services in Gaza.
Israel's air force struck a group of Palestinians in the northern part of the seaside strip that an army spokesman said was about to launch rockets across the border. There were no immediate reports of any fatalities.
Iran's Red Crescent said it will dispatch two aid ships to Gaza this week carrying food, drugs, doctors and relief workers, the official Islamic Republic News Agency reported today.
Turkish Foreign Minister Ahmet Davutoglu said today that Israel is required by international law to accept an outside probe. Israel is a "lie-making" machine and its raid on the Gaza-bound ship was "barbaric," Turkish Prime Minister Recep Tayyip Erdogan said at an Istanbul news conference today.
Proposed Commission
United Nations Secretary General Ban Ki-Moon has discussed with Turkey and Israel ways to move forward, according to a statement on the UN website.
That proposed commission would include Turkey and Israel as well as others appointed by the UN and would be headed by former New Zealand Prime Minister Geoffrey Palmer, an aide to Erdogan said in a telephone interview yesterday from the western city of Bursa, speaking on the usual condition of anonymity. Palmer didn't reply to a voicemail message left on his mobile phone in New Zealand.
A group of 10 Israeli naval officers called for an independent inquiry. In a public letter to Israeli Prime Minister Benjamin Netanyahu and Defense Minister Ehud Barak, the officers said that their trust in the decision-making echelon was shaken.
"We think that there were other ways to stop the ships," said the letter, published today in the daily Yedioth Ahronoth. "Grave tactical mistakes and bad judgement calls were made, primarily in an inability to define the mission in an appropriate fashion."
Goldstone Inquiry
Israel is refusing to agree to an international probe because similar investigations in the past have been biased, Avi Bell, a law professor at Bar-Ilan University, said. "The track record of international inquiries on Israel is that they are excessively political, the results are known in advance and Israel never gets a fair shake," he said.
Israel did not participate in a UN panel led by former UN prosecutor and South African judge Richard Goldstone that investigated the 2008 Gaza war. Goldstone's panel accused Israel and Hamas of war crimes and called on them to investigate the charges.
Israel said its military operation in Gaza was aimed at stopping the firing of rockets into its territory. Some 330 rockets have been fired from Gaza into Israel since the end of Israel's offensive, killing one foreign worker last March, the Israeli army said.
Impartial Inquiry
Israel's benchmark TA-25 stock index advanced 0.3 percent to 1,080.5 at the close in Tel Aviv.
Israel has faced international criticism over the raid. The U.S. has declined to specifically censure Israeli actions, while backing a June 1 UN Security Council resolution that condemned the violence that led to the deaths of the aid activists and calling for an impartial inquiry.
Turkey, which along with South Africa withdrew its ambassador from Israel over the incident, says an Israeli investigation wouldn't meet that criterion.
Vice President Joe Biden called the status quo in the Middle East "unsustainable" and said the U.S. is seeking new ways to improve living standards in Gaza.
The U.S. is "consulting closely with Egypt, as well as our other partners, on new ways to address the humanitarian, economic, security, and political aspects of the situation in Gaza," Biden said today in an e-mailed statement after meeting Egypt's President Hosni Mubarak in the Egyptian resort of Sharm el-Sheikh.
Egyptian Closure
Egypt, which has largely kept its border crossing with Gaza closed since Hamas took full control in 2007, will keep the border open indefinitely unless it sees security violations from the Palestinian side, a security official said today, speaking on condition of anonymity because he wasn't authorized to discuss the matter with the media. Mubarak last week ordered that the crossing be opened to admit sick and wounded people and in other urgent situations.
Criticism within Israel of the flotilla operation has focused largely on the execution of the raid and not the blockade. A survey of Israeli Jews published in the Maariv daily on June 2 showed 94.8 percent agreeing that it was necessary to stop the boats, with 62.7 percent saying it should have been handled in a different manner. Only 8.1 percent thought Netanyahu should resign. The pollsters interviewed a representative sample of 400 Israeli Jews and the results had a 4.9 percent margin of error.
Knives and Clubs
Israel says that on May 31 its soldiers were attacked with knives and clubs and seven were wounded, including by gunfire after people aboard one of the ships managed to grab Israeli firearms. Activists have said they threw the firearms into the sea and that the Israelis instigated the violence.
Israel has said it issued numerous warnings to the Gaza-bound flotilla asking it to change course for the port of Ashdod and unload there, before it seized the vessels.
The other five vessels, as well as a separate boat that arrived June 5, were taken over peacefully.
Israel has imposed restrictions on Gaza since Hamas ousted forces loyal to President Mahmoud Abbas's Fatah group and seized full control in 2007. Hamas is considered a terrorist organization by the U.S., the European Union and Israel.
Hamas's charter calls for the destruction of the Jewish state. Hamas leaders say they will renounce violence when Israel withdraws from territory occupied in 1967 and allows Palestinians to return to areas in Israel from which they fled in 1948.
Israel says its blockade is legal because it is in "a state of armed conflict" with Hamas. Some countries, such as Turkey, dispute the legality of the blockade.
Palestinians say the restrictions on food imports and construction materials have created a humanitarian crisis. Israel says it restricts imports because building materials and even some foods can be used to build rockets, bunkers or bombs.