Hon Hai Falls on Plan to Double Wages at China Plants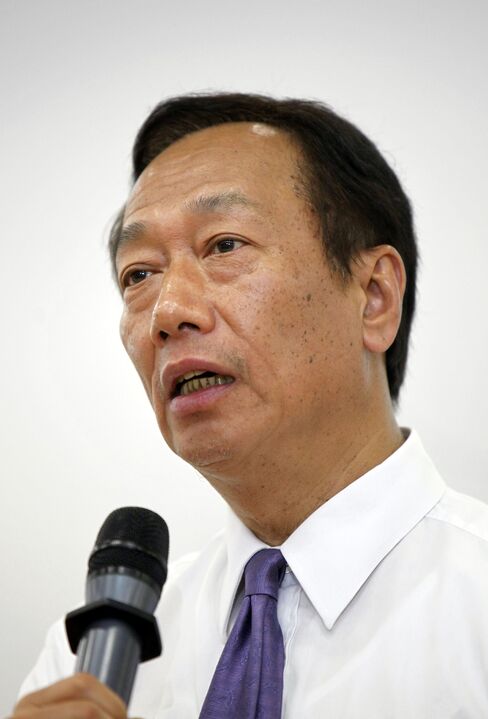 Hon Hai Precision Industry Co., the maker of Apple Inc. iPhones, dropped the most in a year in Taipei trading after the company agreed to more than double wages at its Shenzhen factories following a spate of suicides.
The flagship of the Foxconn Technology Group, the world's largest contract manufacturer of electronics, fell 5.6 percent to close at NT$117.50 in Taipei, the biggest drop since May 12, 2009, while the benchmark Taiex index fell 2.5 percent. Foxconn International Holdings Ltd., a Hong Kong-listed affiliate, tumbled 5.5 percent before trading was halted.
Base salaries at Hon Hai's Shenzhen factories will rise to 2,000 yuan ($293) a month in October from 900 yuan in May, prompting Citigroup Inc. to cut its 2011 earnings-per-share estimate by 36 percent. At least 10 workers have killed themselves this year, prompting labor-rights groups to call the Taiwanese company a "sweatshop" that doesn't pay employees enough to avoid overtime.
"The question is whether they can pass it on," said Allen Pu, who rates the stock "add" at Fubon Financial in Taipei. "We don't know if clients like Apple will accept" Foxconn raising prices, he said.
The median of 17 analyst estimates compiled by Bloomberg is for Hon Hai to post earnings of NT$12 a share. The salary increase could cut that value by 36 percent, Citigroup wrote in a report today. Deutsche Bank AG estimates the raise will cut 2011 earnings per share by 8.6 percent to 26 percent, Taipei-based analyst K.C. Kao wrote in a report today.
Shareholders' Meeting
Hon Hai Chairman Terry Gou is scheduled to meet investors at the company's annual shareholders' meeting from 9 a.m. tomorrow in Taipei.
Hon Hai Group, also known as Foxconn, will boost monthly pay for most first-line workers, their line managers and supervisors to 2,000 yuan from 1,200 yuan effective Oct. 1, the Taipei-based company said in an e-mailed statement late yesterday. On June 2, the electronics maker raised base pay from 900 yuan.
"We're very surprised by Mr. Gou's decision," said Jonathan Chang, deputy spokesman for Taipei-based contract electronics manufacturer Pegatron Corp. which has about 60,000 workers in Shanghai and Suzhou and none in Shenzhen. The company has yet to decide if it will raise wages further or assess whether it will win orders after the Hon Hai pay hike, he said.
'Very Troubling'
Hon Hai, which was criticized by labor groups for putting profit ahead of employee welfare, joins Honda Motor Co. in boosting wages in China. Apple Chief Executive Steve Jobs said last week the suicides were "very troubling" and that his company was "all over" Hon Hai to resolve the issue.
At least 10 workers have died from suicide, five during May, with three more attempts, according to Hon Hai. The deaths prompted Gou to open factories to the media and apologize.
"Many of these deaths have been linked to the horrible conditions at Foxconn facilities," New York-based China Labor Watch wrote in an e-mailed statement today.
Honda, Japan's second-largest automaker, last week reached an agreement with most of the 1,900 employees at a Chinese parts factory to raise pay by 24 percent to 1,910 yuan after workers walked out May 17. The strike shut its car-assembly plants and stopped production.
Hon Hai spokesman Edmund Ding declined to comment on what effect the wage increases will have on the company's earnings or clients. More than 400,000 workers will be affected by the pay raise with overtime hours worked by employees likely to decline after the higher wages are implemented, he said.
Workers' Dignity
"This wage increase has been instituted to safeguard the dignity of workers, accelerate economic transformation, support Foxconn's long-term objective of continued evolution from a manufacturing leader to a technology leader and to rally the best of our workforce," Gou said in yesterday's statement. "We recognize our responsibility as a global leader in electronics manufacturing, and take this responsibility very seriously."
David Shane, a spokesman for Palo Alto, California-based Hewlett-Packard Co. declined to comment yesterday. Jill Tan, a Hong Kong-based spokeswoman for Cupertino, California-based Apple, declined to comment by phone today. Jess Blackburn, a spokesman for Round Rock, Texas-based Dell Inc., didn't respond to e-mail or voicemail messages seeking comment yesterday.
Workers will receive the higher base wage after passing a three-month evaluation period, Hon Hai said. Further pay raises for current line-leaders and supervisors will be determined by Aug. 1, while wage increases for factory workers in other parts of China will be determined according to local conditions and announced from July 1, it said.
"The company remains a typical sweatshop, as are all factories that overlook the basic needs of their workers for the sake of profit," China Labor Watch wrote in a June 3 statement. Gou and Jobs have both denied Foxconn is a sweatshop.
Before it's here, it's on the Bloomberg Terminal.
LEARN MORE