'Monster' Cold-War Bridge Sparks Protests by Mosel Winemakers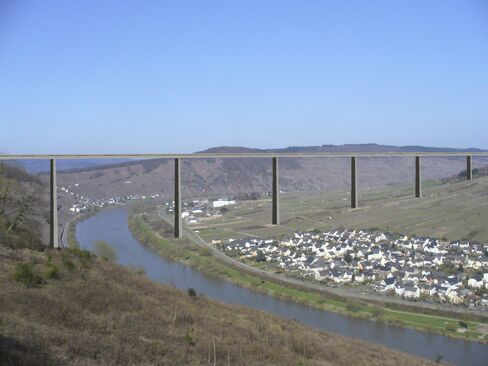 Ernst Loosen's family has made Riesling in the Mosel Valley for 200 years. The winemaker, who exports to 62 countries from Iceland to New Zealand, is enraged at plans for a giant road bridge across the river.
Regional politicians aim to build the 1.7-kilometer-long, 160-meter-high bridge across the unspoiled middle Mosel by 2016. At a cost of 330 million euros ($405 million), the bridge and road will feed traffic through a forest that provides water to steep, slate-soil slopes. Riesling grapes have grown on these slopes for 2,000 years, making some of the finest Mosel wines.
"This is the piece of the Mosel which is the most intact, which produces the most famous Rieslings," Loosen said at his slate-roofed villa near the town of Bernkastel-Kues. "The vineyards have a reputation worldwide. This huge bridge spans the whole landscape. Our only chance is to fight, to make as much noise as possible."
About a century ago, Mosel Rieslings were the most highly prized wines, valued even above French burgundy. Riesling is now back in fashion after years of what Loosen called taste "chardonnization" in the 1980s and 1990s. German wine sales to the U.S., the most important export market, tripled from 2002 to 95 million euros ($116 million at today's exchange rate) in 2008. About 9 out of 10 bottles exported were Rieslings.
The area affected by the bridge, which will straddle the Mosel halfway between the villages of Uerzig and Rachtig, has the highest concentration of prime "erste Lage" vineyards, the German equivalent of the French "grand cru."
Delicate Wines
"The Mosel Valley is an absolute gem, a most unusual jewel in the world's wine landscape," said Jancis Robinson, a British wine writer who has joined the campaign against the bridge. "It makes Rieslings that have an unrivaled delicacy."
As a result of the bridge, "there will be digging, there will be pressure, water courses will be changed, there will be shadows cast," she said in a telephone interview. All that could affect the wine, Robinson cautioned.
Loosen, his speech peppered with colorful expletives when talking about the bridge, agreed.
"They are ripping up our forest," he said. "This forest is the water reservoir for the vineyards. If you seal the surface, water can't get into the soil. We are already seeing drier vintages because of climate change. We need this forest, which works like a drip irrigation to feed the whole mountain."
Troubled Airport
Hendrik Hering, the economy and transport minister of the state of Rhineland-Palatinate, argues that the bridge is needed to connect European highways. He said in an April 12 statement that he also expects "additional impetus" for the money-losing Frankfurt-Hahn airport. Through his spokesman Joachim Winkler, Hering declined to be interviewed, citing time constraints.
Heiner Monheim, a professor specializing in transport planning at the University of Trier, said the bridge and road are unnecessary. Existing autobahns provide faster access to Belgium and the Netherlands, he said. Some local car journeys will be shortened, though only by a few minutes, he said.
"This is nothing but a big, expensive project for the construction industry," Monheim said by telephone. "The bridge is a monster -- maximum height, maximum length at a place where it has a devastating effect on the landscape."
The bridge plan dates back to the Cold War era as part of a route for transporting military hardware between U.S. airbases, Monheim said. Construction was shelved several times over the years because of court cases assessing the impact on wildlife, and then because of financial constraints.
Crisis Cash
It was only with the collapse of Lehman Brothers Holdings Inc. that funds became available, Monheim said. The project had been on a wish list of road plans before that, and was rushed through as part of the federal government's 2008 economic stimulus package after the crisis.
Rudolf Trossen, 55, took part in a tractor protest against the bridge in 1980. He has been in business in the Mosel Valley for 32 years and makes organic wine for customers including Noma in Copenhagen, which was voted the world's best restaurant in the S. Pellegrino awards in April.
"No one believed the bridge would be built, it seemed too absurd," Trossen said over a glass of his Schieferstern Riesling at the long dining table in his house in Kinheim-Kindel. "We thought it was dead in a coffin, and then it sprang out again, like a zombie. There is no longer much U.S. military here. The Russians went home a long time ago. Why are we building a road based on the military situation in 1960? It hurts to see this happening with my tax money."
Letter to Merkel
Local campaigners, organized by a British resident of Uerzig called Sarah Washington, are stepping up their fight against the bridge. Washington is collecting signatures for a petition to parliament, has written an open letter to German Chancellor Angela Merkel and has arranged protest wine-tastings with prominent opponents, such as Joschka Fischer, a former foreign minister.
Loosen has printed 50,000 "stop-the-bridge labels" to hang around the necks of bottles from his estate sold in U.K. supermarkets including J Sainsbury Plc and Tesco Plc. More events are planned in the fall.
Even as the diggers move across the hillside opposite Uerzig, Loosen is confident it isn't too late.
"With every day of this fight, I am more and more convinced that our chances are rising," he said.