Telecom Egypt Said to Renew Effort for Vodafone Stake Purchase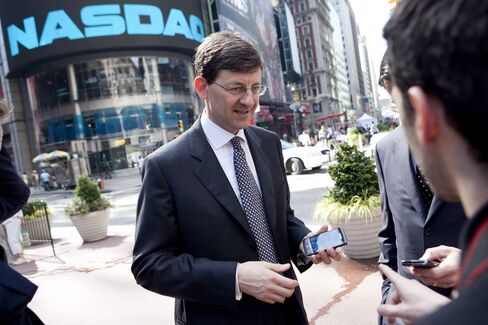 Telecom Egypt may seek investors to join a possible bid to buy Vodafone Group Plc's 55 percent stake in its Egyptian unit, a person familiar with the talks said.
Analysts value Vodafone's holding at about 3 billion pounds ($4.4 billion).
Talks between the two companies ended because Vodafone wanted to sell the entire stake while Telecom Egypt was looking only to raise its 45 percent stake in the unit, said the person, declining to be identified because the talks are not public.
Vodafone Chief Executive Officer Vittorio Colao has said that Europe, sub-Saharan Africa and India are the three "priority areas" for the company and will be the focus its investments.
Telecom Egypt's continuing interest in the stake was earlier reported by Cairo-based Al Shorouk newspaper, citing an unidentified Egyptian telecommunications ministry official.
Telecom Egypt wants to add 10 percent to 15 percent to its stake in Vodafone Egypt and will divide the rest among the other potential partners, the newspaper said. The Egyptian government holds an 80 percent stake in Telecom Egypt.
Telecom Egypt Chief Executive Officer Tarek Tantawy declined to comment as did Vodafone spokesman Simon Gordon.
Vodafone Egypt competes with the country's biggest wireless carrier Egyptian Co. for Mobile Services, also known as Mobinil, and Etisalat Misr, which is owned by the United Arab Emirates' Emirates Telecommunications Corp.
Vodafone said last month it will increase annual dividend payments by at least 7 percent for the next three years.
The company also concluded two auctions for wireless spectrum in India and in Germany, spending a total of $4.24 billion on licenses.