Sprint First to 4G for Live World Cup, 'Shrek' Movies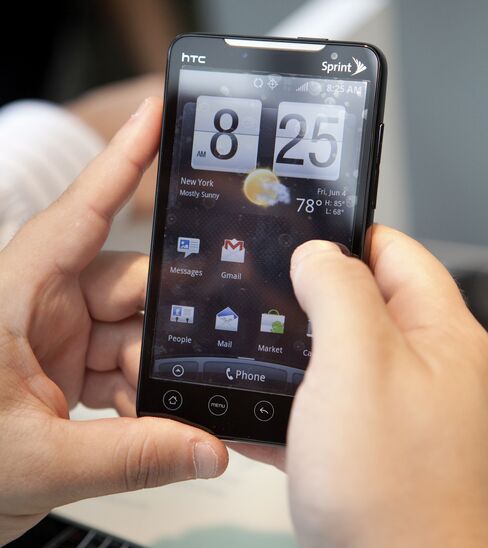 June 4 (Bloomberg) -- Sprint Nextel Corp. began selling the first phone in the U.S. based on a next-generation wireless technology, an advance that may usher in devices with high-definition video capabilities and faster downloads.
The Evo phone from HTC Corp., available starting today, costs $199.99 with a two-year contract at Sprint, the third-largest U.S. mobile-phone carrier. It runs on Google Inc.'s Android operating system and uses the so-called fourth-generation wireless network that Sprint co-owns with Clearwire Corp.
Handsets such as the Evo will be able to download content about 10 times faster than third-generation technology, Overland Park, Kansas-based Sprint said. That will let people watch live World Cup matches, make video calls and download movies such as "The Karate Kid" or "Shrek Forever After."
"The most important thing about these devices isn't really the device itself, it's really the applications and the content that you can use on the device," said Jim McGregor, chief technology strategist at research firm In-Stat. "It changes the way we use the Internet."
As more 4G devices hit the market, developers will create software programs to take full advantage of the higher speeds, McGregor said.
'Smiles'
Applications could give users information about their surroundings based on landmarks the phone's camera recognizes, while mobile games like "Guitar Hero" or "Prince of Persia" could incorporate better graphics and higher-resolution video. HTC also makes the MAX 4G WiMax phone for the Russian market.
"The demand leading up to today was very strong," Jason Mackenzie, vice president of HTC's North American business, said without giving sales numbers. "There are smiles at all the companies at the moment."
Innovation on future phones will likely come from application developers, and the larger bandwidth will give rise to games and activities that multiple people on different devices can interact with at once, said Martin Fichter, HTC vice president of product management and planning.
Sprint fell 17 cents, or 3.43 percent, to $4.78 in New York Stock Exchange composite trading at 4 p.m. The stock has gained 31 percent this year.
The 4G Rollout
It's not clear the country's wireless networks will prove robust enough to handle the traffic for all these applications. AT&T Inc. said it will stop offering unlimited wireless data plans to new customers, as it struggles to manage surging demand from devices such as Apple Inc.'s iPhone and iPad. Sprint Chief Executive Officer Dan Hesse said in an interview the company has no plans to change its pricing.
"It has to be seen in the context of the explosion in demand," said Craig Moffett, a New York-based analyst at Sanford C. Bernstein. "Demands on the network are doubling every six months. It is not a cure all."
Basking Ridge, New Jersey-based Verizon Wireless, the largest provider in the country, will begin rolling out its 4G network this year. Dallas-based AT&T, the second-largest U.S. wireless company, plans to introduce its service next year, the company has said.
Ultrasound Video
Alcatel-Lucent SA, which is building 4G networks for Verizon and AT&T, is helping carriers plan new services for its technology, called long-term evolution, said Ken Wirth, president of LTE networks. The company is helping develop consumer applications, such as high-definition video downloads, as well as business programs, he said in an interview.
Hospitals may be able to use phones to share video from a pregnant woman's ultrasound with several doctors, who can make recommendations instantaneously, he said. The patient can share the video with her social network at the same time. Digital signs in malls will provide directions and let users make restaurant reservations or buy movie tickets, he said.
Customers and businesses will also be able to store more information away from their phones in servers, saving room in their device's memory, Wirth said.
4G "will make connectivity truly ubiquitous," Roger Entner, an analyst at Nielsen Co., said in an interview. "It will make that device you have in your hand even more powerful, even more valuable."
To contact the reporter on this story: Amy Thomson in New York at athomson6@bloomberg.net
To contact the editor responsible for this story: Peter Elstrom at pelstrom@bloomberg.net