Prudential CEO 'Sorry' for Spending on Failed AIA Bid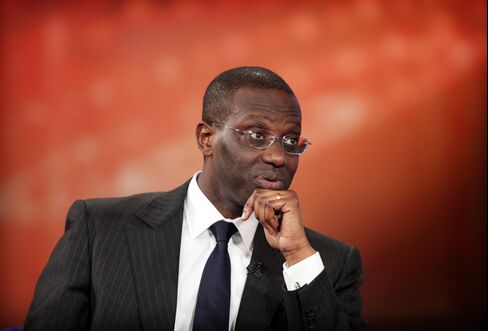 Prudential Plc Chief Executive Officer Tidjane Thiam made his first public apology following the company's failed $35.5 billion attempt to buy American International Group Inc.'s main Asian unit.
"I'm very sorry we had to spend the money and didn't get a deal," Thiam, 47, said in a Bloomberg Television interview today. "It is a lot of money. It is almost tragic because philosophically I am not a great fan of acquisitions."
Thiam and Chairman Harvey McGrath are facing pressure from some shareholders to step down after their abortive attempt to buy AIA Group Ltd. cost the insurer about 450 million pounds ($655 million) in fees, equivalent to the total dividend last year. The pair will speak publicly to shareholders for the first time since the bid collapsed at the insurer's annual general meeting in London on June 7.
The takeover, which would have been the biggest in the world this year, collapsed after investors including BlackRock Inc. and Fidelity Investments said the deal was too costly. Thiam tried to cut the price to $30.4 billion to win investor support for the purchase. AIG's management initially agreed to the lower price on May 30, though it was rejected a day later when it was put to AIG's board, Thiam said.
"For us, it was an unexpected outcome and a big surprise" that AIG didn't accept the lower offer, he said. It was always the intention of the insurer to renegotiate the price, Thiam said.
'The Right Thing'
"We always do. That is the culture of the company," he said. "We still think it was the right thing to do," Thiam said of the attempt to buy AIA.
Thiam also said he doesn't feel under pressure from shareholders to resign. "I'm the servant of the shareholders and if the shareholders wanted me to resign of course I would," Thiam said. "They have not expressed that desire."
Prudential spokesman Ed Brewster said in a telephone interview earlier today that the insurer's non-executive directors are backing Thiam to remain in his post.
The planned acquisition was "the first transaction in the new world" formed after the financial crisis, Thiam said. It was "not a fiasco. In this new world that I described as post-crisis, it was very difficult to estimate how much risk appetite had changed."
Prudential declined 1.7 percent to 556 pence today in London trading, valuing the insurer at 14.1 billion pounds. The stock has fallen 13 percent this year, in line with the seven- member FTSE 350 Life Insurance index.
Standard & Poor's Ratings Services yesterday said Prudential's A+ credit rating remains on watch for a possible cut. "Material costs have been incurred in pursuing the AIA transaction, exacerbating, in our view, pre-existing pressures on cash flow and funding metrics," S&P said in a report.
Before it's here, it's on the Bloomberg Terminal.
LEARN MORE