Kan Policy to Boost Japan Stocks, Deutsche Bank Says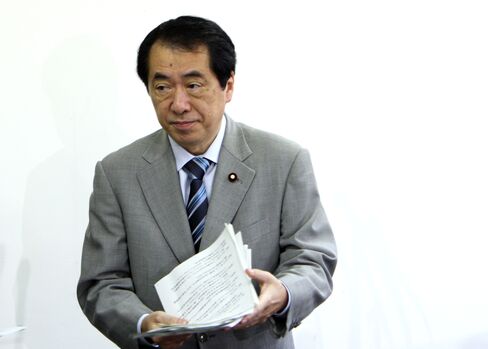 Naoto Kan's appointment as Japan's prime minister will ease investor anxiety over the world's largest public debt and boost stocks, said Naoki Kamiyama, Deutsche Bank AG'S chief equity strategist in Tokyo.
Kan, 63, was today elected prime minister of Japan by the lower house of parliament, succeeding Yukio Hatoyama. Kan is likely to implement a more disciplined fiscal policy, easing investors' concerns about solvency issues, Kamiyama said.
"From an investors' perspective, the most important thing is the fiscal discipline of the government," Kamiyama said in a telephone interview today. Kan must "change the policy from allowances and money distribution to a tight policy. If we compare with Hatoyama, Kan may be better."
Kan is taking the reins just weeks before the government is due to say how it intends to reduce public debt and release a strategy to sustain a 3 percent growth rate over the next decade, a pace unseen since 1991. Japan's public debt is approaching 200 percent of gross domestic product, the biggest among the 30- member Organization for Economic Cooperation and Development.
Falling tax receipts and increasing social welfare costs helped push Japan's debt to a record high in the fiscal year ended March. Public debt totaled 882.9 trillion yen ($9.81 trillion) as of March 31, up 4.3 percent from a year earlier, according to the Ministry of Finance. Kan said yesterday that while there is no "overnight" fix, he will announce a new strategy for growth and tighter fiscal policy later this month.
No Overnight Fix
"I don't think fiscal rehabilitation can be done overnight," Kan said. "At least I'd like to correct the trend in which the public debt keeps increasingly endlessly."
The Japanese government may suffer fiscal collapse in 10 years to 15 years if the ruling Democratic Party of Japan maintains its expansionary spending policy, Takao Komine, a professor at Hosei University and former bureaucrat, said on June 1.
Kan's appointment comes just nine months after the DPJ ended the Liberal Democratic Party's more than 50 years of almost unbroken control of government on a mandate to cut wasteful spending and increase household consumption. The Nikkei 225 Stock Average has risen 3.1 percent since Hatoyama said on June 2 that he will step down. The gauge fell 0.1 percent today after rising as much as 0.5 percent.
Exporter Stocks
Kamiyama was ranked 10th among Japanese equity strategists in a survey by the Nikkei Veritas newspaper this year and ninth last year. He worked at Morgan Stanley before joining Deutsche Bank in May this year.
On Sept. 2, 2008, the day after the LDP's Yasuo Fukuda said he would resign as prime minister, Kamiyama said financial markets would be disrupted in the short term. The Nikkei 225 fell 5.8 percent in the three weeks until the LDP's Taro Aso was elected to succeed Fukuda.
The strategist recommends investors buy export-related stocks such as automakers and manufacturers of consumer electronics on optimism Kan's policies will favor a weaker yen. A depreciation in the yen raises the value of overseas revenue when repatriated.
Kan said on Jan. 7, his first day as finance minister, that he wanted the currency to fall "a bit more" and pledged to monitor its level. That stance is a reversal from his predecessor Hirohisa Fujii, who was appointed finance minister in September. The yen reached a 14-year high versus the dollar on Nov. 27 last year and has since fallen 7.1 percent.
Growth Strategy
"Kan is supporting a weaker yen so I think he is quite good for investors," Kamiyama said. "His view is very different from Fujii," he said, without naming specific stocks.
Jesper Koll, head of equity research at JPMorgan Chase & Co., said Kan gained practical expertise in economic and fiscal policy during his stint as finance minister. Kan will emphasize economic growth compared with Hatoyama's focus on social policies, he said.
"After the democrats got into power and after Hatoyama got into power, the number one priority was social policies," Koll said. "Now it's going to be economic policy. It's going to be to promote growth."