Brazil Election to Slow Investment, Real Forecast Cut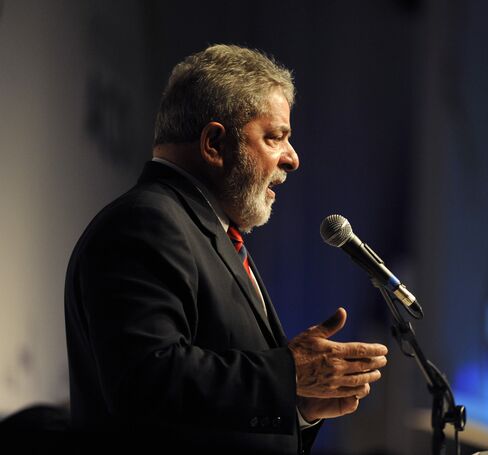 June 4 (Bloomberg) -- The month-long slump that has made Brazil's real the worst performer in Latin America may deepen as Bank of America Corp. and Barclays Plc say investment will slow before the vote to replace President Luiz Inacio Lula da Silva.
The two banks cut their third-quarter forecast for the real by more than 2.5 percent in the past five weeks, driving down the consensus year-end estimate in a Bloomberg survey by 1.1 percent to 1.77 per dollar. The reductions contrast with increases in forecasts for the Mexican peso and Argentine peso.
While the real fell 5.4 percent in the past month as Europe's debt crisis eroded demand for higher-yielding emerging-market assets, further declines will be driven by candidates' campaign comments ahead of the October elections, said Roberto Melzi, a Latin America local markets strategist at Barclays.
"There'll be a bit of noise about what the candidates do, what they don't do, who they appoint," Melzi said in a June 2 telephone interview from New York. "There could be uncertainty, volatility and some weakening" in the real, he said.
Barclays, the third-largest currency trader according to Euromoney Institutional Investor Plc, cut its September forecast last month to 2 reais per dollar from a previous 1.95. Charlotte, North Carolina-based Bank of America lowered its third-quarter call in late April by 9.5 percent to 1.9.
The real plunged to 1.8654 from 1.7648 in the past month on speculation credit-rating downgrades in Greece, Spain and Portugal would slow the global economic recovery. The drop is the biggest among the six most-traded Latin American currencies.
Currency Hedges
The cost to insure against real declines for three months surpassed the one-year premium for the first time in 16 months on May 7, signaling investors are more bearish on the real over the short term than long term.
Three-month options giving investors the right to sell the real cost 5.82 percentage points more than contracts to buy at 5 p.m. New York time. One-year options offering the right to sell cost 5.5 points more than contracts to purchase. The premium gap between the three-month and one-year contracts touched 0.55 point on May 21, the biggest since December 2008.
The "global volatility" sparked by the European crisis will ease in coming months, Melzi said. "As this fear dissipates, we would expect the real to underperform other currencies because" of the elections, he said.
'Danger Zone'
Dilma Rousseff, an ex-Marxist guerrilla who served as Lula's cabinet chief for five years, and Jose Serra, a former health minister and Sao Paulo governor, are the leading candidates. Lula is ineligible to run for a third term. The candidates were in a statistical dead heat, according to a May 10-14 poll by Sensus that has a margin of error of 2.2 percentage points. Rousseff was supported by 41.8 percent of the 2,000 people surveyed while Serra was backed by 40.5 percent.
"The danger zone for politics to contaminate riskier assets is the August-September period," said Paul Biszko, an emerging-market analyst at RBC Capital Markets in Toronto. He predicts the real will end the year at 1.85.
Biszko said that neither candidate is a "positive" for the real because the two favor boosting the size of government and increasing its role in the economy, measures that would run counter to what he says is the country's need to reduce taxes.
"We are a bit cautious," he said.
Brazil's budget deficit widened to the equivalent of 3.2 percent of gross domestic product in the 12 months through April from 3 percent in the year-earlier period, according to the central bank. The gap is down from a five-year high of 4.6 percent of GDP in October.
Rate Futures
The real slid 2.6 percent today and is down 6.5 percent this year. It soared 33 percent in 2009, the biggest gain among major currencies.
The yield on Brazil's interest-rate futures contract due in January, the most active contract in Sao Paulo trading, fell six basis points to 10.92 percent.
The yield premium investors demand to own Brazilian government dollar bonds instead of U.S. Treasuries widened 19 basis points to 243.
The cost of protecting the nation's debt against non-payment for five years with credit-default swaps jumped 12 basis points to 147 basis points, according to data compiled by CMA DataVision. Credit-default swaps pay the buyer face value in exchange for the underlying securities or the cash equivalent should a government or company fail to adhere to its debt agreements.
World Cup Distraction
Bank of America, the biggest U.S. lender, and Barclays predict the real will rebound after elections. Bank of America estimates it will climb to 1.8 per dollar by year-end from 1.9 on Sept. 30 and Barclays forecasts it will gain to 1.9 from 2. While investor concern about the candidates' policies will mount during the campaign, it will recede after the vote, Melzi said.
"We don't see significant changes in economic policy once the new government is established," he said.
The median real prediction in a Bloomberg survey of 21 economists is for 1.77 in September and at year-end.
The real plunged to a record low of 4 per dollar before Lula's election in 2002 amid concern he'd default upon taking office. The currency rebounded to 2.8440 by mid-2003 after Lula shored up investor confidence by cutting government spending.
"It'll be nothing like Lula in 2002, but we're expecting some volatility," Melzi said.
Investors will begin focusing on the campaign after the World Cup soccer tournament, the world's most-watched sporting event, ends in July, Biszko and Melzi said. Brazil, the only country to win the tournament five times, is scheduled to begin play on June 15 in Johannesburg, South Africa.
"Everyone's going to be glued to the TV," Melzi said. "Call it mid-July when we could begin to see some pressure."
To contact the reporters on this story: Veronica Navarro Espinosa in New York at vespinosa@bloomberg.net Paulo Winterstein in Sao Paulo at pwinterstein@bloomberg.net
To contact the editor responsible for this story: David Papadopoulos at papadopoulos@bloomberg.net