Soderling Ends Quest for Perfection, Settles for Wins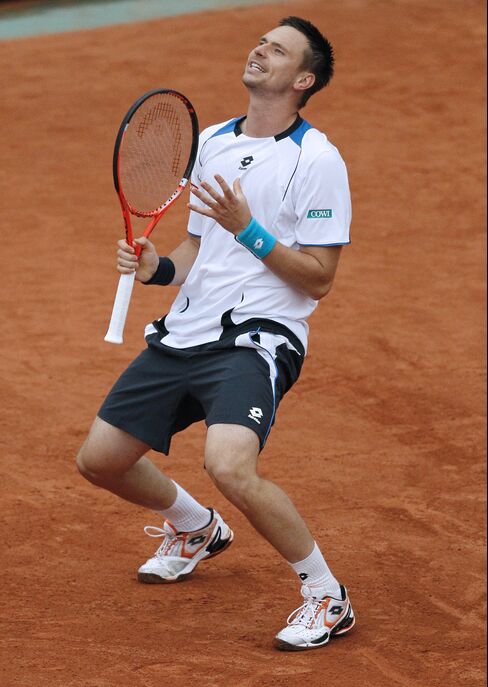 Once Robin Soderling abandoned his quest for perfection, he discovered he still was good enough to win matches against top tennis players such as Roger Federer and Rafael Nadal.
Now, after ending Federer's record run of 23 straight semifinal appearances in Grand Slam tournaments, Soderling is in the Roland Garros final for the second year in a row. He will face Nadal, who defeated Jurgen Melzer in the semifinals.
Soderling is the only man to defeat four-time champion Nadal at Roland Garros. The Swede credited his coach, former world No. 2 and 2000 French Open runner-up Magnus Norman, with changing his approach to the game.
"Before, I always wanted to play well, I was always looking for my best game," Soderling said. "But he told me you can still win a lot of matches, even against good players, even if you don't play your best tennis. It took a while, but I started to think that way, and it started to work."
Soderling defeated Tomas Berdych of the Czech Republic in five sets to advance to his second straight French Open final. Today's win is an example of his new view: the Swede won 6-3, 3-6, 5-7, 6-3, 6-3.
Soderling, 25, is the first men's player in a quarter-century to knock the defending champions out of the French Open in consecutive years.
Last year, he defeated 2008 champion Nadal in the fourth round. Three days ago, the fifth-seeded Soderling knocked top-seeded Federer, the 2009 champion, out in the quarterfinals. He'll take on Nadal, who could regain the top spot with a win, in two days in the final.
Great Feeling
"Both times I played really good tennis," Soderling told reporters. "It's a great feeling."
Fellow Swede Bjorn Borg, who has a men's record six singles titles at the French Open, praised his countryman after Soderling defeated Federer for the first time in 13 career matches.
"He constantly reaches new levels and now I dare say it: Robin will become the world No. 1," Borg told Expressen newspaper. "It almost looked as if it was Robin that had 12 straight wins against Federer, and not the other way around."
Soderling is the first man to defeat defending champions at Roland Garros in consecutive years since Sweden's Mats Wilander beat Yannick Noah in 1984 and Ivan Lendl in 1985.
The left-handed Nadal is the 2-7 favorite to win his fifth Roland Garros title at oddsmaker Ladbrokes.com. That means a successful $7 bet will return $2 plus the original stake. Soderling is at 4-1, Berdych at 12-1 and Melzer at 33-1.
Consistency Counts
Soderling made his first Grand Slam final last year in Paris as the No. 23 seed, losing to Federer in straight sets. That proved to be a turning point in his career, Soderling said in an interview in Monte Carlo in April at the start of the clay-court season.
"I showed that Paris wasn't really like one thing, I played very good in a lot of tournaments," he said. "If you look at the top guys, that's what you have to do. They do well in every tournament, every week."
After making the French Open final, Soderling reached the last 16 at Wimbledon and got to his first U.S. Open quarterfinal -- losing to Federer each time -- and made the semifinals of the season-ending ATP World Tour finals in London. He also became the first Swede to end the year in the top 10 since 2000.
"I had a great year," the right-hander said in April. "I didn't play my best tennis every match, but I still beat a lot of good players. When you look at the top guys, you see Federer, Nadal. They're not playing the best tennis every match, of course not, but they're still winning a lot of matches against very good players. I think that's what separates the top 10, top five guys from the others."
Soderling may benefit from his experience last year if he reaches the final this time at Roland Garros, Federer said.
"He definitely has a chance," the Swiss said in a news conference after his defeat. "He was in the finals here last year. If he makes the finals again, he'll feel more comfortable in that kind of a situation. Maybe he'll play a better final."
Before it's here, it's on the Bloomberg Terminal.
LEARN MORE