Kan Vows to Revive Trust in Japan's Ruling Party as New Premier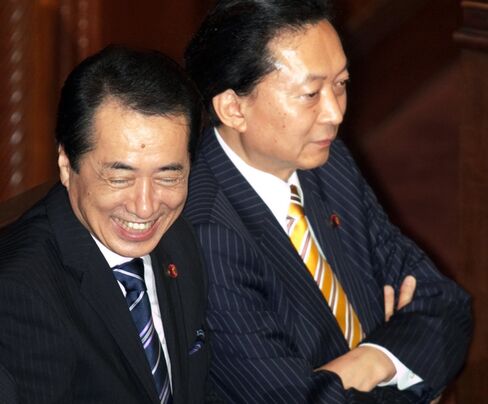 Naoto Kan took over as Japan's prime minister with a vow to succeed where his predecessor had failed in changing a political system dominated by a single party for half a century.
"I want to convince the public that real reforms are entering the stage of concrete implementation," Kan, 63, said yesterday in his first public address after parliament elected him premier. "I want to show the people their expectation for the Democratic Party of Japan reflected in last year's election wasn't just a dream."
Kan is trying to convince voters he can deliver change they sought in the DPJ and Yukio Hatoyama last August in a landslide victory. With mid-term elections next month, Kan must prove he has a feasible strategy to rein in the developed world's largest public debt and safeguard economic growth.
"Japan needs drastic measures and this requires strong leadership and vision," said Kirby Daley, a senior strategist in Hong Kong with Newedge Group's prime brokerage business. "Kan has the ability to transform this uninspired and unoriginal party into the enlivened and energized force for change that so many believed in last year."
Kan, the fifth leader in less than four years, said yesterday he will pursue the main policy goals of Hatoyama, which included improving social welfare and cutting the power of bureaucrats. He must also consolidate ties with the U.S. and build relations with China and other Asian countries.
Base Relocation
Hatoyama said he would step down on June 2 after failing to relocate a U.S. Marine base off Okinawa, a campaign pledge that dominated his relationship with President Barack Obama. Kan vowed yesterday to handle the dispute over where to relocate the Futenma Marine facility within the island based on an accord with the U.S. that Hatoyama announced last month.
China's foreign ministry called on Kan to continue strengthening relations.
"Prime Minister Kan has emphasized many times a focus on developing ties between China and Japan," spokesman Ma Zhaoxu said in a statement posted on the ministry's website today. "We appreciate it."
Vice Finance Minister Yoshihiko Noda, 53, may take over as Kan's successor at the ministry, the Yomiuri newspaper reported yesterday, without citing anyone. Yukio Edano will be named secretary general of the ruling Democratic Party of Japan, according to the report.
'Lose Moderately'
"The DPJ now has a chance to lose moderately instead of drastically" in mid-term elections next month, said Minoru Morita, a Tokyo-based independent political commentator. "The DPJ wants to change its image to prevent a major defeat."
Japan's bonds rose yesterday, pushing five-year yields to the lowest since 2003, on speculation the new administration will adopt measures to curb the deficit. The Nikkei 225 Stock Average fell 0.1 percent after rising the most in six months on June 3.
In his televised address, Kan said he aims to pass a bill allowing Japan Post Holdings Co., the state-run operator of the world's biggest bank by deposits, to expand operations, in this session of parliament. The bill is currently under consideration in the upper house of parliament, after passing the lower house last month.
Japan's ratio of debt to gross domestic product is approaching 200 percent, the highest among developed nations, according to the Organization for Economic Cooperation and Development. A failure by leaders to address the imbalance puts Japan at risk of triggering the next sovereign debt crisis, said Toyomi Kusano, president and chief executive officer at Kusano Global, a hedge-fund research firm in Tokyo.
No Quick Fix
Kan said earlier this week he has no instant fix for Japan's fiscal shortfall and expects voters to punish the ruling party in next month's contest.
"This is still the second-largest economy in the world and it's very important that we have strong, effective leadership," said Ed Rogers, chief executive officer of Tokyo-based hedge-fund adviser Rogers Investment Advisors Y.K. "The political merry-go-round has got to stop."
Japan's Keidanren business lobby, led by Tokyo-based Sumitomo Chemical Co. Chairman Hiromasa Yonekura, urged Kan's government to tackle deflation and overhaul fiscal and tax policy. Masamitsu Sakurai, chairman of the Japan Association of Corporate Executives and of Ricoh Co., said yesterday in a statement Kan should clarify the party's medium and long-term vision for the country.
Taking Power
Hatoyama, 63, resigned less than a year after the DPJ took power. Japan's new prime minister graduated from the Tokyo Institute of Technology in 1970, majoring in applied physics, and later obtained a license as a patent attorney. He entered parliament in 1980 as a lawmaker for the now-defunct Social Democratic Federation.
Kan is a first-generation politician, who rose to prominence as health minister in the 1990s when he exposed that agency's role in allowing up to 5,000 Japanese to contract HIV through contaminated blood products. A co-founder of the DPJ in 1998, he was forced to step down as party leader in 2004 after admitting he failed to fully pay his national pension contribution.
Before it's here, it's on the Bloomberg Terminal.
LEARN MORE