G-20 Split on Increasing Bank Capital, Official Says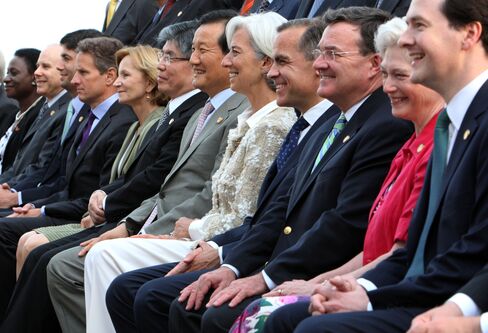 June 4 (Bloomberg) -- The Group of 20 nations is split on the scale and timing of increases in bank-capital requirements that have been under discussion since governments were forced to bail out lenders, an official from a G-20 government said.
Countries such as the U.S. whose economies are largely financed by markets want banks to be required to hold more assets on their balance sheets to buffer against future crises, said the official, who will attend this weekend's talks of G-20 finance chiefs in Busan, South Korea. Policy makers in continental Europe, where banks provide more financing, are concerned that too-high reserves risk choking off growth, the official told reporters on condition he not be named.
At stake for banks is the potential need to raise as much as $375 billion in fresh capital under the proposals being discussed, according to estimates by UBS AG. U.S. Treasury Secretary Timothy F. Geithner signaled a possible compromise this week, saying banks may be able to put off the step under a transition period. Canadian Finance Minister Jim Flaherty today said there's scope for a deal and the timing of the increases is "a matter for negotiation."
"Anything that impacts banks will have a bigger effect in Europe than the U.S., where capital markets play a bigger role," said Douglas Elliott, a fellow at the Brookings Institution in Washington and a former managing director at JPMorgan Chase & Co. "There's quite high agreement that capital rules need to change, but differences on just how to do it."
December Deadline
The G-20 countries, which collectively account for about 85 percent of global gross domestic product, have set themselves a December deadline to agree on new rules on capital and liquidity following the worst financial crisis since the Great Depression.
G-20 officials have also indicated divisions over a proposal backed by some European nations to impose a levy on banks. India's Finance Minister Pranab Mukherjee said in an interview in Busan today that using regulatory measures "instead of taxing the banking system is better," days after Canada's government said most G-20 members are considering methods other than a tax to ensure taxpayers don't pay for future bailouts.
"I don't think we're on the verge of a global consensus on bank levy yet," Geithner told reporters in Washington June 2, adding that there is support for a financial fee in Europe. "I don't think that's going to change in Korea."
The gathering of G-20 finance ministers and central bank governors in Busan is designed to help prepare for a summit of the group in Toronto later this month.
Financing Differences
The European Central Bank calculates that at the end of 2007, the stock of outstanding bank loans to consumers and companies stood at around 145 percent of GDP in the euro area and 63 percent in the U.S. By contrast, the amount raised from issuing debt in markets totaled 81 percent of GDP in the euro area and 168 percent in the U.S.
Geithner said that "differences are narrowing" on capital rules, although he didn't anticipate a deal being struck at the Busan talks. A "common, consistent, cooperative" approach would help strengthen the global economy, he said.
"It is perfectly reasonable to use transition periods to make it easier for countries to adjust to what we believe should be a substantially more demanding, more ambitious set of constraints on leverage," Geithner said before departing for Busan.
Competitive Edge
Both the U.S. and Europe are also advocating regulatory models that build on their own existing rulebooks and so would give their banks a competitive edge if implemented globally, said Elliott.
The U.S. favors banks satisfying a higher leverage ratio, which would manage holdings relative to total assets, while Europe fears that would punish its banks which don't currently face such a requirement and whose balance sheets are large yet contain a lot of low-risk securities, he said.
By contrast, Europe's desire for banks to better account for the risk of the assets they hold is questioned by the U.S. because it would rely on banks' own computer models, Elliott said.
The Basel Committee on Banking Supervision, which sets international banking rules, proposed in December that lenders increase the number and quality of capital buffers, boost liquidity reserves and adhere to stricter leverage ratios.
The proposals "will result in more resilient banks and a sounder banking and financial system" Nout Wellink, then-chairman of the 27-nation committee, said at the time in a statement.
To contact the reporter on this story: Mark Deen in Busan at markdeen@bloomberg.net
To contact the editor responsible for this story: John Fraher at jfraher@bloomberg.net