Fund Manager Turns Champion Sommelier With Taste for Cote-Rotie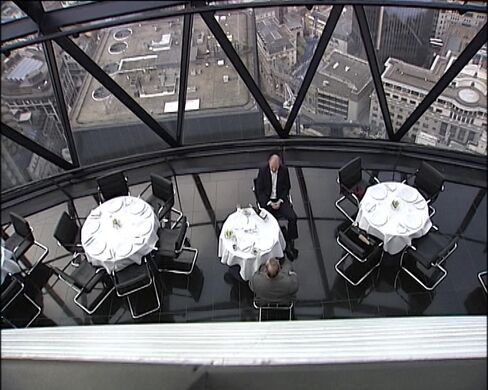 It's a task that requires experience, skill and flair. It's knowledge-based, yet luck is part of it. You must know when to gamble and when to play it safe.
Such is the lot of the investor, and also of the wine expert in search of the perfect match for food. Just ask Daniel Brown, 32, who managed the 700 million-pound ($1 billion) initial public offering of 3i Infrastructure Ltd. and is now the first U.K. Amateur Sommelier of the Year.
The former Treasury economist won the Wine Guild of the U.K.'s new trophy after beating hundreds of entrants to a final at the Westbury Hotel, where he had to choose wines for a table of four diners with a variety of dishes and tastes. Would he think about giving up his day job to focus on wine?
"Turning a private passion into a professional pursuit is always a risky strategy," Brown said in an interview. "Fine wine is very often a place in which fortunes could be lost just as much as a place that fortunes could be made."
Guess that's a no.
Brown, a graduate of the University of Bath, worked from 1998-2006 at the U.K. Treasury. He ended up as head of regulatory policy and business finance: advising government ministers, coordinating policy for the Budget and exercising responsibility for the tax and regulation of the private equity industry.
So how did he find time to get to know about wine?
Open Bottle
"Everybody has the opportunity to enjoy wine," Brown said in an interview in the Searcy's restaurant at the top of London's 30 St. Mary Axe building, better known as the Gherkin. "Even in the busiest of careers, I don't know many people who don't crack open a bottle or two every week.
''Like many people, I was always interested in wine. I always had a motivation to learn more but never really knew how until I got together with a couple of friends and we went on a wine-tasting evening course.
''This is about seven or eight years ago, and for the first time I learned how to appreciate the constituent elements in a glass of wine, to consider a wine in terms of its fruit, its acid, its tannin, its age, the amount of oak: That grounding in tasting technique transformed my appreciation of wine.''
Brown left the Treasury in 2006 to join 3I Group Plc's infrastructure investment team, where he raised money from investors and worked on the buyout of Anglian Water before helping set up the 3i India Infrastructure fund in 2008.
What advice would he give to wine lovers in developing their knowledge and appreciation?
Wine Spectrum
''There are really two aspects to understanding wine,'' he said. ''Firstly, a lot of people would feel daunted by the huge spectrum of geographies and grape varieties and producers. Frankly, you can pick up that knowledge over time. Much more important is understanding how to taste wine.
''What that course taught me was not to be afraid of wine, not to be intimidated by bottles I didn't know or understand. Once you have developed the basic vocabulary and basic technique in tasting, suddenly the barriers to appreciating it will tumble. For me, it was about finding a good merchant, about getting recommendations, trying something new every week.''
Brown left 3i earlier this year and says he is now helping set up two funds for infrastructure investment.
'Reliable Returns'
"With the turbulence that we've seen in global financial markets over the last 24 months, a lot of investors -- in particular, pension funds -- are looking for asset classes that provide long-term stable, reliable returns, often with a very high cash-yielding element," he said. "And that's what I hope to provide with the funds I'm setting up at the moment."
Fair enough, but how about wine? Many of us will invest in a bottle after work, but how about a greater commitment?
"Wine has been an excellent investment over the last couple of years," he said. "But I would discourage anybody from investing in wine if they're not prepared to drink their investment should they go under water, so to speak."
"If I had to choose a desert-island wine, for me it would be a fine Cote-Rotie, something with astonishing power but also elegance," he said.
(Richard Vines is the chief food critic for Muse, the arts and leisure section of Bloomberg News. Opinions expressed are his own.)
Before it's here, it's on the Bloomberg Terminal.
LEARN MORE