Foster vs Foster's Showdown Hits Australia Goliath With Losses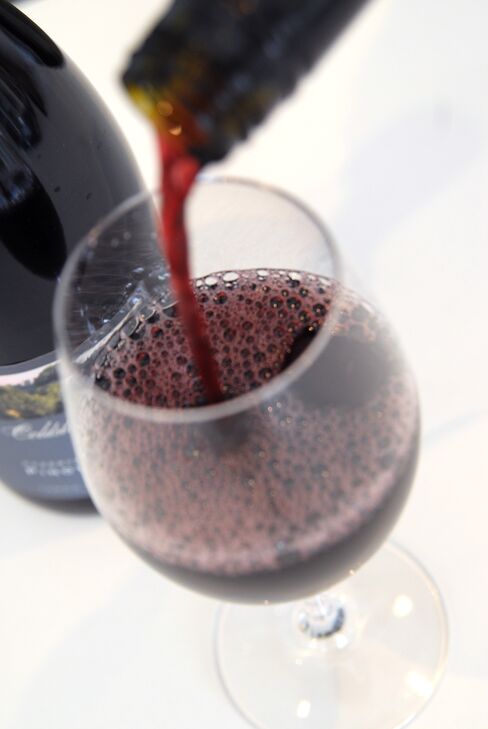 Adam Foster's annual wine production of 2,500 cases is a fraction of the sales of Foster's Group Ltd., the world's second-largest producer. Yet it's a factor in breaking up the rival he shares a name with.
Foster's Group, the Australian brewer that sells lager in 150 countries, spent A$7 billion ($5.9 billion) building its wine unit, acquiring such labels as Beringer of the Napa Valley. Wine earnings fell 53 percent in the six months through December on a grape glut, currency moves and competition from thousands of smaller rivals unencumbered by shareholder and analyst expectations.
After a decade, investors are left with about A$2.5 billion of dollars worth of writedowns and a stock that has gained 20 percent since the start of 2001, or about half the 39 percent rise in the benchmark S&P/ASX 200 index. Chief Executive Officer Ian Johnston said May 26 he plans to spin off the wine business.
Foster's Group "just don't seem to know whether they are selling beer or wine, but my customers know what I do because I do it all myself," said Adam Foster, 35, who started making wine in 2004 in a friend's vineyard. "I do this for my lifestyle and that is what drives me, not trying to make a million cases or dollars a year."
He produces wine under the Syrahmi label that sells for about A$50 a bottle as well as Foster e Rocco, a joint venture with Lincoln Riley, the sommelier at Gordon Ramsay's Maze restaurant in Melbourne.
'Irrational Davids'
Australia has about 2,300 wine companies and is the world's sixth-largest producer, according to the Australian Wine & Brandy Corp. Foster's Group gets 32 percent of its A$4.7 billion of annual sales from outside Australia, New Zealand and Asia, most of which is in the wine unit.
"There are lots of little irrational Davids in the wine industry and many of them are not in it for an economic return," said Theo Maas, who holds shares of Foster's Group among the A$5 billion of equities he helps manage at Arnhem Investment Management in Sydney. "Many are in it for lifestyle, which makes it hard if you are the goliath."
Currency moves sliced 13 percent off earnings in the six months ended December, compounding problems for Foster's Group, which paid "too much" for wine assets and has struggled to increase prices in the face of rising production, Maas said. The company makes 36 million cases of wine a year, generating A$2.1 billion in sales.
Aussie Dollar
Foster's Group shares rose 1.1 percent to A$5.65 at the close of trading in Sydney today. The stock has risen 2.7 percent this year and posted two annual gains since 2001.
The company's wine business may be worth as much as A$4 billion given its brands, vineyards and inventory, Morgan Stanley analyst Martin Yule said in a May 31 report.
The Australian dollar has risen more than 20 percent since the beginning of 2009. The gain helped slice earnings before interest and tax by A$83 million in the six months ended December.
Foster's Group made its first wine acquisition in 1996 with the A$482 million purchase of Mildara Blass Ltd. It paid A$2.7 billion for California's Beringer Wine Estates Holdings Inc. in 2001, and its A$3.2 billion purchase of Southcorp Ltd. in 2005 cemented its ranking as the world's second-biggest winemaker.
Top-ranked Constellation Brands Inc., based in Victor, New York, has taken more than $500 million in wine impairments and restructuring charges in the past two years.
More Wine
The Foster's Group acquisitions coincided with growth in Australian wine production, which increased discounting.
The nation's output of table wine grew to 1.16 billion liters last year, compared with 1995's 433 million liters, as growers were attracted to then-higher prices and tax deductions for vineyards.
The Wine Grape Growers Australia, representing about 5,500 producers, estimates 17 percent of the nation's capacity is "uneconomic."
"We have too much fruit," Executive Director Mark McKenzie said. "This is rewarding consumers with low prices but locking in the industry into a discount mentality."
Analysts at Bank of America Merrill Lynch estimate Foster's Group's beer unit is worth more than A$12 billion, higher than the company's current market value of A$10.8 billion.
"The reason wineries survive despite the lack of profitability is that a lot of people have other interests," said Al Fencaros, a former industrial chemist who established Allinda Winery in the Yarra Valley northeast of Melbourne 20 years ago.
Lindemans, Rosemount
Foster's Group has written down wine assets, including the Lindemans and Rosemount brands, to about A$3.3 billion since completing the Southcorp deal, less than half of what it cost to create the business. In addition to the A$2.5 billion of charges, in 2008 the company transferred A$600 million of goodwill from the Southcorp purchase to the more profitable beer unit and sold some of its vineyards and wineries.
Euromonitor International estimates Australia domestic wine demand at 463 million liters, less than half of production. Vintners must sell overseas, competing with products from South Africa and South America that are cheaper to make.
Australia's five largest producers account for 59 percent of the market, with none of the rest representing more than 1 percent, Euromonitor estimates. The top 10 Australian producers account for about 61 percent of the market, compared with 73 percent for their U.S. counterparts.
Narrowing Profitability
Foster's Group, which makes Meridian and Stag's Leap, has 5.2 percent of the U.S. market, ranking it behind E&J Gallo, the Wine Group Inc. and Constellation Brands, according to Euromonitor, which estimates the U.S. wine market to be worth about $35 billion, compared with A$7.9 billion for Australia.
Rising output in North America, South America and Europe has hurt Foster's profitability. For every dollar of sales, the company earned 9.8 cents before interest and tax in its first half. Five years earlier, before acquiring Southcorp, it earned 21.3 cents.
Making and selling wine are better suited to artisans instead of corporations, said Martin Joy, a Melbourne lawyer whose family vineyard Pyren makes 3,000 cases a year, including Block E shiraz, which retails for A$28.
"The margins are so slim that you need to be in the wine game for other reasons," Joy said. "You do become irrationally attached to the land."