Cohrs Caps Career With Deutsche Bank on M&A Map Next to Goldman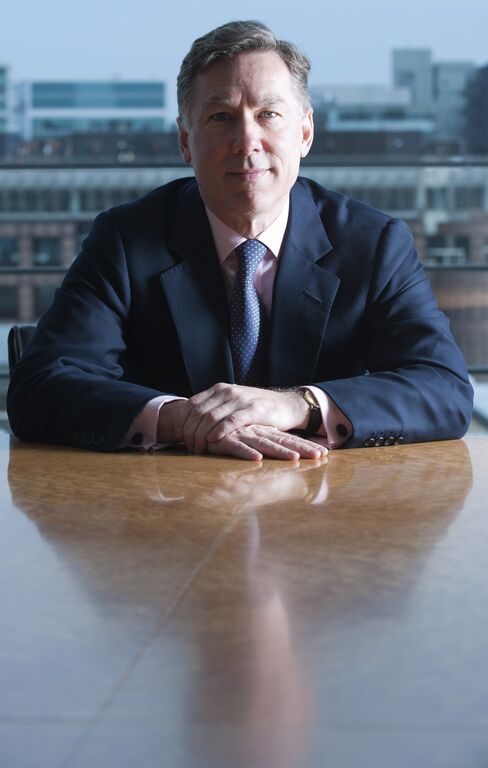 June 4 (Bloomberg) -- Michael Cohrs, co-head of investment banking at Deutsche Bank AG, is capping a 15-year career at the German lender just as it becomes a global leader in mergers and acquisitions.
Deutsche Bank, which for years trailed Wall Street competitors in the mergers business, is the top takeover adviser in Europe, No. 3 in Asia, and fourth in the U.S., the biggest M&A market, according to data compiled by Bloomberg. Globally, the Frankfurt-based bank ranks fourth.
"We've been working at this for a decade," said Cohrs, 53, in an interview at the firm's offices in London's financial district. "It's an ongoing build-up, but people are taking us seriously as someone they trust for advice, not just someone to turn to for loans, debt, equity or asset finance."
Cohrs, who joined Deutsche Bank from S.G. Warburg in 1995 and has run investment banking with Anshu Jain since 2004, is planning to retire in coming weeks, Bloomberg Businessweek reports in its June 7 issue, citing two people with knowledge of the situation. Jain, 47, head of sales and trading, the bank's biggest moneymaker, is likely to assume his responsibilities, which also include equity offerings and loan products, said the people, who asked not to be identified because an announcement hasn't been made. Cohrs declined to discuss his departure.
Deutsche Bank this year advised Qwest Communications International Inc. on its $10 billion sale to CenturyTel Inc., and worked with MetLife Inc. on the insurer's purchase of American International Group Inc.'s Alico unit for $15.5 billion. It helped SAP AG buy Sybase Inc. for $5.3 billion.
'Bulge Bracket'
The bank has worked on 79 takeovers this year valued at about $122 billion, Bloomberg data show. Goldman Sachs Group Inc. is No. 1, with $156 billion of deals, followed by New York-based JPMorgan Chase & Co. and Zurich-based Credit Suisse Group AG. Morgan Stanley ranks fifth behind Deutsche Bank, according to the data.
"Deutsche Bank has certainly joined the bulge bracket in terms of M&A," said Scott Moeller, a professor at Cass Business School in London. "They will have to push hard to maintain their place and ensure the success is not just a flash in the pan. The established market leaders like Goldman Sachs and Morgan Stanley aren't going away."
Even as Deutsche Bank rises in the deal rankings, its fees from M&A trail competitors. The bank generated $210 million in revenue for merger advice at the end of April, compared with $543 million for Goldman Sachs and $434 million for JPMorgan, according to data from Freeman & Co., a New York-based research firm. That may reflect situations where the bank got league table credit but had a lesser advisory role, said Jeffrey Nassof, an associate at Freeman.
M&A Conundrum
M&A remains a fraction of Deutsche Bank's revenue, accounting for less than 2 percent of the total 9 billion euros ($11 billion) in the first quarter.
"One of the conundrums is that while M&A may not be the biggest or most profitable business, it is clearly at the heart and soul of an investment bank because it signals the strength of your relationships," said Cohrs, a former equities banker who worked for Goldman in New York and London from 1981 to 1991.
Cohrs had originally timed his departure to coincide with the retirement of Deutsche Bank Chief Executive Officer Josef Ackermann, 62, who was scheduled to step down in May, according to people with knowledge of Cohrs's plan. Ackermann agreed last year to stay for another three years because the board couldn't agree on his successor.
Next Generation
Cohrs, an American who has an MBA from Harvard University, has been preparing new leaders within his global banking group since the end of last year. He appointed Jacques Brand, 49, and Stephan Leithner, 44, co-heads of global coverage, overseeing the firm's investment bankers, and made M&A co-head Brett Olsher, 49, chairman of the global clients executive committee, in charge of leading relationships and transactions with clients. The New York Post reported last week that Cohrs planned to relinquish some of his leadership roles.
The financial crisis turned out to be a boon for Deutsche Bank's M&A business, led by Olsher, an American, and Norwegian Henrik Aslaksen, 46. The firm was ninth in M&A in 2007, a year before the collapse of Bear Stearns Cos. and Lehman Brothers Holdings Inc. ushered in a global credit crunch in which clients shied away from all but the safest financial companies.
Unlike its biggest U.S. competitors, Deutsche Bank didn't have to take a government bailout. It didn't raise capital from shareholders as Barclays Plc and HSBC Holdings Plc did, or get investments from the sovereign wealth funds that Swiss rivals UBS AG and Credit Suisse turned to.
"The crisis for us was quite good in some ways," said Cohrs. "In the U.S., it meant that for the first time, we started to talk to people who hadn't wanted to talk to us. People wanted to feel safe and secure."
Accelerating Hiring
The crisis helped in another way: Deutsche Bank accelerated hiring as rivals went under or were acquired, luring 151 bankers for corporate finance since the end of 2007.
Hires like William Curley and Anthony Viscardi, mortgage-finance specialists from Lehman Brothers, helped Deutsche Bank land roles with the Federal Deposit Insurance Corp. They advised Chairman Sheila Bair's team on the sale of IndyMac Bank to private investors last year and worked with the FDIC to find buyers for three Puerto Rican banks in April.
Another recruit was Paul Stefanick, a former Merrill Lynch & Co. banker who joined in January 2009 after Merrill agreed to be sold to Bank of America Corp. Stefanick, who runs investment banking for industrial clients, landed a lead role advising Connecticut-based Stanley Works on its takeover last year of Black & Decker Corp. for $3.5 billion, a deal the companies had tried to pull off three times over about 27 years.
'More Persistent'
Stefanick and his colleague Kirk Meighan sealed the deal when they convinced Stanley Works Chief Executive Officer John Lundgren and Chief Operating Officer Jim Loree that a decline in the companies' combined market capitalization to $4 billion made the $2.4 billion of potential savings from a transaction all the more valuable, Loree said.
"That was the moment the light bulb went on," Loree said in an interview. Stefanick and Meighan, who advised Stanley Works alongside Goldman, "were just more persistent and very proactive in putting the opportunity in front of us," said Loree.
Deutsche Bank had no lending relationship with Stanley Works before the deal, underscoring its increasing ability to win M&A business because of relationships with CEOs instead of relying on its 1.67 trillion-euro balance sheet. About 30 percent of Deutsche Bank's top 500 clients don't have lending relationships with the bank, said Cohrs.
Human Capital
"They've made big investments in human capital and that's paying dividends," said Scott Simpson, co-head of Skadden, Arps, Slate, Meagher & Flom LLP's global transactions group, which includes M&A. "They've had a balance sheet they can use, but they also recruited very good bankers."
The challenge will be retaining them as the market recovers and competition for talent intensifies, said Ingo Walter, a professor at New York University's Stern School of Business.
Recently, Deutsche Bank has lost senior bankers to firms including Nomura Holdings Inc., the Japanese brokerage investing 250 billion yen ($2.7 billion) to expand in the U.S. Michael Hill, Deutsche Bank's former co-head of global natural resources, quit last week for Nomura, following Mark Epley, who had run the bank's team advising private-equity firms.
"Deutsche Bank has grown very fast and hired a lot of people from outside," said New York University's Walter. "If there are lots of external opportunities, there can be a 'why stay' mentality and you'll see that kind of departure when the market is good."
To contact the reporters on this story: Jacqueline Simmons in Paris at jackiem@bloomberg.net Brett Foley in London at bfoley8@bloomberg.net;
To contact the editor responsible for this story: Jeff St.Onge in London at jstonge@bloomberg.net