ArcelorMittal, Rivals Plan $30.4 Billion Mills in Indian State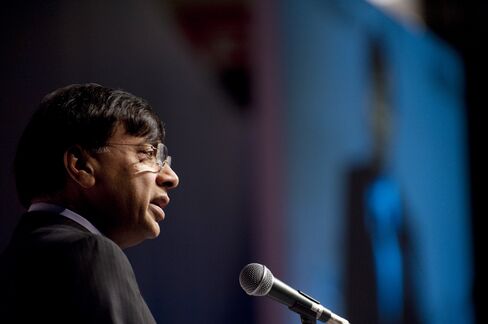 ArcelorMittal, the world's largest steelmaker, Posco and five rivals may spend a combined 1.42 trillion rupees ($30.4 billion) to build plants in southern India, after investments were stymied in other states.
ArcelorMittal plans to invest 300 billion rupees in the state of Karnataka, Chairman Lakshmi Mittal said yesterday at a media conference in Bangalore. Posco, Asia's most profitable steelmaker, plans to invest 320 billion rupees for a 6 million metric ton plant, said V.P. Baligar, the state's principal secretary. ArcelorMittal will build a similar-sized mill, the state government said in a statement.
Karnataka, whose capital Bangalore is a hub for the global computer-services industry, is seeking investments to exploit its iron-ore resources. It's competing with states including Orissa and Jharkhand, where projects worth more than $80 billion have stalled because of protests by villagers and approval delays.
"Karnataka may face fewer problems convincing its people to give up land because of the high literacy level, but land valuation may be a hurdle," said Alex Mathews, head of research at Geojit BNP Paribas Financial Services Ltd. in Kochi, southern India.
JSW Steel Ltd., India's third-largest, may invest 151.3 billion rupees and Bhushan Steel Ltd. 279 billion rupees, the local government said in a statement yesterday. Essar Steel Ltd., India's fourth-biggest producer, plans to invest 220 billion rupees to build a 6 million metric ton plant, Chairman Shashi Ruia said at a Karnataka investor conference yesterday. The mill, to be located in Bagalkot, may start in the year ending March 31, 2015, spokesman Manish Kedia said.
Raw Material Costs
ArcelorMittal shares fell 1.2 percent to 23.87 euros in Amsterdam yesterday. Posco gained 3.4 percent to 475,500 won in Seoul.
JSW Steel climbed 1.5 percent to 1,070.15 rupees and Bhushan Steel gained 2.2 percent to 1,327.90 rupees in Mumbai yesterday. The key Sensitive Index rose 1.7 percent.
Steelmakers worldwide are seeking access to mines to build plants as raw material costs soared with the economic recovery. Karnataka has reserves of 11 percent of India's hematite iron ore, used in steelmaking, according to the mines ministry. The ore is mainly spread across the districts of Bellary, where ArcelorMittal has planned its unit, and Bagalkot.
India Demand
Demand for steel in India, the world's second-fastest growing major economy, last year rose 7.6 percent, helped by rising sales of cars and spending on infrastructure such as roads and ports. Rising incomes helped Maruti Suzuki India Ltd., the nation's biggest carmaker, post its highest monthly sales in May.
Steel consumption is likely to grow 9 percent this fiscal year, G.K. Basak, executive secretary at the steel ministry's Joint Plant Committee, said in an interview in April.
NMDC Ltd., India's largest iron-ore producer, aims to set up a 5 million ton plant at a cost of 92 billion rupees, Chairman Rana Som said at the investor meet. Adhunik Metaliks Ltd. plans to invest 55.7 billion rupees on a 2.2 million ton mill in Karnataka, the Kolkata-based company said in an e-mailed statement yesterday.
Karnataka's government may be in a better position to secure land rights for the steelmakers as it doesn't have to deal with the presence of Maoist rebels, unlike other states, Geojit's Mathews said. The rebels operate in 11 of India's 28 states and have killed more than 7,500 people since 1998.
Stalled Projects
ArcelorMittal's projects in the states of Orissa and Jharkhand have been slowed by protests, Mittal said yesterday. The company had initially planned to build two $10 billion factories in eastern India. In October 2005, it said it plans to set up a factory with a final capacity of 12 million metric tons in Jharkhand. The following year, it announced another plant of the same size in neighboring Orissa state.
"The progress of land acquisition is very slow in Orissa and Jharkhand and lot of milestones have to be achieved in these two states," Mittal said yesterday. "Hopefully the project in Karnataka will go at a faster speed."
Posco has secured permission to acquire 88 percent of the land needed for its $12 billion factory in Orissa, spokeswoman Choi Youn Joung said on Jan. 4. Talks are on with residents for the remaining land, she said.
Karnataka's state government is in the process securing about 5,000 acres of land required for ArcelorMittal's mill, township and ancillary units, Baligar said on May 28. The government doesn't expect any opposition from the local population as it plans to acquire "dry and waste land only" from farmers, he said.
Land acquisition has yet to start, Mittal said yesterday.
Before it's here, it's on the Bloomberg Terminal.
LEARN MORE