Yen Will Fall to 100 Versus Dollar, Westpac's Franulovich Says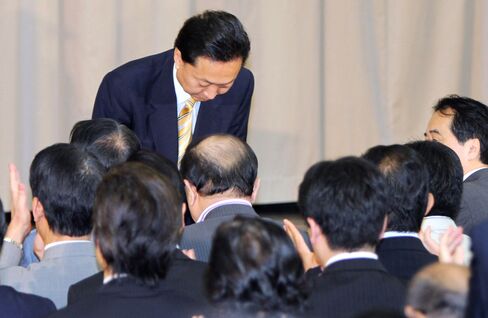 The yen will weaken to 100 against the dollar, a level last seen in April 2009, as growth prospects in the U.S. outpace those in Japan, according to Richard Franulovich, a senior currency strategist at Westpac Banking Corp. in New York.
"That's where the smart money should be betting at the moment," he said in an interview on Bloomberg Radio. "Simplistically, the U.S. economy is showing much better growth momentum than Japan."
In addition, the Federal Reserve is closer to increasing borrowing costs than the Bank of Japan, he said.
On the resignation of Japan's Prime Minister Yukio Hatoyama:
"The immediate response is to sell the yen, Japanese assets on the grounds that we do have a little bit of political uncertainty. I don't want to overplay the story, however. Japan has a long history of a succession of fairly short-lived governments."
On yen and Japan's exports:
"We really need to see it make a good push toward 100, which is to say a good 7 to 10 percent weakening in the yen, before you start to get really excited about the prospects for companies like Sony and Toyota in terms of their exports."
On Australia, Canada, New Zealand:
"These countries were running budget surpluses for a number of years through the '90s and the 2000s going into the downturn, so they were well-placed to ease fiscal policy without much fuss. As a result, their net debt levels for their governments remain relatively low, so there's no real risk of a sovereign crisis in these economies.
''The regulatory framework for the banking system was in pretty good shape, so you didn't have much in the way of reckless lending.''
On prospects for double-dip recession:
''We could be seeing some softer growth numbers coming out of the major economies in the second half of the year, but my strong message would be don't confuse that softness with a double dip. The natural tendency of the markets will be to overplay the story and to freak out.
''Markets are inherently self-equilibrating in the sense that you've got lower mortgage rates, lower gasoline prices, lower commodities prices. In many ways, some of the dislocation in the financial markets is underwriting sustained growth of the U.S.
''We could see further cooling back toward annualized growth with a 2 handle in the second half, but I wouldn't get carried away -- I still think that's a reasonably OK outcome given all the uncertainties around the global economy.''
Before it's here, it's on the Bloomberg Terminal.
LEARN MORE