Woods Returns to Golf With Healed Neck, No Coach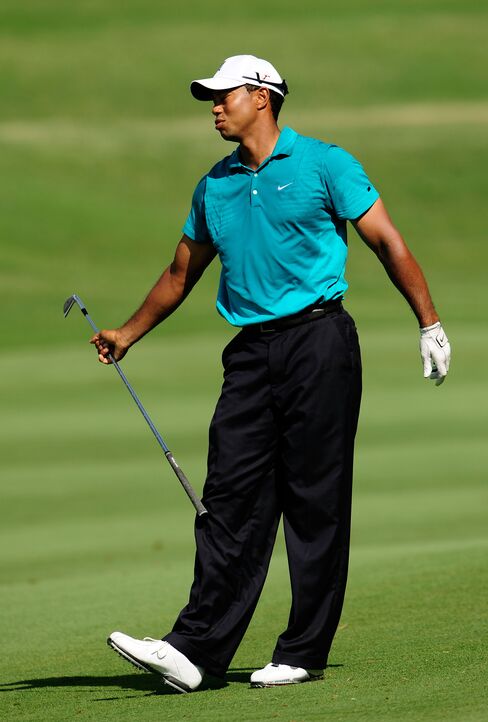 Tiger Woods warmed up for this week's Memorial Tournament by playing three rounds on the same day. The 54-hole outing last weekend amounted to a third of the total competitive rounds the world's top-ranked golfer has played this season.
The warm-up session at his home course in Florida was also an indication his neck had healed enough to play in this week's PGA Tour event in Dublin, Ohio, Woods said today at a news conference. He is the defending champion and the only four-time winner of the tournament at Jack Nicklaus's Muirfield Village Golf Club.
"The neck feels pretty good," said Woods, who withdrew during the final round of last month's Players Championship due to the injury. "It's still not where I want it to be, but the inflammation has calmed down. I'm still a little sore after a hard day of practice, but I can get back at it repeated days in a row, which is something that I haven't been able to do consistently."
Playing consistent golf is something Woods has struggled to do this year. In nine full rounds, Woods has broken 70 twice and had a 7-over-par 79 during the second round of the Quail Hollow Championship, his highest score since 2002. He failed to advance to weekend play that week for the first time in five years.
Asked if that performance was the low point of his year, Woods, who entered a treatment facility after admitting to marital infidelity following a Nov. 27 car accident outside of his home, laughed slightly.
"No," he said. "There have been a lot more low moments than that."
Coaching Change
During his three-week absence from the U.S. PGA Tour, Woods was dealt another setback when Hank Haney resigned as his coach after six years.
Woods said he's working on his game with the use of video and has "no plans" to go with another coach. Butch Harmon, one of Woods's former coaches, works with Phil Mickelson, the world's No. 2-ranked golfer and one of Woods's chief rivals.
Sean Foley, a Florida-based Canadian coach who works with PGA Tour players Hunter Mahan and Sean O'Hair, walked a practice round with them and Woods during the Players Championship. Foley has said he hasn't been hired by Woods.
Woods competed today as part of a five-player team for a nine-hole exhibition Skins Game at Muirfield Village against a squad led by Nicklaus and Mickelson. Woods won 6-of-9 Skins in his group, while Mickelson captured all nine in his group and $50,000.
"He just killed us," said Ernie Els, who played with Mickelson.
Woods Winnings
Woods won $36,000, while Zach Johnson earned $14,000 with three Skins in Woods's group. Half of the winnings go to charity.
The 14-time major winner showed little rust in his game after the recent layoff, said Jim Furyk, who played in Woods's group.
"I'm not a mind-reader or looking into a crystal ball, but it's just a matter of time before he starts playing well," Furyk said. "He's the best player that we've seen since Jack Nicklaus, maybe the best ever, so it's just a matter of time."
With the U.S. Open to be held June 17-20 at Pebble Beach Golf Links, Woods said he plans to use this week's tournament as a warm-up for the season's second major championship.
"It would be nice to get four rounds in and be in contention and hopefully win this thing," Woods said. "I'd like to see where my game is at going into the Open. I should get a full tournament in."
Before it's here, it's on the Bloomberg Terminal.
LEARN MORE