Nasdaq Proposes Circuit Breakers Supplementing SEC's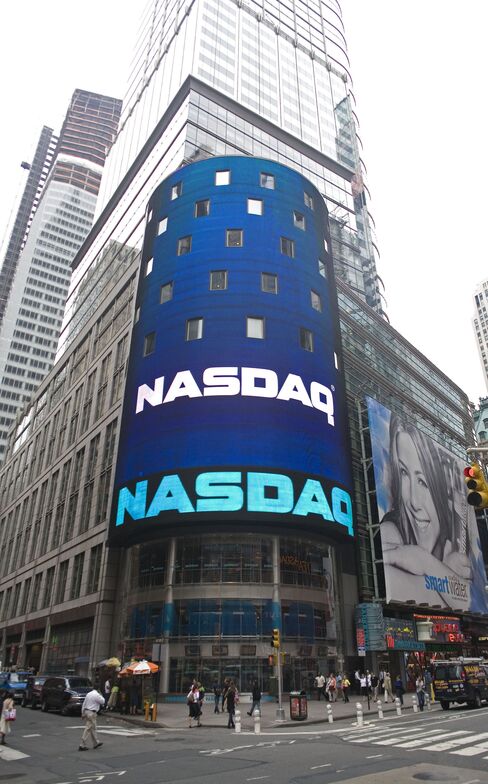 Nasdaq OMX Group Inc. proposed an expansion on its markets of measures to halt stocks during periods of volatility, adding circuit breakers to all the companies it lists and a tiered system that pauses trading based on different percentage moves.
The Nasdaq program would add halts for faster price changes than are covered by a Securities Exchange Commission proposal last month. While the agency will begin a pilot next week in which Standard & Poor's 500 Index stocks that swing more than 10 percent within five minutes are delayed, Nasdaq will pause trading for a minute during moves over 30 seconds or less, said Eric Noll, executive vice president at New York-based Nasdaq.
Exchanges and regulators are examining ways to slow down trading during investor panics after the market plunge on May 6 showed how conflicting rules across as many as 50 different U.S. equity venues may worsen selloffs. The rout erased $862 billion from the value of U.S. equities in less than 20 minutes and drove the Dow Jones Industrial Average to an almost 1,000-point decline, according to data compiled by Bloomberg.
"We've always seen this as an issue," Noll said. "With the circuit-breaker bands now being introduced in the marketplace, we can provide solutions that affect specific volatility concerns in our market." The events on May 6 caused Nasdaq to pursue this mechanism "in a much more aggressive way," he said.
Mistakes, News
The Nasdaq program will "prevent drastic volatility" without limiting moves justified by news, Noll said. At the end of the 60-second pause, the exchange will hold electronic auctions to reopen trading. "We'll be able to re-gather liquidity through a brief halt," Noll said.
For shares below $1.75, trading would be paused after a 15 percent increase or decline within 30 seconds, he said. For stocks between $1.75 and $25, a halt would be triggered by 10 percent changes. From $25 to $50, a 5 percent move would lead to a pause, and for equities above $50, the threshold would be 3 percent, he said.
Lower-priced stocks tend to rise or fall more as a percentage of their price than larger companies, partly because the smallest trading increment is a bigger proportion of their value, Noll said.
Never Activated
Nasdaq proposed the same curbs three years ago and the SEC approved it for a pilot of 100 stocks, Noll said. The exchange never implemented it because of concern about how the program would operate without a stock-by-stock circuit breaker across all markets, he said. The current proposal will begin in the third quarter.
"We'd argue and have argued that in the absence of a market-wide stock-by-stock circuit breaker system, the functionality of an independently operated circuit breaker can cause problems on days of high volatility," Noll said.
Mechanisms for slowing down trading on the New York Stock Exchange known as liquidity replenishment points were triggered when losses deepened on May 6, according to NYSE Euronext Chief Operating Officer Larry Leibowitz. Rapid-fire price changes activated the LRPs, which cause the Big Board to switch to auctions administered by humans from electronic trading, encouraging orders to flood other venues with few if any buyers.
The NYSE said most orders during the worst of the selloff remained on its exchange, as evidenced by the rebound in stocks when they resumed trading there and data showing its markets handled a larger-than-normal share of trading.
The SEC and Commodity Futures Trading Commission proposed six potential causes of the crash 12 days later, highlighting losses in exchange-traded funds and futures, curbs that applied at the New York Stock Exchange but not elsewhere, and an unwillingness to match orders among some electronic traders.
Before it's here, it's on the Bloomberg Terminal.
LEARN MORE