Hatoyama Quitting Dims Allure of Japan for ING, AMP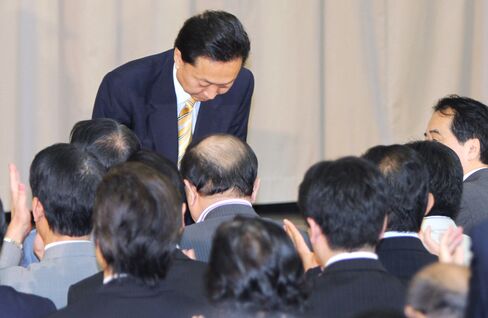 Yukio Hatoyama's resignation has added to Japan's political instability, blunting the appeal of equities at their cheapest in 17 months, fund managers at ING Investment Management and AMP Capital Investors Ltd. said.
Prime Minister Hatoyama quit yesterday, less than nine months after a landslide election victory, as funding scandals and a broken promise to relocate U.S. troops cost him the support of four in five voters. The Nikkei 225 Stock Average sank 1.1 percent, the most in a week yesterday, while the yen depreciated to a two-week low versus the dollar.
"The political instability has made Japan less attractive," said ING's Philip Schwartz, who manages about $1.2 billion of international equities in New York for the firm. "I've been gradually reducing exposure to Japan due to both economic and leadership issues. I'm not so sure what will drive the market higher."
The Nikkei 225 climbed 3.2 percent today, the most since Dec. 3. The gauge has fallen 5.9 percent since the end of August, when Hatoyama's Democratic Party of Japan ousted the Liberal Democratic Party, ending almost 50 years of rule. Hatoyama's term was the shortest for a Japanese leader since 1994, and his resignation forces parliament to select the nation's fifth prime minister in four years.
The DPJ may choose a new head on June 4, legislator Yoshimitsu Takashima told reporters yesterday, and the new leader would become prime minister because of the party's majority in the lower house of parliament. Deputy Premier and Finance Minister Naoto Kan has said he will run for the party leadership.
'Structural Problems'
"For a while there's been an atmosphere of political instability," said Nader Naeimi, a Sydney-based strategist at AMP Capital, which holds $90 billion. "There were hopes this new government would address the country's structural economic problems, but still you're not seeing enough in terms of improving domestic demand because people are afraid about their jobs and salaries."
The Nikkei has tumbled 13 percent from its high this year on April 5 on concern Europe's debt crisis will spread and on signs Japan's economic recovery is losing momentum. Companies on the Nikkei 225 were priced at an average 17.7 times estimated earnings on May 25, the cheapest since Dec. 24, 2008. They were valued today at 18.5 times.
The country's industrial production grew in April by less than economists forecast, according to a May 31 Trade Ministry report. Data last week showed the nation's export-led revival has been slow to spread to consumers -- the nation's unemployment rate rose in April, job prospects worsened, and household spending and consumer prices fell.
Government Debt
Japan's public debt is approaching 200 percent of gross domestic product, the biggest among the 30-member Organization for Economic Cooperation and Development. Takao Komine, a professor at Hosei University and a former bureaucrat, has said the government may suffer fiscal collapse in 10 to 15 years if the DPJ maintains its expansionary spending policy.
"We're waiting for more clarity on the political landscape before making any new investment decisions even though valuations are looking pretty attractive," said AMP Capital's Naeimi. "We're looking to see improvements in household spending, alongside a clear economic roadmap for moving forward."
The cost of insuring corporate bonds from non-payment in Japan rose yesterday, according to Morgan Stanley prices, while the yen weakened against all of its most-traded counterparts.
Weaker Yen
Any weakness in the yen will give little more than a short-term boost to companies reliant on overseas sales such as Toyota Motor Corp., the world's largest carmaker, and electronics maker Sony Corp., said ING's Schwartz. Japan's currency has risen 1.5 percent versus the dollar and 19 percent against the euro this year through yesterday, curbing the appeal of export stocks.
"If the yen stays weak, that's great," Schwartz said. "I'm just not sure it can stay weak."
Hatoyama's resignation makes him the shortest-serving Japanese Prime Minister since Tsutomu Hata led a minority government for two months in 1994. He would also make way for the country's fifth leader since Junichiro Koizumi stood down in September 2006.
Besides Kan, other candidates that may succeed Hatoyama include Transportation Minister Seiji Maehara and Foreign Minister Katsuya Okada, said Jeff Kingston, head of Asian Studies at Temple University's Tokyo campus.
"We won't majorly change our investment strategy," said Ayako Sera, a strategist at Tokyo-based Sumitomo Trust & Banking Co., which manages the equivalent of $307 billion. "The only change we would make is if we get a more coherent group of policymakers."
Before it's here, it's on the Bloomberg Terminal.
LEARN MORE