Hatoyama Exit Leaves Japan Seeking 'Vision' in Leader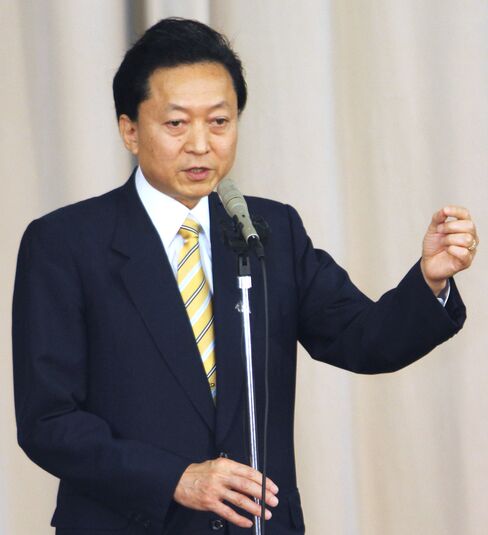 Yukio Hatoyama overturned half a century of one-party politics when he led his Democratic Party of Japan to power nine months ago. Yesterday he showed he's much like his predecessors by becoming the fourth premier in three years to resign.
His term, ended by a dispute over U.S. troops in Japan, was the shortest by a Japanese leader since 1994 and cast doubt on the DPJ's ability to deliver on its promise of change. The party, which had never held office until last year, will select a new leader tomorrow with less than six weeks to go before mid-term elections.
Hatoyama's fall comes just weeks before the government will say how it intends to rein in the world's largest public debt and secure investor confidence in the nation's bonds amid growing global scrutiny following Europe's fiscal crisis. The DPJ is also due to release a strategy to sustain a 3 percent growth rate over the next decade, a pace unseen since 1991.
"The lack of economic credentials, policymaking credentials is one of the reasons why we have revolving prime ministers," said Naomi Fink, Japan strategist at Bank of Tokyo-Mitsubishi UFJ Ltd. in Tokyo. "There isn't a real vision for Japan's future."
Kan Candidacy
Deputy Premier and Finance Minister Naoto Kan, 63, said he would run for the party leadership contest. Other likely candidates include Transportation Minister Seiji Maehara, 48, and 56-year-old Foreign Minister Katsuya Okada, said Jeff Kingston, head of Asian Studies at Temple University's Tokyo campus.
"It's likely to be Kan," Kingston said. "He's the deputy PM, he's strong on the economy, he knows the issues."
Investors sold the yen and Japanese stocks. The Nikkei 225 Stock Average fell 1.1 percent to 9,603.24 in Tokyo, while the yen weakened against all of its major counterparts, falling to 91.44 per dollar in Tokyo from 90.94 yesterday in New York. Bonds rose for a second day, with 10-year yields falling one basis point to 1.265 percent.
Hatoyama, 63, yesterday apologized for campaign finance scandals and his broken promise to move a U.S. base off Okinawa. Calls within the DPJ for him to step down intensified after polls this week showed four in five voters disapproved of his job performance.
"In some cases the efforts of our party haven't reached the hearts of the people," Hatoyama told DPJ lawmakers. "I worked for half a year to try and move the bases off Okinawa, but wasn't able to do so."
Funding Scandals
Ichiro Ozawa, the architect of the DPJ's August victory that unseated the Liberal Democratic Party after 50 years of almost uninterrupted government, said he would resign from his position as secretary-general. Ozawa has been hampered by his own funding scandal since three aides were indicted in February for violating campaign financing laws.
With Hatoyama and Ozawa out, the party has a chance to recapture public support by ending a revolving door of leaders who inherited their parliamentary seats, said Koichi Nakano, a political science professor at Sophia University in Tokyo.
The candidates likely to replace Hatoyama are three first-generation politicians. Hatoyama, like his four immediate predecessors, was the descendent of a prime minister or cabinet member.
"This is an opportunity for the DPJ to turn things around and show a different face to the public," Nakano said. "None of the candidates are from political dynasties and all have certain cabinet experience."
Population Shift
The next premier will have to convince the public that the DPJ can reverse 20 years of economic stagnation and a shrinking population. Japan's public debt is approaching 200 percent of gross domestic product, the biggest among the 31-member Organization for Economic Cooperation and Development in Paris.
Hatoyama lost credibility with voters by upholding an accord to keep U.S. forces on Okinawa last week, breaking a campaign promise. He inherited the decision from the previous LDP-led government.
The decision led the Social Democratic Party of Japan to abandon Hatoyama's coalition government in protest. It also drove the prime minister's support rating to as low as 17 percent, according to an Asahi newspaper survey of 1,106 respondents published on May 31, with no error margin given. His ratings were as high as 77 percent after the August election.
Public Dissatisfaction
Sheila Smith, a senior fellow at the Council on Foreign Relations in Washington, said the Marine base on Okinawa is an issue that could trip up Hatoyama's successor. "There's a great deal of dissatisfaction with Hatoyama," Smith said in a conference call with reporters. "It's just as easily a dissatisfaction that could be directed at the next leader."
The Futenma base deal still stands because it was a government-to-government arrangement, State Department spokesman Philip J. Crowley told reporters in Washington.
Smith said while Japan's alliance with the U.S. isn't damaged, this is a time for both sides to pay "careful attention" to the relationship and for the U.S. to understand the depth of changes taking place in Japan.
Polls show voters are as likely to vote for the LDP as the DPJ in the July contest for the upper chamber of parliament. Half of the 242 upper-house seats are at stake. The DPJ and its other junior partner, the People's New Party, have 122 legislators.
Outrage over Hatoyama's handling of the Futenma Marine Air base deployment issue overshadowed reports showing the world's second-largest economy is rebounding.
Bank of Japan Governor Masaaki Shirakawa said earlier this week that the economy is "making firm progress toward sustainable growth." A surge in exports helped drive Japan's 4.9 percent annualized growth in the January-March period, the fourth straight quarter of expansion.