Charming Charlie Takes on U.S. as Unsung Chains Invade Malls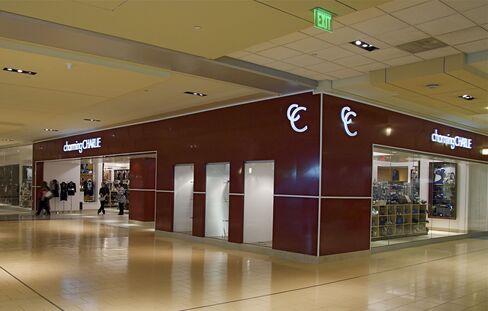 Charlie Chanaratsopon was begging landlords to take a chance on his Charming Charlie boutiques for women's scarves and handbags three years ago. Now, at 32, he's invading shopping centers across the U.S.
"That curve, of where we built credibility, came at the perfect time," said Chanaratsopon, whose namesake accessories chain is expanding into Chicago and the East Coast. He plans to end 2010 with 82 stores, more than double those open at the end of 2009, by capturing vacancies spurred by the recession.
Charming Charlie has already taken over space from Pottery Barn and Abercrombie & Fitch locations, Chanaratsopon said in an interview in Las Vegas last week. Shopping centers are warming to him and other lesser-known retailers, such as Teavana Corp. and Flip Flop Shops, after vacancies in the largest U.S. malls reached the highest in more than a decade last quarter, based on data from Reis Inc., a real-estate research firm.
The regional players are snapping up storefronts abandoned by national chains like Gap Inc. and Foot Locker Inc. while consumer spending improves and rents remain manageable. Retailers are paying about $75 a square foot, or 12 percent less than they were in 2007 at the height of the market, said Jim Sullivan, managing director at Green Street Advisors, a real estate research company in Newport Beach, California. That compares with about $70 last year.
Doors Open
"They say that whenever a window closes, a door of opportunity opens," Darin Kraetsch, chief executive officer of closely held Flip Flop Shops, said in an interview in Las Vegas. "The economy was kind of our window closing as we started the company, but the beautiful thing was that the door of opportunity was the access to iconic real estate."
He's managed to get space at Universal Studios CityWalk in Los Angeles, Mandalay Place in Las Vegas, and the Third Street Promenade in Santa Monica, California.
Chanaratsopon was among the first to knock. In his application essay for Columbia Business School in 2005, he wrote that his goal was to build his five-store accessories chain into a national retailer. He aims to expand Charming Charlie, concentrated in the southeastern U.S., to about 1,000 stores, looking for space in high-traffic locations with tenants such as Banana Republic and Sephora. Customers purchase an average of $37.50 worth of goods per visit, he said.
Flip Flop Tattoo
At Flip Flop Shops, customers spend an average of $47 each visit on the retailer's casual footwear, Kraetsch said. The stores feature recycled cork floors and a wire "palm tree" flip flop display. The Kennesaw, Georgia-based company has 24 franchisees, including one who tattooed the company's logo on his foot.
Kraetsch and his colleagues said they plan to have at least 236 stores in North American malls by the end of 2013. Flip Flop Shops, which currently has about 15 stores, expects the Mandalay Place outlet to do more than $1 million in sales in its first year in business.
"The economy's turning around, you're coming into an improved sales environment, space is still less expensive than it would have been, but still not as cheap as people would like," said Bill Taubman, chief operating officer of Taubman Centers Inc. His company operates 26 malls including The Mall at Short Hills in New Jersey.
Loose tea seller Teavana, based in Atlanta, also is taking advantage of the cheaper space. Teavana plans to add at least 30 new stores in the next 12 months to the 123 mostly mall-based stores it now operates, said Alan Shor, a real-estate consultant who serves on Teavana's board.
Five Below
Other retailers are looking beyond the malls. Five Below operates more than 100 stores offering candy, party and home goods for $5 or less. The Philadelphia company, which looks for space in shopping centers with retailers like Target Corp., expects to open 40 more this year and 50 in 2011, according to co-founder Tom Vellios.
Optimism about a rebound has fueled the expansion, with consumer spending rising at a 3.5 percent pace in the first three months of this year, more than twice that of the fourth quarter, according to U.S. government data. The increase also has led to more approaches from potential investors and buyers for retailers, although Chanaratsopon said he's not looking for help with Charming Charlie just yet.
"We're respectfully declining," he said. "The capital markets are going to be there, the M&A markets are going to be there."
Before it's here, it's on the Bloomberg Terminal.
LEARN MORE