AT&T Cuts Some Data Plan Prices, Ends Unlimited Offer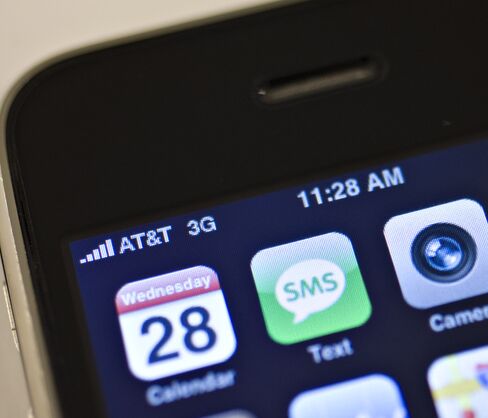 AT&T Inc., the largest U.S. phone company, will cut wireless data-plan prices for most users next week and stop offering unlimited data plans to manage soaring demand for data-hungry devices like Apple Inc.'s iPhone.
AT&T will provide a 200-megabyte plan for $15 a month and a 2-gigabyte package at $25 that compares with current offers of $30 for unlimited data use. Users who exceed the 2-gigabyte level can pay an additional $10 per month for an additional 1 gigabyte of data service, according to a statement.
AT&T wireless chief Ralph de la Vega has said the carrier is battling congestion in New York and San Francisco as a surge in smartphone use has clogged its network. Customers who use the iPhone, which is sold exclusively through AT&T in the U.S., consume seven times the bandwidth of typical mobile phones, according to Sanford C. Bernstein & Co. in New York.
The change in pricing could push some users to Verizon Wireless, an analyst said.
AT&T's move "could create a significant adverse selection problem," James Ratcliffe, a Barclays Capital analyst in New York, said in a note today. "Customers who know they're very high users could migrate to Verizon Wireless."
Jeffrey Nelson, a spokesman for Verizon Wireless, the largest U.S. mobile-phone carrier, declined to comment on whether the company is planning changes to its rates.
Sprint Nextel Corp., the third-largest U.S. mobile-phone carrier, has no plans to change its data pricing, Chief Executive Officer Dan Hesse said today in an interview.
Existing AT&T customers can keep their unlimited data plans. About 98 percent of AT&T smartphone customers use less than 2 gigabytes of data a month, the company said.
IPad Rates Reduced
AT&T, based in Dallas, also is cutting the price of its monthly plan for iPad tablet computers to $25 for 2 gigabytes of data, compared with current rates of $29.99 for unlimited data.
In a first, AT&T also will let customers tie smartphones to laptops and other devices for wireless Internet connections, an approach known as tethering. The service costs $20 a month on top of the wireless plan.
The changes should benefit Research In Motion Ltd. as users of its BlackBerry phone typically use about 125 megabytes of data a month compared with almost 400 megabytes for iPhone owners, said Deepak Chopra, an analyst at Canaccord Genuity in Toronto.
"It shows carriers do care about bandwidth and are concerned about the implications of data growth," he said. Chopra, who has a "buy" rating on RIM, said most BlackBerry users with AT&T could manage on its $15 plan while iPhone customers would have to pay for the more expensive one.
RIM welcomes the carrier's new pricing, co-Chief Executive Officer Jim Balsillie said in an e-mailed statement.
AT&T climbed 45 cents to $24.78 at 4:01 p.m. in New York Stock Exchange composite trading. The shares have dropped 12 percent this year.
While Verizon advertises unlimited data plans on its website, charges do apply to consumers exceeding a 5-gigabyte limit, according to a separate section of the website. AT&T spokesman Mark Siegel says AT&T's unlimited plan has no limits though the company says it may terminate service for usage that "adversely impacts" its network or "after excessive usage."