Apple's Jobs Faults Adobe, Vows Not to Take on Google in Search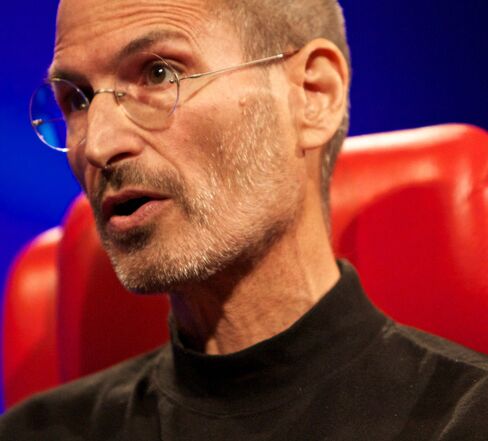 Apple Inc.'s Steve Jobs says he has no plans to take on Google Inc. in the search business, that Adobe Systems Inc.'s Flash technology is on the wane and that partner Foxconn Technology Group doesn't operate a sweatshop.
In a 90-minute interview at a conference yesterday, Apple's chief executive officer also described his company's surging share price as "surreal," called the saga of a lost iPhone prototype "amazing" and offered a rare description of inner workings at Apple's Cupertino, California, headquarters.
"Apple is an incredibly collaborative company," Jobs said at the All Things D conference. "You know how many committees we have at Apple? Zero. We're structured like a start-up. We're the biggest start-up on the planet."
Dressed in his trademark jeans and turtleneck, he added, "What I do all day is meet with teams of people and work on ideas and new problems to come up with new products."
Jobs also used his time on stage to defend AT&T Inc., the exclusive provider of wireless service for the iPhone in the U.S., and said call coverage should improve by the summer. While he said there may be advantages to another U.S. carrier providing service, he declined to say whether new deals are in the works.
He also quelled speculation that Apple is preparing a new version of Apple TV, a device that displays Web content on televisions. Apple TV remains a "hobby" product because the TV industry's marketing strategy prevents device makers from making money, he said.
Stifled Innovation
The industry's model, which involves free or low-cost set-top boxes, "pretty much squashes any opportunity for innovation because nobody's willing to buy a set-top box," he said.
Other companies including TiVo Inc. and Roku Inc. have also struggled to get consumers to buy extra gear, Jobs said. Google's TV-related software will be available on hardware later this year. It too may fail to make much headway, he warned.
"Ask Google in a few months," he said.
Asked about Apple's increasing rivalry with Google in the mobile-phone and advertising markets, Jobs said Apple doesn't plan to enter the search market and won't drop Google as the provider of search on the iPhone. "Just because we're competing with someone doesn't mean we have to be rude," he said.
Apple rose $3.12 to $263.95 at 4 p.m. New York time in Nasdaq Stock Market trading. The shares have gained 25.3 percent this year.
Trash Talk
He reserved some of his most disparaging remarks for Adobe and its Flash video software, saying the competing HTML 5 standard is emerging as a credible rival. Apple has said Flash is slow and power hungry. Jobs in April penned an open letter discussing his reasons for barring Flash from Apple devices.
"We didn't start off to have a war with Flash," Jobs said yesterday. "Flash looks like a technology that has had its day, but is waning."
Last month, Adobe countered Jobs's criticisms with its own open letter, arguing that Apple's ban on Flash stifles competition. Adobe last month updated the mobile version of its Flash software, and said 19 of the top 20 handset makers are committed to building smartphones that support it.
"We've said everything there is to say on Apple's criticisms of Flash," Jodi Sorensen, a spokeswoman for San Jose, California-based Adobe, said in an e-mail today. "Adobe and our partners intend to deliver great Flash support for smartphones, tablets and other devices across platforms."
Jobs also made his first public comments about suicides at Foxconn, the world's largest contract manufacturer of electronics. Also known as the Hon Hai Group, it makes Apple products including the iPhone and iPad. Foxconn said it will raise workers' salaries after at least 10 of its employees died.
'Troubling' Deaths
Apple said last week it has a team investigating Foxconn's practices. Yesterday, Jobs called the situation "very troubling," even as he said the suicide rate at the factory is less than in the U.S.
Foxconn is "not a sweatshop," he said, and "for a factory, is a pretty nice factory," providing workers there with access to restaurants, swimming pools and movie theaters.
Jobs also said he initially planned to build a tablet computer before deciding to bring the iPhone to market. He said he switched tack after seeing an early design for the tablet and decided the technology could be used in a phone. The iPhone was released in June 2007.
Apple said this week it has sold more than 2 million iPads in the first 60 days after its April 3 release.
"People laughed at me because I used the word magical to describe the iPad, but it's what I really think," Jobs said. "There's something magical about it."
'Amazing' Story
Apple recognizes that one challenge includes convincing consumers to purchase content for the iPad so news publishers can make money from their work, Jobs said. "I don't want to see us descend into a nation of bloggers," he said. "People are willing to pay for content. I believe it in music and I believe in news content."
Jobs also talked publicly for the first time about a secret iPhone prototype lost by an Apple engineer at a bar in March. The device was sold to technology blog Gizmodo.com, which dissected the phone and ran photos on its website in April.
Apple reported the phone stolen in April. A police investigation is under way.
"This is a story that's amazing," Jobs said yesterday. "It's got theft. It's got buying stolen property. It's got extortion. I'm sure there's sex in there somewhere. Someone should make a movie out of this -- it's very colorful."
Jobs also addressed Apple's market value, with the company last month overtaking Microsoft Corp. to become the world's most valuable technology company.
"For those of us who have been in the industry for a while, it's surreal," Jobs said.
Before it's here, it's on the Bloomberg Terminal.
LEARN MORE