Garuda to Resume Europe Flights After EU Ban Ends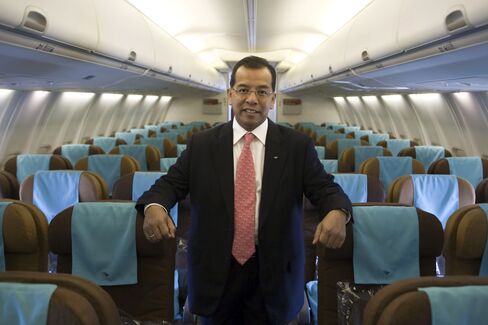 June 1 (Bloomberg) -- PT Garuda Indonesia, rated the world's most-improved airline, will fly to Europe for the first time in six years today after the European Union eased a ban on the nation's airlines following a series of fatal crashes.
Indonesia's biggest carrier will start flights to Amsterdam via Dubai and plans to add direct services to Frankfurt, London, Paris and Rome, Chief Executive Officer Emirsyah Satar said in a phone interview yesterday. Garuda will use Airbus SAS A330s, to be replaced by Boeing Co. 777-300ERs starting next year.
The resumption of flights to Europe may spur revenue and help attract investors to a $300 million initial public offering Garuda is targeting by the end of September. Satar forecast profit will increase 20 percent this year at Garuda, ranked the world's most-improved airline in a survey by research company Skytrax last month.
"Garuda is well placed for expansion," said David Chang, a director of UOB Kay Hian Securities Indonesia. "The EU move is a stamp of approval because in the past, one worry was that Garuda may be cutting corners on repairs and maintenance when they had financial difficulties."
Garuda, Indonesia's biggest carrier, posted net income of 1 trillion rupiah ($109 million) last year, its third consecutive year of profit. The carrier has bought new aircraft and improved services, earning it the title in a survey of more than 17.9 million travelers by London-based Skytrax.
Four-Star Ranking
Garuda has a four-star ranking, on a par with British Airways Plc and Emirates Airline.
"We are coming back with a premium product, new aircraft and great services," Satar said. "The market is big enough because there are people wanting to visit Indonesia and Indonesians traveling to Europe."
The airline expects to appoint underwriters soon and to hold the sale by the end of the third quarter, Satar said. The proceeds will be used to make payments for aircraft purchases.
Garuda has firm orders for 10 Boeing 777 twin-aisle aircraft and 25 Boeing single-aisle 737s. It has options for another 25 of the single-aisle planes. By 2014, the carrier will have a fleet of 116 aircraft, Satar said.
Garuda's European flights were halted at the end of 2004 after the carrier posted losses on the route. Satar, who took the helm in March 2005, was tasked to turn around a carrier that had 811.3 billion rupiah of losses in 2004.
Crashes
Indonesian carriers were blacklisted by the EU after accidents including a Mandala Airlines crash in September 2005, which killed 149, and an Adam Air crash in January 2007, which caused 102 fatalities, according to the Aviation Safety Network website.
Garuda last suffered a fatal incident in March 2007, when a plane crashed on landing in Yogyakarta, Indonesia, killing 21. In 2009, Garuda and three other Indonesian carriers obtained the EU's approval to start services.
To commemorate the resumption of services, the 222 passengers will receive special boarding passes and enjoy Indonesian delicacies such as the "Martebe," a mixture of Tamarillo and passion fruit juice, and cone-shaped yellow rice called the "mini Tumpeng." State Enterprises Minister Mustafa Abubakar will be among the passengers, Satar said.
Named after a mythical bird that carries the Hindu god Vishnu, the airline took to the skies in 1949, according to its website. It has a fleet of 70 planes and flies to 46 destinations, said Pujobroto, a spokesman for the carrier.
To contact the reporter on this story: Chan Sue Ling in Singapore slchan@bloomberg.net.
To contact the editor responsible for this story: Neil Denslow at ndenslow@bloomberg.net