China PBOC Lifts 1-Year Bill Yield to Attract Orders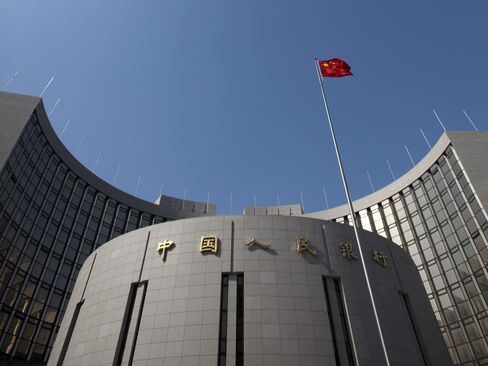 The People's Bank of China pushed up yields on one-year bills for the first time in four months, boosting returns to draw funds after rates for interbank loans surged to the highest level since August 2008.
China's seven-day repurchase rate jumped as high as 4.25 percent today, reflecting a shortage of cash after lenders were last month ordered by the central bank to set aside more capital as reserves for the third time this year. The central bank sold one-year bills at a yield of 2.0096 percent, from 1.9264 percent last week, according to a statement on its website today.
"Liquidity is so tight that no one would buy one-year bills in open-market operations if the central bank hadn't raised the yield," said Jiang Chao, an analyst in Shanghai at Guotai Junan Securities Co., the nation's largest brokerage by revenue. "The authorities also need to increase yields on shorter-dated securities as inflation picks up."
The monetary authority has been seeking a better balance in the maturity of bills it sells after a crackdown on real-estate loans prompted financial companies to funnel capital into longer-dated securities that offer higher yields. Today was the first time since Jan. 19 that the rate on one-year bills was increased.
The seven-day repurchase rate, which measures interbank funding availability, rose 10 basis points to 2.9 percent as of 4:30 p.m. in Shanghai, according to the National Interbank Funding Center. It's climbed from 1.56 percent at the end of 2009 and 0.96 percent a year ago.
Bank of China Ltd., the nation's third-largest lender by market value, will raise 40 billion yuan ($5.9 billion) selling convertible bonds tomorrow. The debt issuance, the largest of its kind in China, also pushed the repo rate higher, said Hu Hangyu, a fixed-income analyst at Citic Securities Co., China's biggest brokerage by assets.
Inflation Risk
The yield on the central bank's benchmark three-year bill climbed three basis points to 2.71 percent, and the price of the security dropped 0.07 per 100 yuan face amount to 100.09, according to the National Interbank Funding Center. A basis point is 0.01 percentage point.
"It's a signal that the central bank will step up management of liquidity," said Shi Lei, an analyst at Bank of China in Beijing. "The quickening inflation is prompting the PBOC to resume pushing up money-market rates."
Consumer prices rose 2.8 percent from a year earlier in April, the most in 18 months, and property prices jumped a record 12.8 percent, official figures show. The government's goal of keeping inflation under 3 percent this year "will be a difficult task," Yao Jingyuan, chief economist at the China statistics bureau, said May 28.
Cash Injections
China's central bank, which sold 15 billion yuan of one-year bills at the auction today, raised interest rates on three-month bills for a second straight auction on May 27. It added a net 145 billion yuan of cash into the financial system last week, the second weekly injection of last month, after draining cash each week in April and March.
Guotai Junan's Jiang said the authorities may allow the yield on one-year bills to rise "at a steady pace" to about 2.2 percent before another halt. He estimated inflation in May, due to be reported by the statistics bureau on June 11, reached 3 percent.
Before it's here, it's on the Bloomberg Terminal.
LEARN MORE