Hon Hai Group to Raise Wages by at Least 30 Percent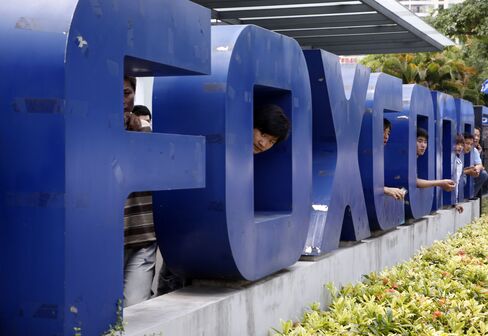 Hon Hai Group, the assembler of Apple Inc.'s iPhones, will raise workers' salaries by at least 30 percent, more than indicated earlier, after a series of suicides at the world's largest contract manufacturer of electronics.
Workers with a monthly wage of 900 yuan ($131.77) will be paid 1,200 yuan effective immediately, said Edmund Ding, a spokesman at the Taipei-based flagship company Hon Hai Precision Industry Co. The increase was reported earlier by the Economic Daily News. Hon Hai, also known as Foxconn Technology Group, said on May 28 it might raise pay in China by 20 percent.
"It's been a while since we increased wages, hence the decision," Ding said today by phone. "Raising pay and the suicide issues are two separate matters," he said when asked if the move will reduce suicides at Hon Hai.
Higher wages may help Hon Hai offset negative publicity generated after the worker deaths at its China factories this year, according to Steven Tseng, an analyst at RBS Asia Ltd. Rights group China Labor Watch said wages that are too low to cover the cost of living have put pressure on Hon Hai factory workers, who are "exhausted." Hon Hai chairman Terry Gou has rejected allegations the company is a sweatshop.
"It's hard to assess if the wage rise will stop the suicides, maybe it will help get rid of this negative publicity," Taipei-based Tseng, who rates Hon Hai Precision "buy," said by phone today. The increase, which is higher than Tseng expected, could cut net income this year by up to 6 percent, he said. "They may be able to pass on some of the costs to clients."
'Worst-Case Scenario'
Morgan Stanley analyst Jasmine Lu wrote in a report yesterday that Hon Hai Precision's net income for this year may be cut by 7 percent under a "worse-case scenario" if the company increased workers' salaries by 20 percent. Citigroup Inc. in a May 27 report estimated a 20 percent rise may erode operating profit by 10 percent to 11 percent, and reduced its 2010 earnings estimate for Hon Hai by 11 percent.
Hon Hai dropped to its lowest level in more than eight months in Taipei trading. The stock was 0.8 percent lower at NT$123.5 as of 10:30 a.m. local time.
The shares have declined 17 percent since May 1, compared with a 9.3 percent slump in the benchmark Taiex index. Five of the 10 deaths at the company occurred during May.
'Great Pressure'
At least 10 people have died this year at Hon Hai's manufacturing complex in Shenzhen and police are treating the deaths as suicides, prompting Gou to recruit counselors and install nets on dormitory buildings.
The minimum monthly wage in Shenzhen is between 900 yuan and 1,000 yuan, according to the city government.
Hon Hai "workers have no choice but to work massive amounts of overtime to support themselves and their families, and are always, as workers in the computer production department stated, 'extremely exhausted,' and under 'great pressure,'" Li Qiang, founder and executive director of New York-based China Labor Watch said last week.
Hon Hai's pay raise follows Honda Motor Co., Japan's second largest carmaker, resuming production at a parts plant after workers walked out last week demanding higher wages. Most of the parts factory's 1,900 workers accepted a pay offer of up to 1,910 yuan a month, according to Honda. The employees had demanded between 2,000 yuan and 2,500 yuan.
"It's not just Hon Hai's problem -- it's everyone's problems," Calvin Huang, an analyst at Daiwa Securities Group Ltd., said by phone. "If others don't follow suit and raise wages, they will face suicides or strikes like that at Honda."
Apple, Hewlett-Packard Co. and Dell Inc. said last week they are probing Hon Hai following the deaths. Apple has a team evaluating Hon Hai's countermeasures, it said.
The Shenzhen police are examining the suicides, Li Ping, a spokesman for the municipal government in the southern Chinese city, said May 27. Wang Rong, Communist Party secretary of Shenzhen Municipal Committee, other city officials and labor union officials went to the plant on May 26 to investigate, the government said in a statement on its website May 27.