Hershey May Cut Up to 600 Jobs at Historic Factory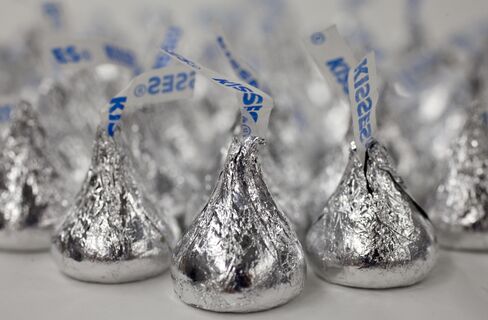 Hershey Co. may cut 500 to 600 jobs from its historic 19 E. Chocolate Avenue plant, the home of the chocolate Kiss, in a plan to modernize its manufacturing.
The company is proposing to convert the complex to office space and shift another 600 workers to a second factory near the headquarters in Hershey, Pennsylvania. That second site would be renovated under a program the directors will consider this month, Kirk Saville, a company spokesman, said today.
The job cuts, representing as much as 5 percent of Hershey's workforce, are part of a manufacturing and supply operations makeover aimed at decreasing costs. The 116-year-old maker of Kisses has closed seven plants in recent years and opened a facility in Monterrey, Mexico, in 2008.
The 19 E. Chocolate Avenue site, started in 1905, was founder Milton Hershey's first chocolate factory. Silver foil-wrapped Kisses were introduced there two years later. The plant grew into a collection of about 30 buildings. Its low ceilings and narrow support-column spacing resulted in inefficient product flows and manufacturing layouts, Saville said.
Hershey jumped $1.20, or 2.6 percent, to $48 at 4:01 p.m. in New York Stock Exchange composite trading, the second-largest percentage increase among stocks in the Standard & Poor's 500 Index.
Plant workers will vote June 4 on the plan, said Dennis Bomberger, business manager for Chocolate Workers Local 464.
"It's a package to help keep jobs here in Hershey," Bomberger said today by telephone.
If the workers reject the proposal, the company will "be forced to quickly consider an alternative location in the United States," Saville said.
Hershey said in a statement that it will make a decision this month. Any modernization program would employ "rigorous" return-on-investment metrics, the company said.