Federer Upset by Soderling at French Open, Ends Run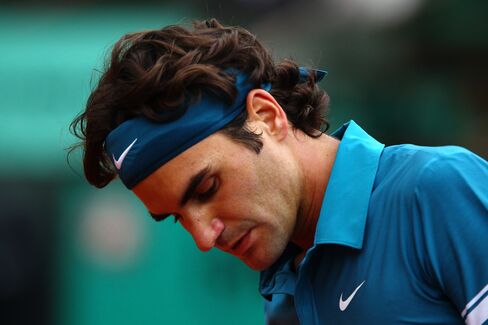 June 1 (Bloomberg) -- Defending champion Roger Federer was upset by Sweden's Robin Soderling at the French Open, ending his record streak of 23 straight Grand Slam semifinals.
Soderling, the fifth seed who knocked out Rafael Nadal as the defending champion last year at Roland Garros, won today's quarterfinal 3-6, 6-3, 7-5, 6-4. Soderling used serves reaching 140 miles (226 kilometers) per hour and flat forehands to keep Federer off balance.
It was the first time Soderling, 25, has beaten Federer in 13 attempts, including a straight-set loss in last year's final in Paris. Roland Garros was also the last time Federer failed to reach a Grand Slam semifinal, when he lost to Gustavo Kuerten in the third round in 2004. The 28-year-old Swiss right-hander hadn't dropped a set in the tournament before today's match, which was interrupted by rain.
"Conditions obviously were on the rougher side for both of us, and I thought he came up with some great tennis," Federer said at a news conference. "You know, it's a touch easier to digest this way."
Soderling will next face 15th-seeded Tomas Berdych of the Czech Republic, who defeated 11th-seeded Mikhail Youzhny 6-3, 6-1, 6-2.
"I think I played really well," Soderling said at a news conference. "Even in the first set it was a pretty good set. I didn't serve that well in the first. That was the only difference, I think. But overall, it was a great match from the start until the end."
Women's Semifinal
Half of the women's semifinal field also was set. Fifth-seeded Elena Dementieva beat Nadia Petrova in an all-Russian quarterfinal 2-6, 6-2, 6-0. Dementieva will meet 17th-seeded Francesca Schiavone of Italy, who beat third-seeded Caroline Wozniacki of Denmark 6-2, 6-3.
After reaching the quarterfinals, Federer said he was confident of his ability to handle Soderling for the 13th straight time.
"I'm really looking forward to this match, because he hits very strongly, forehand, backhand and serves," Federer had said in a news conference after the fourth round. "So it's going to be up to me to do my best to vary the game. This is what I like. This is why I have a good record against him."
That's the way it looked in the first set as Federer eased into the lead. Soderling evened the matched 1-1 when Federer dumped a backhand into the net.
Forehand Power
Soderling was now putting Federer under pressure with the flat forehand that handed Nadal his only loss at Roland Garros last year in the fourth round.
With Federer serving at 5-5, 30-15 in the third set, play was suspended by rain for more than an hour. When the match resumed, Federer dropped serve as he lost four points in a row including a double fault.
Serving for a 2-1 lead, Soderling got to two set points with an ace. Federer fended off the first as Soderling dumped a low volley into the net, before the Swede produced his 11th ace and move within one set of victory.
In the fourth set, Federer shouted "Come on" as he broke Soderling's serve after the No. 5 seed hit a forehand into the net. Soderling clenched his fist as he immediately broke back for 2-1 as Federer hit a forehand wide.
As rain started to fall again, two love games followed for 3-3. Both players sat down covered in towels and umbrellas for a few minutes as tournament officials discussed suspending the match a second time.
After a decision was taken to play on, Federer continued to struggle with his serve, overcoming four breakpoints to hold serve for 4-3. Soderling broke for 5-4 as Federer sent a backhand long.
Serving for the match as the crowd grew quiet, the Swede kept dictating the rallies and forcing more mistakes. Soderling got to two match points as Federer failed to return a cross-court forehand. He won the match as the Swiss sent a return long, and thumped his chest.
To contact the reporter on this story: Danielle Rossingh at Roland Garros through the London sports desk at drossingh@bloomberg.net
To contact the editor responsible for this story: Christopher Elser at celser@bloomberg.net.